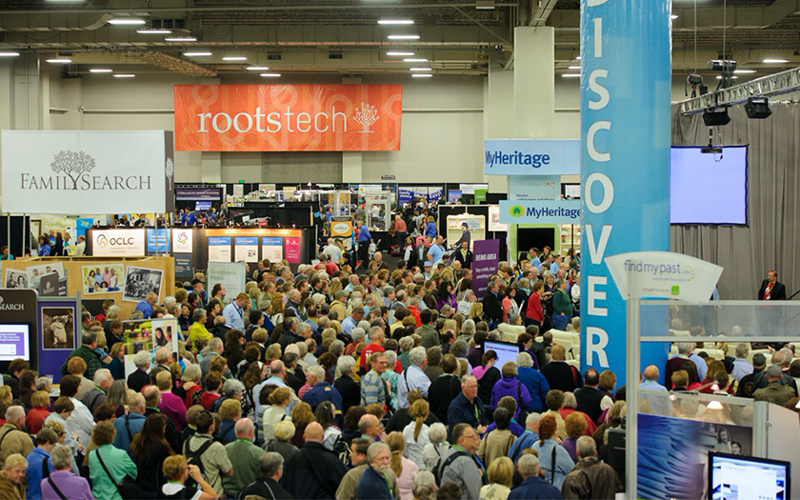 RootsTech marks its 10th year this year.
From 2011 to the present, RootsTech has gotten bigger, better, and has begun expanding overseas (see RootsTech London). Steve Rockwood, CEO of FamilySearch, said today that "The future's never been brighter," and looks forward to 10 more years of "inspiring experiences" and "making connections."
Rootstech has even been described as "A rock concert!" or "A TED convention for genealogists." by some of its first attendees in 2011.
When RootsTech started in 2011, it was something different from other conferences for family historians and tech innovators. It did mix keynote speakers, classes and an Expo Hall in new and exciting ways.
"Roots" + "Tech" was a new and successful combination.
A Huge Success
Despite the short lead time and the uncertainties of a first-time event, Rootstech attendees in 2011 flocked from across the United States and 15 additional countries, including China, New Zealand, Australia, Namibia, and Israel. Over 3,000 came in person. And—something novel—another 4,700 tuned in remotely, something new at the time.
Repeating the Success
A second year of RootsTech followed a similar model as the first, but with an even better turnout (4,500 attendees and 7,000 virtual participants).
FamilySearch CEO Jay Verkler in his 2012 keynote address expressed the hope to build "an interconnected family tree where everyone collaborates with others." At the time many had doubts that it could actually happen, but today, the resulting FamilySearch Family Tree is the world's largest family tree, with over 1.2 billion ancestral profiles.
A New Direction for RootsTech
After the first two years, Rootstech began to focus on new audiences, people who were family history beginners and young people. Also, a free, full-day Family Discovery Day event was created for families and youth.
Technology was still a key teaching topic, but the focus on preserving family stories became more central. CEO Dennis Brimhall said in 2013 that "a future generation [will] want to know us as passionately as we wish to know our great-great-grandparents.
Growth from Then to Now
The RootsTech 2013 audience doubled to 9,000 attendees (2,000 of them youth) and 13,000 online watchers. The next year saw 13,600 in-person attendees, a figure that doubled again in 2015. RootsTech 2019 reached 30,000 in-person attendees and an estimated 120,000 people watching online. (RootsTech now even offers select free live-streaming classes and a more expansive Virtual Pass.)
Looking Forward: The Next 10 Years of RootsTech
"The future's never been brighter," says Steve Rockwood, current CEO of FamilySearch, when asked about the next 10 years of RootsTech. With the theme for 2020 being, "Discover the Story of YOU," Steve says that the purpose is to "really help people with their individual and family history as it unfolds."
Steve Rockwood anticipates that RootsTech will continue to expand and include always more people.
Read the more detailed article from FamilySearch Blog here
---