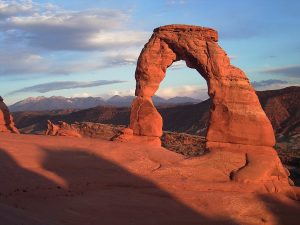 I asked ChatGPT about a three days road trip from American Fork to Moab, Monument Valley, and Back.
His answer is below:
"Sure! Here's a suggested road trip itinerary from American Fork to Moab and Monument Valley for a 3-day trip:
Day 1:
Start your journey early in the morning from American Fork, Utah.
Drive southeast on Interstate 15 for approximately 3.5 hours (225 miles) to reach Moab.
Once in Moab, check into your accommodation and freshen up.
Spend the afternoon exploring Arches National Park, known for its iconic natural stone arches and stunning landscapes. Take a hike to Delicate Arch or visit other notable landmarks like Balanced Rock and Landscape Arch.
In the evening, enjoy a sunset hike in the park or head to downtown Moab to grab dinner and explore the local shops and galleries.
Day 2:
Start your day by visiting Canyonlands National Park, located about 30 minutes southwest of Moab. This park offers breathtaking views of canyons, mesas, and the confluence of the Green and Colorado rivers. Explore the Island in the Sky district, hike to Mesa Arch, and take in the panoramic vistas.
Afterward, you can drive to Dead Horse Point State Park, just a short distance from Canyonlands. This park offers remarkable overlooks with stunning views of the Colorado River and its winding canyons.
In the afternoon, return to Moab and consider taking a scenic drive along the Colorado River on Highway 128. This route provides picturesque views and several pullouts for photo opportunities.
In the evening, relax in Moab, enjoy dinner, and perhaps take a stroll along the Main Street.
Day 3:
Check out of your accommodation in Moab and begin your journey to Monument Valley.
Drive south on US-191 for approximately 2.5 hours (145 miles) until you reach Monument Valley, which straddles the Utah-Arizona border.
Upon arrival, embark on a guided tour of Monument Valley Navajo Tribal Park. These tours are typically conducted by Navajo guides who provide insights into the cultural significance and history of the area while taking you to iconic landmarks such as the Mittens, Merrick Butte, and John Ford's Point.
After the tour, enjoy the scenic beauty and take some time to capture memorable photographs.
Finally, start your drive back to American Fork, which will take around 6 hours (approximately 375 miles). You can make stops along the way at your convenience for meals and rest breaks.
Remember to check the opening hours and availability of the parks and attractions beforehand, as well as any travel advisories or restrictions that may be in place. It's also a good idea to have a map or navigation system handy during your road trip. Enjoy your journey!"
I asked about what else we could visit on our way back and this is his suggestion:
"Certainly! If you would like to break up the 6-hour trip back to American Fork, there are several interesting places you can visit along the way. Here's an alternate route with a suggested stop:
Day 3 (Alternate Route):
After your visit to Monument Valley, head south on US-163 towards the town of Mexican Hat, Utah.
In Mexican Hat, make a stop to see the iconic rock formation known as Mexican Hat, which resembles a sombrero. You can take photos and enjoy the unique scenery.
From Mexican Hat, continue driving north on US-163 until you reach the town of Bluff, Utah.
In Bluff, consider visiting the Bluff Fort Historic Site, which provides insights into the early pioneer history of the area. The site includes a visitor center, reconstructed cabins, and exhibits showcasing the settlement of Bluff.
After exploring Bluff, you can continue your journey towards American Fork. The remaining drive will take approximately 5.5 hours (around 315 miles) via US-191 and US-6.
By adding these stops in Mexican Hat and Bluff, you'll have the opportunity to experience more unique landscapes and learn about the local history along the way."