Melinda Ann Gates (August 15, 1964) is an American philanthropist and a former general manager at Microsoft. In 2000, she co-founded the Bill & Melinda Gates Foundation with her husband Bill Gates, the world's largest private charitable organization. Gates has consistently been ranked as one of the world's most powerful women by Forbes.
About the Book
In her first book, The Moment of Lift: How Empowering Women Changes the World, Melinda Gates makes a bold claim: when we lift up women, we lift up humanity.
After years of travel, humanitarian work and extensive research, Melinda introduces us to the women she's met along the way. Their stories are brutally honest, gut-wrenching, inspiring and triumphant. They show us how, time and time again, empowered women rise up and bring their families and communities with them.
Melinda also shares her own personal journey to achieving equality in her marriage, finding her voice and becoming an advocate for women and girls. She explains how the women she has met have called her to action. And at this critical moment, she calls us to action too—urging us to drive progress in our homes, workplaces and communities. (Evoke.org)
It is a fascinating and eye opening book. I don't necessarily agree with everything Melinda Gates says or believes, but it doesn't really matter, because it's a great book, and I recommend it strongly.
20 Top Quotes From "The Moment of Lift"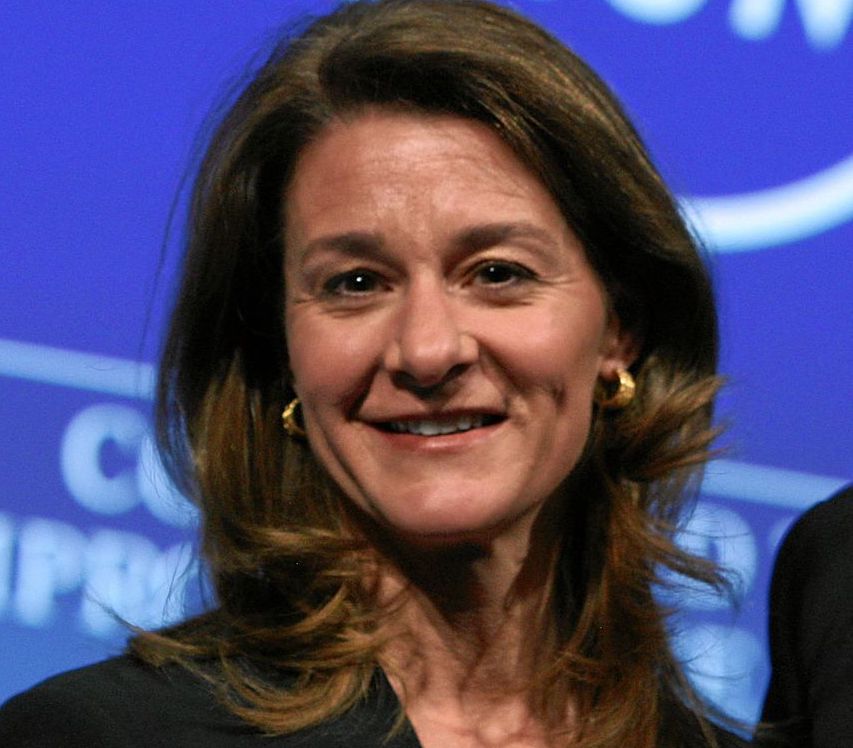 ON OUTSIDERS
"Every society says its outsiders are the problem. But the outsiders are not the problem; the urge to create outsiders is the problem. Overcoming that urge is our greatest challenge and our greatest promise. It will take courage and insight, because the people we push to the margins are the ones who trigger in us the feelings we're afraid of."
ON LOVE AS A FORCE FOR CHANGE
"Love is the most powerful and underused force for change in the world. … For me, love is the effort to help others flourish — and it often begins with lifting up a person's self image."
ON BENEFITS FOR FAMILIES AND SOCIETIES
"As women gain rights, families flourish, and so do societies. That connection is built on a simple truth: Whenever you include a group that's been excluded, you benefit everyone. And when you're working globally to include women and girls, who are half of every population, you're working to benefit all members of every community. Gender equity lifts everyone. Women's rights and society's health and wealth rise together."
ON POVERTY
"Poverty is not being able to protect your family. Poverty is not being able to save your children when mothers with more money could. And because the strongest instinct of a mother is to protect her children, poverty is the most disempowering force on earth."
ON EXTREME POVERTY
"What extreme poverty really means is that no matter how hard you work, you're trapped. You can't get out. Your efforts barely matter. You've been left behind by those who could life you up."
ON WISDOM
"Wisdom isn't about accumulating more facts; it's about understanding big truths in a deeper way. Year by year, with the support and insights of friends and partners and people who have gone before me, I see more clearly that the primary causes of poverty and illness are the cultural, financial, and legal restrictions that block what women can do—and think they can do—for themselves and their children."
ON EMPOWERING WOMEN
"If you want to lift up humanity, empower women. It is the most comprehensive, pervasive, high-leverage investment you can make in human beings."
ON OPENING UP TO OTHERS
"We have to open up to others. We have to give up the need to be separate and superior."
ON EMPATHY
"When people can't agree, it's often because there is no empathy, no sense of shared experience. If you feel what others feel, you're more likely to see what they see. Then you can understand one another. Then you can move to the honest and respectful exchange of ideas that is the mark of a successful partnership. That's the source of progress."
ON WEALTH
"Great wealth can be very confusing. It can inflate and distort your sense of self — especially if you believe money means merit."
ON DIVERSITY AND EQUALITY
Diversity is the best way to defend equality. If people from diverse groups are not making those decisions, the burdens and benefits of society will be divided unequally and unfairly — with the people writing the rules ensuring themselves a greater share of the benefits and a lesser share of the burdens of any society. If you are not brought in, you get sold out."
ON GENDER IN THE WORKPLACE
"Gender diversity is not just good for women; it's good for anyone who wants results."
ON THE SUCCESS OF SOCIAL MOVEMENTS
"Many successful social movements are driven by the same combination — strong activism and the ability to take pain without passing it on. Anyone who can combine those two, finds a voice with moral force."
ON EMBOLDENING OUR CHILDREN
"One of the biggest challenges in changing the culture is lifting up the self-image of the kids. They've had self-doubt planted in their minds by society, the media, even members of their own family."
ON ABUSIVE CULTURES
"An abusive culture, to me, is any culture that needs to single out and exclude a group."
ON BULLYING BEYOND CHILDHOOD
"Adults try to create outsiders, too. In fact, we get better at it. And most of us fall into one of the same three groups: the people who try to create outsiders, the people who are made to feel like outsiders, and the people who stand by and don't stop it. … Overcoming the need to create outsiders is our biggest challenge as human beings."
ON THE POWER OF STANDING TOGETHER
"… when women are trying to decide whether we should stand up, we don't know if others will stand with us. It often takes many women, arms linked, to inspire other women to speak."
ON ELIMINATING OUTSIDERS
"Savings lives starts with bringing everyone in."
ON FEMINISM
"Being a feminist means believing that every woman should be able to use her voice and pursue her potential, and that women and men should all work together to take down the barriers and end the biases that still hold women back."
ON SETTING YOUR AGENDA
"If you don't set your own agenda, somebody else will." If I didn't fill my schedule with things I felt were important, other people would fill my schedule with things they felt were important."
On AMAZON: The Moment of Lift: How Empowering Women Changes the World,