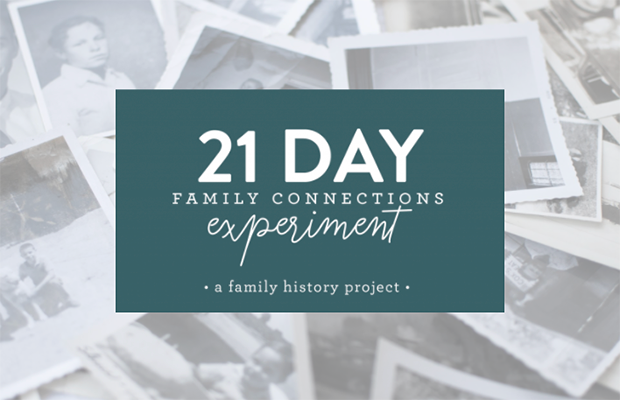 Several years ago, Olivia Jewell completed a 21-day experiment spending more time in temple and family history work—an invitation Sister Wendy Nelson extended during the 2015 BYU Women's Conference. 
"What I learned from that 21-day experience is family history is so much more than genealogy, names, dates, charts, things like that," said Jewell, a member of The Church of Jesus Christ of Latter-day Saints who lives in Payson, Utah. "That changed me."
Since then, Jewell has taught at RootsTech, BYU Education Week, and the BYU Family History Library. She's also learned about the psychological benefits of family history.
Over the last two weeks, Jewell—along with a team of family history experts, social media influencers, a psychologist, and others—created the "21 Day Family Connections Experiment: A Family History Project" to help people strengthen family bonds and boost their emotional and mental well-being during COVID-19.
"It has blown up," Jewell said of the number of people willing to get involved. "There is no question to me that the Lord is behind it. … For me, it's been this amazing experience of the right people being brought in at the right time."
The experiment will run from May 1–21 and is designed for everyone, regardless of religious affiliation or family situation.
Upon joining the experiment, participants will take a brief survey to gauge their current mood. They can choose from a variety of pre-made family history plans or build their own. Plans include daily prompts for 5 to 10-minute activities. At the end of the 21-day period, participants will take a follow-up survey to measure how their mood has changed.
Russell Seigenberg, a licensed psychologist since 1985 who lives in Providence, Utah, has been helping frame the survey questions for the experiment. To him, the experiment is about the emphasis on connection—especially during a time of isolation due to COVID-19.
The "21 Day Family Connections Experiment" is free and non-promotional. None of the individuals or entities involved will be making profit. Learn more about the experiment by visiting connections-experiment.com, join the Facebook group or follow on Instagram.