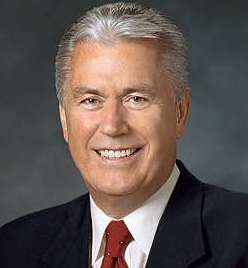 Last update: May 2022 Also see other collected talk by Church Leaders
I am listing below all Elder Dieter F. Uchtdorf's talks, not just those that he gave when he was as a General Authority of the Church, but also those given by him before, with the links to the text, video, or audio available. If there are more that I have missed, please let me know and I will add them to the list.
Elder Dieter F. Uchtdorf
Elder Dieter F. Uchtdorf was called as second counselor in the First Presidency of The Church of Jesus Christ of Latter-day Saints on February 3, 2008. He served in that position until January 2018. He was sustained as a member of the Quorum of the Twelve Apostles of the Church on October 2, 2004. He has served as a General Authority since April 1994.
Elder Uchtdorf was born on November 6, 1940 in Ostrava, Czechoslovakia, to Karl Albert and Hildegard Opelt Uchtdorf. In 1947 his family became members of the Church in Zwickau, Germany. They fled to Frankfurt/Main in 1952 where he received an education in engineering. In 1959 he joined the German Air Force and served for six years as a fighter pilot.
In 1965 Elder Uchtdorf began working for Lufthansa German Airlines as a pilot. From 1970 until 1996 he flew as captain of the B737, Airbus, DC10, and B747. While also working as training and check captain, he received several management responsibilities. These positions included Section Chief Pilot B737, head of Lufthansa pilot school in Arizona, head of all cockpit crews, and finally Senior Vice President Flight Operations and Lufthansa Chief Pilot. He was also chairman of the Flight Operations Committee of the International Air Transport Association.
Dieter Uchtdorf and Harriet Reich married in 1962. They have two children, six grandchildren, and three great-grandchildren. With his call as an Apostle, the Uchtdorfs left their homeland and now live permanently in the United States.
Dieter and Harriet Uchtdorf enjoy outdoor activities, cherish the arts, and are happiest when spending time with their family. (Source: ChurchofJesusChrist.org)
Contents
General conference
First Presidency Christmas devotionals
CES/Devotionals
BYU
BYU–Idaho
BYU–Hawaii
Other