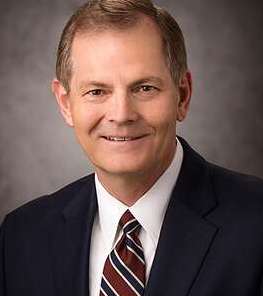 Last update: April 2023. Also see other collected talk by Church Leaders
Elder Gary E. Stevenson was called to serve as a member of the Quorum of the Twelve Apostles on October 3, 2015. At the time of his call to the Twelve, he had been serving as the Presiding Bishop of the Church since April 2012.
In April 2008, he was called to the First Quorum of the Seventy and served as a counselor and later as president in the Asia North Area Presidency. His previous Church service includes full-time missionary in the Japan Fukuoka Mission, ward Sunday School teacher, high councilor, bishop, stake presidency counselor, and president of the Japan Nagoya Mission (2004-2007).
He received a bachelor of science degree in business administration from Utah State University. He cofounded an exercise equipment manufacturing company, ICON Health & Fitness, Inc., where he served as president and chief operating officer until 2008. He was also involved in numerous civic activities and has served on various boards and advisory councils.
Elder Stevenson was born on August 6, 1955 to Evan N. and Vera Jean Hall Stevenson and was raised in Cache Valley, Utah.
In April 1979, he married Lesa Jean Higley. They are the parents of four sons. (From the website of the Church of Jesus Christ of Latter-day Saints)
Contents
General conference
First Presidency Christmas devotionals
worldwide devotionals
BYU
BYU–Idaho
Winter Commencement (video) April 12, 2013
Fear and Uncertainty vs. Faith and Hope (video) – April 8, 2021
BYU–Hawaii
Other