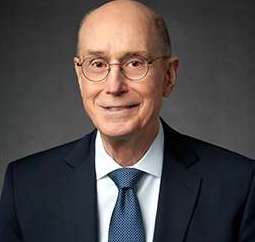 Last update: May 2022. Also see other collected talk by Church Leaders
President Henry B. Eyring was sustained and set apart as second counselor in the First Presidency of The Church of Jesus Christ of Latter-day Saints on Sunday, January 14, 2018. Prior to this, he served as a counselor to President Thomas S. Monson from 2008 to 2018 and to President Gordon B. Hinckley from 2007 to 2008. He was sustained as a member of the Quorum of the Twelve Apostles on April 1, 1995. He has served as a General Authority since April 1985.
President Eyring previously served as First Counselor in the Presiding Bishopric from April 1985 to September 1992 and as a member of the First Quorum of the Seventy, from 1992 to 1995. He served as Church Commissioner of Education from September 1980 to April 1985 and also September 1992 to January 2005.
President Eyring was president of Ricks College in Rexburg, Idaho, from 1971 to 1977. He was on the faculty at the Graduate School of Business at Stanford University from 1962 to 1971.
He holds a B.S. degree in physics from the University of Utah and master of business administration and doctor of business administration degrees from Harvard University.
Born in Princeton, New Jersey, on May 31, 1933, he has served the Church as a regional representative, a member of the general Sunday School board, and a bishop.
President Eyring is married to the former Kathleen Johnson, and they are the parents of four sons and two daughters. (From the website of the Church of Jesus Christ of Latter-day Saints)
CONTENTS
General conference
First Presidency Christmas Devotionals
CES/Devotionals
Gifts of the Spirit for Hard Times (video) 2006
BYU
BYU–Idaho
Untitled (MP3) August 28, 1973
Untitled (MP3) January 8, 1974
Untitled (MP3) September 10, 1974
Listening to the Promptings of the Spirit (MP3) January 7, 1975
Life is a Tennis Game—Keep Your Eye on the Ball (MP3) September 9, 1975
Untitled (MP3) November 11, 1975
The Slippery Side of Sin (MP3) February 17, 1976
Writing Our Book of Life (MP3) September 7, 1976
Education (MP3) January 11, 1977
My Life Experiences (MP3) April 12, 1977
Ricks is Special (MP3) November 18, 1980
Strengthen Your Testimony (MP3) February 23, 1982
Heavenly Father Reaches Out to His Children (MP3) February 15, 1983
Trials of Faith Certain (MP3) February 16, 1988
Commencement address (unavailable) April 21, 1988
Commencement address (unavailable) April 23, 1992
Surrender to Christ (MP3) September 21, 1993
Commencement address (unavailable) April 26, 1997
Commencement address (unavailable) April 25, 1998
Untitled (unavailable) September 7, 1999
A Steady, Upward Course September 18, 2001
Debt Management April 27, 2002
Learning How to Learn April 26, 2003
Raise the Bar January 25, 2005
The Temple and the College on the Hill June 9, 2009
Remarks and BYU–Idaho Center & Manwaring Center Dedicatory Prayer December 17, 2010
Installation and Charge September 19, 2017
The Spirit of BYU-Idaho September 19, 2017
A Life of Learning (video) – July 20, 2022
BYU–Hawaii
ENSIGN COLLEGE
Other