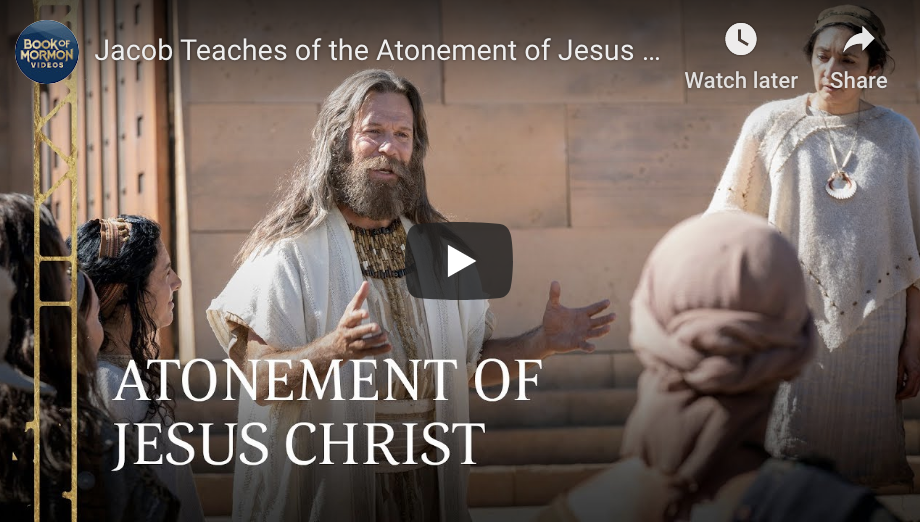 Every Friday until the end of the year, the Church of Jesus Christ is releasing another episode in the Book of Mormon Videos series.
Jacob Teaches of the Atonement of Jesus Christ, 2 Nephi 6–10
Jacob, a Book of Mormon prophet, rejoices in the wisdom of God in providing a Savior for mankind. He prophesies of Jesus Christ and teaches about His Atonement and Resurrection.
The Messiah prepares a way for all mankind to be saved, to be resurrected, and to return to the presence of God.
Based on 2 Nephi 6–10.
LINKS TO THE OTHER VIDEOS OF THE SERIES
Watch the Seventh Video in the Book of Mormon Series: Lehi's Family Sails to the Promised Land (1 Nephi 18)
Watch the sixth episode: The Lord Commands Nephi to Build a Ship (1 Nephi
Watch the fifth episode: THE LORD GUIDES LEHI'S JOURNEY (1 NEPHI 16)
Watch the fourth episode: LEHI SEES A VISION OF THE TREE OF LIFE (1 NEPHI 8)
Watch the first three episodes of the Book of Mormon Videos here
THE FOLLOWING IS THE RELEASE SCHEDULE FOR THE REST OF 2019:
November 29: Nephi Teaches the Doctrine of Christ | 2 Nephi 31–32
December 6: Nephi Records His Final Testimony | 2 Nephi 33
December 13: Jacob Teaches about Pride and Chastity | Jacob 2–3
December 20: Sherem Denies Christ | Jacob 7
December 27: Enos Prays Mightily | Enos 1
Videos that cover Mosiah through the end of the Book of Mormon will be released in 2020 and 2021.
Watch the videos also on ChurchofJesusChrist.org, in the Gospel Library app, and at YouTube.com/BookofMormonVideos.
The videos are available in the following 15 languages: Cantonese, Cebuano, English, French, German, Italian, Japanese, Korean, Mandarin, Portuguese, Russian, Samoan, Spanish, Tagalog and Tongan.
Shorter video segments of each episode are available at YouTube.com/BookofMormonVideos. Still photography is also available.
Learn more about the purpose of the Book of Mormon Videos: