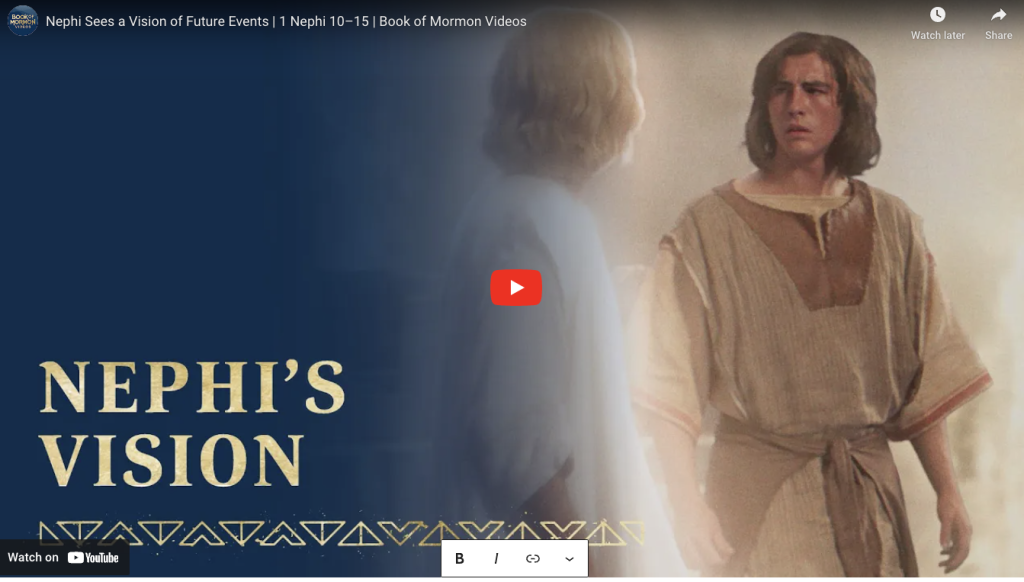 Nephi Sees a Vision of Future Events – 1 Nephi 10–15 
Nephi, an ancient prophet of God from Jerusalem and Ancient America, is caught up in a far-reaching vision of future events, similar to that of his father, Lehi and accompanied by an angel of the Lord. Nephi witnesses the birth, ministry and sacrifice of Jesus Christ, His appearance to the people of Ancient America and the restoration of the gospel in the latter days.
Lehi predice la cautividad en Babilonia — Habla de la venida entre los judíos de un Mesías, un Salvador, un Redentor — Lehi habla también de la venida del que bautizaría al Cordero de Dios — Lehi habla de la muerte y de la resurrección del Mesías — Compara el esparcimiento y el recogimiento de Israel con un olivo — Nefi habla acerca del Hijo de Dios, del don del Espíritu Santo y de la necesidad de que haya rectitud. Aproximadamente 600–592 a.C.
CAPÍTULO 11
Nefi ve el Espíritu del Señor y se le muestra el árbol de la vida en una visión — Ve a la madre del Hijo de Dios y aprende acerca de la condescendencia de Dios — Ve el bautismo, el ministerio y la crucifixión del Cordero de Dios — Ve también el llamamiento y ministerio de los Doce Apóstoles del Cordero. Aproximadamente 600–592 a.C.
CAPÍTULO 12
Nefi ve en visión la tierra de promisión; la rectitud, la iniquidad y la caída de sus habitantes; la venida del Cordero de Dios entre ellos; que los Doce Discípulos y los Doce Apóstoles juzgarán a Israel; y el estado aborrecible y sucio de aquellos que degeneran en la incredulidad. Aproximadamente 600–592 a.C.
CAPÍTULO 13
Nefi ve en visión el establecimiento de la iglesia del diablo entre los gentiles, el descubrimiento y la colonización de las Américas, la pérdida de muchas partes claras y preciosas de la Biblia, el estado resultante de la apostasía de los gentiles, la restauración del Evangelio, el advenimiento de las Escrituras de los últimos días y la edificación de Sion. Aproximadamente 600–592 a.C.
CAPÍTULO 14
Un ángel le informa a Nefi acerca de las bendiciones y las maldiciones que caerán sobre los gentiles — Solamente hay dos iglesias: la Iglesia del Cordero de Dios y la iglesia del diablo — Los santos de Dios son perseguidos en todas las naciones por la iglesia grande y abominable — El apóstol Juan escribirá tocante al fin del mundo. Aproximadamente 600–592 a.C.
LINKS TO THE OTHER VIDEOS OF THE SERIES IN ENGLISH
VIDEOS OF THE BOOK OF MORMON IN OTHER LANGUAGES