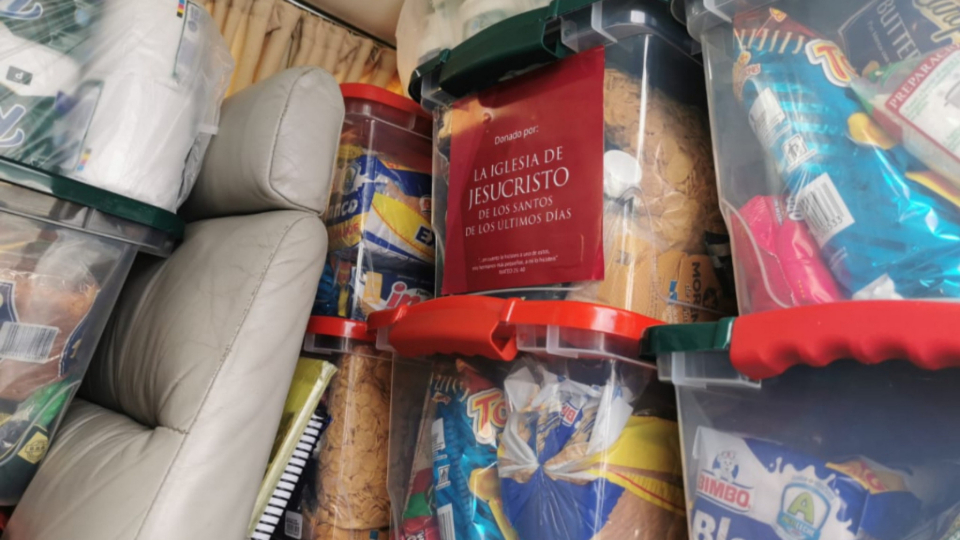 Latter-day Saint Charities and members of The Church of Jesus Christ of Latter-day Saints are helping those affected by Hurricanes Eta and Iota. They delivered thousands of emergency supplies and over 120 tons of food to help Central Americans recover from the catastrophic trail of destruction the storm left in its wake after hitting eastern Nicaragua on November 3, 2020.
The deadly Category 4 storm, the third most intense November Atlantic hurricane on record, hit several countries, including Nicaragua and Honduras.
Although the 150 mph (240 km/h) storm impacted tens of thousands of Central America's residents, it failed to deter the Church's official humanitarian organization and local Church members from extending a helping hand to hurricane survivors in need.
In collaboration with local community and government leaders, Latter-day Saints Charities gathered, transported and distributed the vital humanitarian relief.
"Our unique position of strength is access to thousands of local member volunteers within these impacted communities," said Sharon Eubank, president of Latter-day Saint Charities. "Disaster-relief supplies and funding may come through Latter-day Saint Charities, but that assistance is enabled by the generosity of our members and distributed by member volunteers living in these communities. We're so grateful for the critical help they've given to serve their communities."
Thousands of donated items, made possible primarily through the generous contributions of Latter-day Saints, included 120 tons of food, water, face masks, blankets and mattresses (Read the full story at Church Newroom)
Latter-day Saint Charities
Small and simple things
LATTER-DAY SAINT CHARITIES is an arm of the Church's humanitarian efforts to relieve suffering for families of all nationalities and religions and offer hope with the potential for a better life for millions of people around the world.
Emergency Response
The Church strives to provide immediate assistance following disasters. The Church provides food and other relief supplies as needed. In 2009 the Church provided millions of dollars in relief aid.
Clean Water
Access to clean water improves health and family hygiene. The Church assists communities to establish wells and other drinking water systems to provide access to clean water. The Church also helps communities establish local water committees and provide hygiene training. The community donates labor and materials. Over 6.4 million people now have access to clean water because of this program.
Neonatal Resuscitation Training
This training saves the lives of newborns who struggle to breathe at birth. The Church provides skill training and resuscitation equipment to doctors, nurses, and midwives. Since 2002, over 168,000 health care workers have been trained in these life-saving techniques.
Vision Care
By improving the quality of eye care treatment delivered by local health care organizations, blindness and visual impairment may be avoided. The Church provides training, equipment, and supplies to assist local eye care professionals and programs. Since 2003, 506,000 people have benefitted from Church vision projects throughout the world.
Mobility Assistance
Provides mobility devices including wheelchairs for rough terrain, hospital wheelchairs, crutches, walkers, and canes to physically disabled persons. Since 2002, over 350,000 people have received a wheelchair or other mobility assistance device.
Food Production
Raises the quality of life for urban and rural families through improved food production and nutrition. Since 2002, over 31,000 people have benefitted from this program.
Immunizations
Through ministries of health and the World Health Organization, Church contributions and local Church volunteers have provided life-saving immunizations to thousands of people. The Church has participated in 51 nationwide immunization campaigns in 35 countries since 2003.