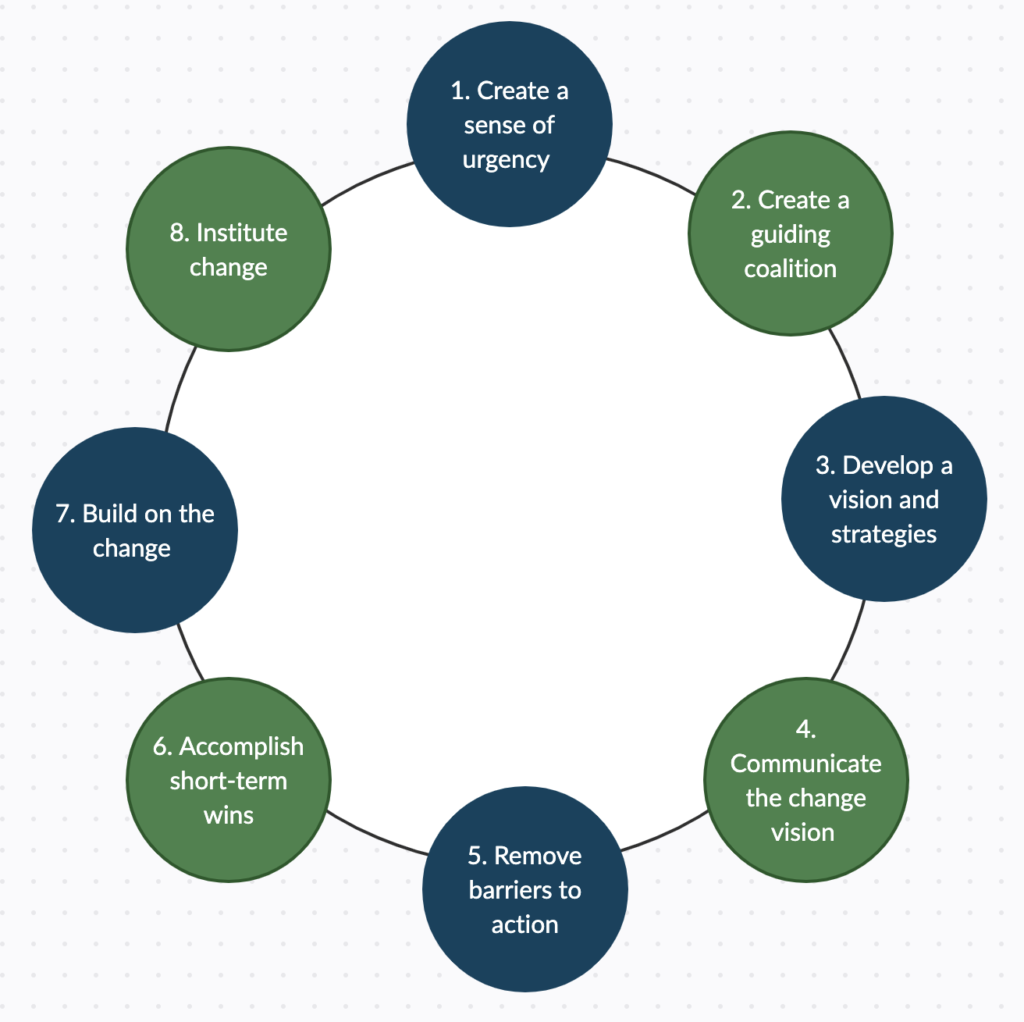 Change is hard, especially in the context of an organization. It undermines the status quo and may lead to conflict. Barriers to change can come in various forms, like lack of teamwork or leadership, rigid workplace cultures, arrogant attitudes, fear, and so on. Opposition can disrupt any change implementation project.
To overcome these barrier, and successfully implement change, a reliable change framework is indispensable.
What Is a Change Management Framework?
Change management can be defined as the process of managing organizational transitions, transformations, and changes. Change management is a well-established discipline with decades of history.
Like all business processes, change management needs to be systematized in order to be effective.
A framework provides a systematic approach to managing change. Each framework has its strengths and weaknesses. Some are more appropriate than others for a given situation.
When combined with other change management tools and techniques, frameworks strongly increase the chances of success.
Many business leaders have developed or used frameworks and processes to effect organizational change.
John P. Kotter's Top 48 Best Quotes
Kotter's 8-step change management framework
Kotter's 8-step model is one of the most well-known and widely used change management frameworks. It outlines how to systematically and effectively implement change in an organization.
Dr. John Kotter, a leading expert on change management, introduced his 8-steps change management framework in the 1990s, and it has since become one of the world's most renowned change models.
In 1996, John Kotter wrote Leading Change, his famous book on change management, in which he detailed a step-by-step model for leading organizational change.
Those steps, according to Dr. Kotter's institute, have several aims:
Enable a core change team to drive change forward
Enact change within a hierarchical organizational structure
Focus on one thing and execute a series of linear actions over time
Implement change sequentially and in a finite manner
8 Steps to Accelerate Change: A Breakdown
Here are the steps in that model:
1. Create a Sense of Urgency
The process of change should start with establishing a sense of urgency among both managers and employees. Everyone involved should feel the need for change. Without a broad support, it will be difficult to keep the momentum of the change initiative and achieve lasting transformation.
The objective of this step is to prepare the organization for the upcoming change and motivate the employees to offer their contribution.
For this first step to succeed, approximately 75% of the organization's management should support the change initiative.
Kotter believes that to be successful, a change initiative needs to appeal to both the emotions and the intellect.
2. Build a Guiding Coalition
The second step of the model focuses on bringing together an effective team with the right skills, qualifications, connections and enough power to influence stakeholders and provide leadership to the efforts.
It should be a cross-functional, diverse team, enabled to work both inside and outside of the traditional hierarchy, and very committed to change.
The Guiding Coalition is, in many ways, the nerve center of the 8-Step Process. It can take many shapes, but must consist of members from multiple layers of the hierarchy, represent many functions, receive information about the organization at all levels and ranks, and synthesize that information into new ways of working.
3. Develop a Vision and Strategies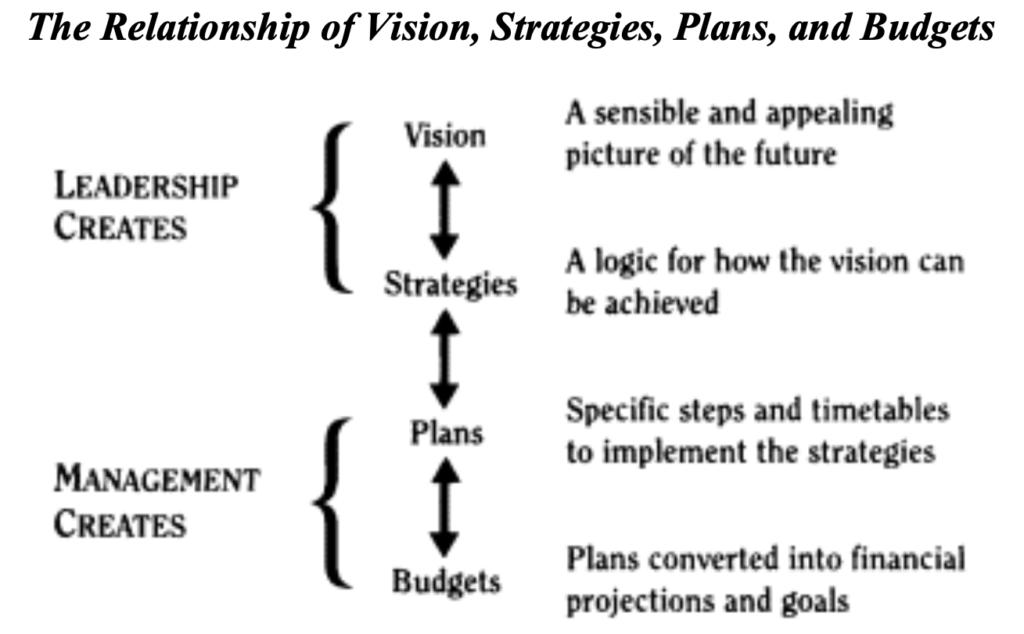 The objective of this step is to create a vision to achieve change successfully by inspiring and guiding team actions and decisions. It should also define clear and realistic targets to help measure success and engage the company's stakeholders.
"Vision refers to a picture of the future with some implicit or explicit commentary on why people should strive to create that future. In a change process, a good vision serves three important purposes. First, by clarifying the general direction for change .., it simplifies hundreds or thousand of more detailed decisions. Second, it motivates people to take action in the right direction, even if the initial steps are personally painful. Third, it helps coordinate the actions of different people, even thousands and thousands of individuals, in a remarkably fast and efficient way." (Leading Change, p. 68-69)
For a vision to be effective, it must be conceivable, desirable, achievable, focused, flexible and communicable. Importantly, an inefficient vision can be more harmful than not having a new vision.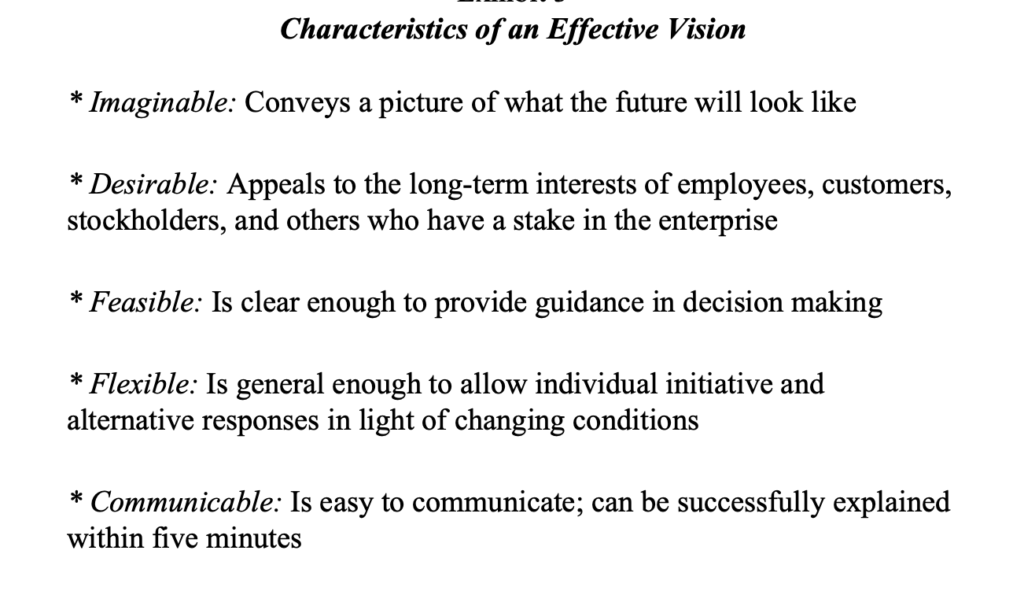 4. Communicate the Change Vision
"A great vision can serve a useful purpose even if it is understood by just a few key people. But the real power of a vision is unleashed only when most of those involved in an enterprise or activity have a common understanding of its goal and direction. That shared sense of a desirable future can help motivate and coordinate the kinds of actions that create transformations." (Leading Change, p. 85)
The vision needs to be shared with those involved. To be successful, they need to be aware of their roles and goals.
This shared sense is what motivates and facilitate the coordination for a major transformation. However, this vision sharing isn't easy for traditional managers.
Some of the best techniques to facilitate vision communication are simplicity, use of metaphors, analogies and examples, repetition, lead by example, and elimination of inconsistent information.
The goal of effectively communicating the vision is to capture the hearts and minds of the employees; to get them to believe that change is possible and to make sacrifices to support the change.
5. Empower Employee for Broad-Based Action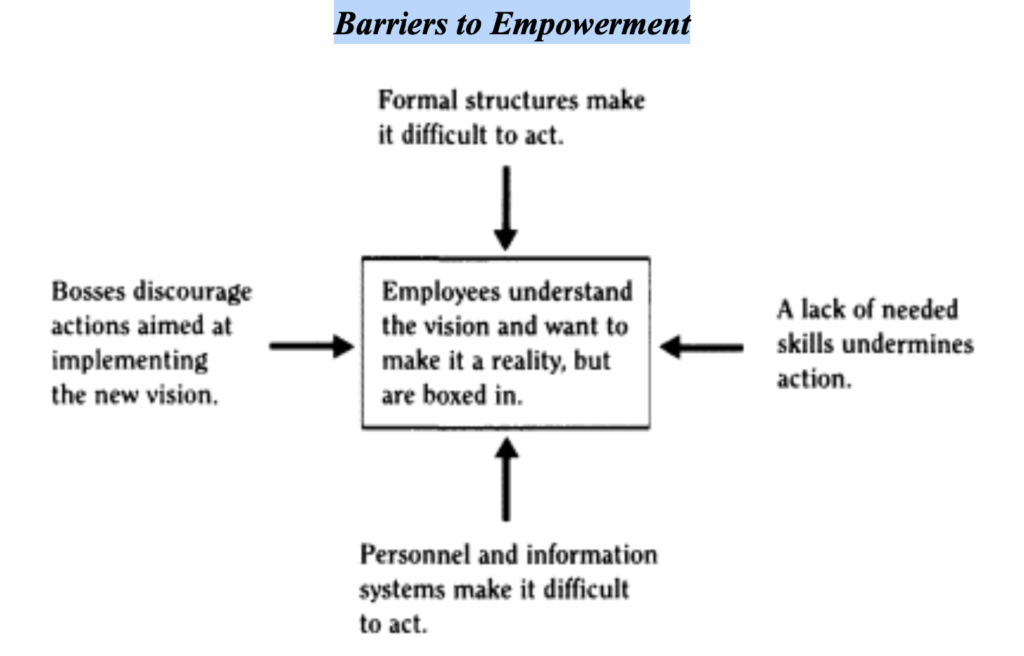 When implementing organizational changes, obstacles occur frequently. They may come in the form of insufficient processes, resistance to change by employees themselves, disempowering managers, organizational policies, etc.
When this occurs, the guiding coalition and the senior management should work to remove these obstacles that block the organization's change.
Remove Barriers to Action
Four main barriers to empowerment that must be eliminated are:
1. Structures: Remove actuation structures that prevent work from being streamlined. Many levels of leadership, for example, can slow down decision making.
2. Skills: Lack of skill is detrimental to development. Provide training for your employees to be 100% qualified.
3. Systems: Correct leadership helps transform the system to align with the new vision.
4. Supervisors: Confront supervisors who are not committed to change, who do not encourage employees, and who are not aligned with the new vision and strategies.
6. Generate Short-Term Wins
To sustain the effort needed to create a big change, people often need compelling evidence that shows that they are on the right track and that what they are doing is worthwhile. Without this feedback, most people begin to question themselves and what they are doing.
This is why short-term wins are important in a change process.
When we reach those wins, they become fuels for us to continue dedicating ourselves. They reaffirms vision and strategies and prove that our sacrifice is worthwhile, giving us needed positive feedback and keeping the teams united and dedicated to the goals.
Going for a long time without any victories to celebrate may discourage employees.
A short-term win is an improvement that can be implemented within a short period of time. Such win should be highly visible throughout the organization, unambiguous, and related to the change initiative.
7. Consolidate Gains and Produce More Change
In a long process of transformation, the sense of urgency may eventually be lost. Complacency may increase, and old habits and traditions may return to work.
Resistance to change never completely disappears, and progress can fail quickly for two reasons: the corporate culture and the high interdependence created.
The transformation takes place in a series of projects and these projects are made of other smaller projects. With the proper leadership and management, goals can be achieved and excess interdependence diminish.
With less interdependence and more autonomy, decision making speed increases, which makes projects complete faster and transformation becomes more real.
Change must be gradual, and new practices cannot be implemented all at once. This is why culture transformation comes at the end of the transformation.
It's important to make sure that the team doesn't declare victory prematurely after a few quick wins.
To continue the momentum of change,
After every win, it is important to identify what worked and what went wrong to decide what needs to be improved
Gains from the quick wins need to be consolidated and there is a need to continue to work on implementing larger change throughout the organization
Unnecessary processes and inter-dependencies need to be identified and removed
Continue communicating the vision and delivering benefits
8. Anchor New Approaches into the Culture
"In many transformation efforts, the core of the old culture is not incompatible with the new vision, although some specific norms will be. In that case, the challenge is to graft the new practices onto the old roots while killing off the inconsistent pieces." (Leading Change, p. 151)
In this final step, the change leaders work on nurturing a new culture where change can become permanent. This includes changing not only organizational norms and values, but also processes, reward systems, and other infrastructure elements to align everything with the new direction.
Is Kotter's 8-Step Model Still Relevant?
In 2014, responding to the changing needs of the business world, Dr. Kotter and his team released a newer version of the 8-step process for accelerating change.
This new model has different objectives:
Rather than running steps linearly and sequentially, they can be run continually and simultaneously
Instead of allowing a core change to drive change, change managers recruit a volunteer army who acts as the "change engine"
The new change model can function either inside of or outside of a traditional hierarchy
While the previous version of Kotter's model emphasized specialization on one task, the new model aims to proactively seek new opportunities and complete them quickly
Both versions of the model are still relevant. They are just designed for different use cases, circumstances, and objectives.
For example, an organization that operates with a traditional hierarchy and wants to implement change linearly will probably use the earlier model, while an organization with a flat hierarchy who wants to continuously implement change will probably use the newer model.
The Updated 8-Step Process for Leading Change
From Kotter's website:
About John Kotter
John Paul Kotter is the Konosuke Matsushita Professor of Leadership, Emeritus, at the Harvard Business School, an author, and the founder of Kotter International, a management consulting firm based in Seattle and Boston. He is a thought leader in business, leadership, and change.
His best-selling book "Leading Change" which discusses mistakes organizations often make when implementing change and an eight-step process for successfully bringing about change, is often referred to by managers as the bible of change across the world.