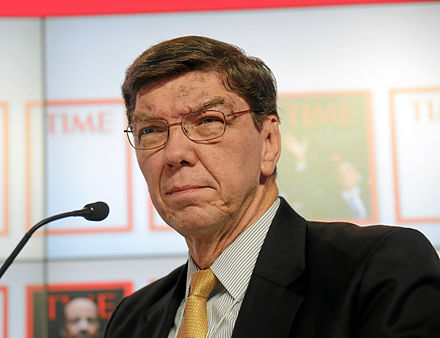 In the last few months I had been reading, or reading again, several of Clayton Christensen's books. Not only the more famous like the Innovator's Dilemma or The Innovator's Solution, but also books like How Will You Measure Your Life?, or The Prosperity Paradox. They were all sources of ideas and inspiration for my life and work.
Particularly in this book How Will You Measure Your Life? his Latter-day Saints religious background becomes more evident, even when he is not directly talking about his religion, like in The Power of Everyday Missionaries.
These quotes are a good example of it:
"When I have my interview with God, our conversation will focus on the individuals whose self-esteem I was able to strengthen, whose faith I was able to reinforce, and whose discomfort I was able to assuage—a doer of good, regardless of what assignment I had. These are the metrics that matter in measuring my life."― Clayton M. Christensen
"The only metrics that will truly matter to my life are the individuals whom I have been able to help, one by one, to become better people." ― Clayton M. Christensen
"Decide what you stand for. And then stand for it all the time." ― Clayton M. Christensen
"Intimate, loving, and enduring relationships with our family and close friends will be among the sources of the deepest joy in our lives."― Clayton M. Christensen
If you want to help people, being a manager with the right attitude can serve you well:
"I used to think that if you cared for other people, you need to study sociology or something like it. But….I [have] concluded, if you want to help other people, be a manager. If done well, management is among the most noble of professions. You are in a position where you have eight or ten hours every day from every person who works for you. You have the opportunity to frame each person's work so that, at the end of every day, your employees will go home feeling like Diana felt on her good day: living a life filled with motivators." ― Clayton M. Christensen
Regarding his passing away the Deseret News reported earlier today:
Clayton Christensen, whose theory of disruptive innovation made him a key influence on Silicon Valley powerhouses like Netflix and Intel and twice earned him the title of the world's most influential living management thinker, died Jan. 23 at age 67.
His brother, Carlton, told the Deseret News that Christensen died Thursday evening of complications from cancer treatment in Boston, Massachusetts, where he had been a notable part of the Latter-day Saint community for over 40 years. He was considered an equally robust spiritual thinker.
Christensen introduced disruptive innovation in the Harvard Business Review in 1995, but the theory and the term burst into the public consciousness in 1997 when he published "The Innovator's Dilemma: When New Technologies Cause Great Firms to Fail." Soon afterward, Intel CEO Andy Grove stood up with a copy of the book at COMDEX in Las Vegas and declared it the most important book he'd read in a decade. The two men appeared together on the cover of Forbes magazine in 1999 — and both Christensen and the business world were changed forever.
Christensen initially used the term "disruptive technologies." Grove dubbed it the "Christensen Effect." After Christensen altered it to "disruptive innovation," the term became ubiquitous. Five years ago, the Economist said it had long since entered the zeitgeist.
Though he coined the term, Christensen grew uncomfortable with it as he saw it overused and misapplied. He utilized it narrowly to describe innovations that upended existing markets, but only if they fit a certain pattern he had discovered. A true disruptive innovation, he taught, first appealed only to a niche market and appeared less attractive than the powerful incumbent it eventually usurped. In fact, the incumbent typically looked down on it as inconsequential until it ate up huge swaths of its market share.
Netflix CEO Reed Hastings used "The Innovative's Dilemma" with his team. The biographer of Steve Jobs said the book "deeply influenced" Apple's co-founder. Jeff Bezos tells his Amazon executives to read another Christensen book, "The Innovator's Solution."
READ THE FULL OBITUARY FOR CHRISTENSEN AT Deseret.com.