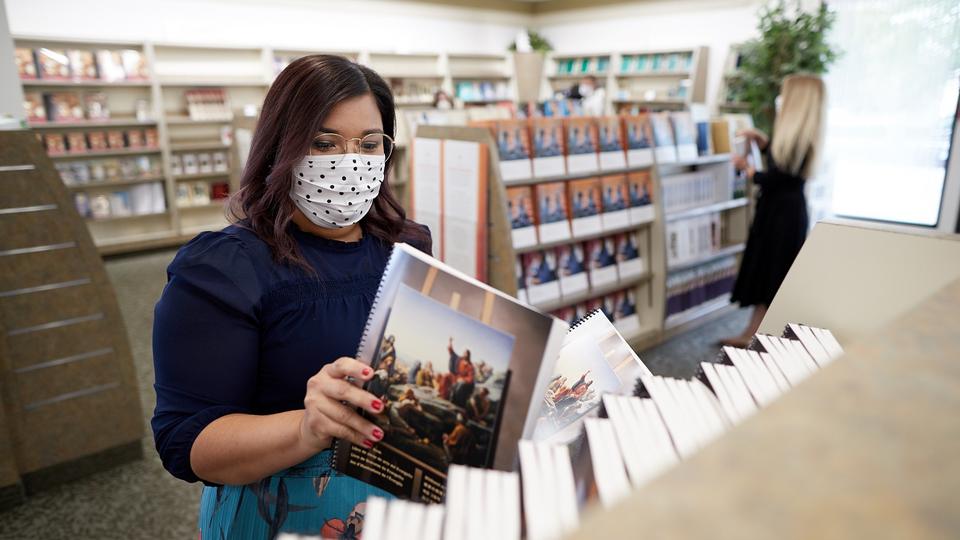 More than 1,500 employees and service missionaries from The Church of Jesus Christ of Latter-day Saints displaced due to COVID-19 associated safety precautions have been reassigned to work virtually from their homes on family history and other several other related assignments until they can return to their regular assignments.
The coronavirus pandemic caused Church facilities and operations around the world to halt or adjust their day-to-day services.
"It was overwhelming," said Lorys Saavedra, who works at a Church distribution center in Centerville, Utah. "We didn't know what was going to happen."
Precautionary measures temporarily impacted temples, distribution facilities, historic sites and thousands of family history centers around the world.
Steve Rockwood, president and CEO of FamilySearch International, explained that as COVID-19 safety measures unfolded, FamilySearch and Church leadership discussed options to help the displaced service missionaries and workers find opportunities elsewhere.
That is when the FamilySearch team offered to match displaced individuals' skillsets with FamilySearch's online operations and opportunities until they can return to their previous duties.
"Some technical skills, language skills, some genealogical skills were all put into play," said Rockwood. "FamilySearch has 15 years of experience engaging a globally distributed workforce online. We were thrilled we could help accommodate these displaced workers and missionaries from other areas, and they in turn could help us help others to discover their families and ancestors."
(read the rest off the article on the Church Newsroom)
About FamilySearch
It's all about family. FamilySearch is a nonprofit family history organization dedicated to connecting families across generations. FamilySearch believes that families bring joy and meaning to life.
The FamilySearch Story
OUR COMMITMENT TO CONNECT ANCESTORS
The Church of Jesus Christ of Latter-day Saints is the primary benefactor for FamilySearch services. Our commitment to helping people connect with their ancestors is rooted in our beliefs—that families are meant to be central to our lives and that family relationships are intended to continue beyond this life.
We hold that all family members—those living, those past, and those future—share an enduring bond that reaches across the generations. To us this means that families are forever, and an important part of acting on this belief is doing family history
100 YEARS OF RECORD GATHERING AND PRESERVATION
FamilySearch, historically known as the Genealogical Society of Utah, which was founded in 1894, is dedicated to preserving the records of the family of mankind. Our purpose is simple—help people connect with their ancestors through easy access to historical records.
We gladly join and partner with others who share this vision. We pioneered industry standards for gathering, imaging, indexing, and preserving records. Advances in technology and the emergence of our digital world now provide an opportunity for us to share these resources with the world.