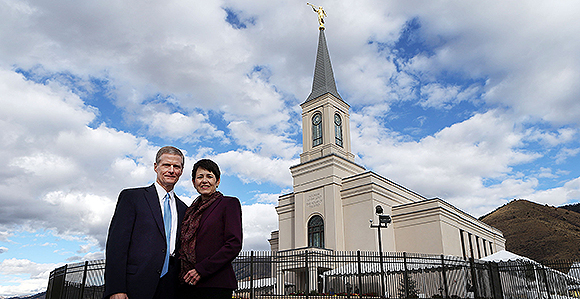 As recorded in the Old Testament, Jehovah promised the children of Israel that as they carried the Ark of the Covenant—the most sacred of their religious symbols—they would cross the River Jordan on dry land.
Most noteworthy in this episode, said Elder David A. Bednar, is that the "water did not part until their feet were wet."
The moment recorded in Joshua 3 is one of those "great lessons of the past" that can be instructive to Latter-day Saints today facing the worldwide COVID-19 pandemic that has claimed thousands of lives, crippled the world economy, and isolated world populations, said the member of the Quorum of the Twelve Apostles.
In response to the coronavirus crisis, Church leaders made many adaptations in order to be part of the solution to the pandemic—including closing temples across the globe.
The temple "is a point of intersection between heaven and earth," Elder Bednar said, adding that a person's experiences in the temple help him or her see far beyond mortality.
Still, during this time when temple work is not being performed, blessings are readily available to Latter-day Saints, he said. Like the children of Israel who carried the Ark of the Covenant into the River Jordan knowing the waters would part, members must press forward with fortitude, courage, and the expectation that miracles will follow.
"If we will exercise the faith to press forward, then in the Lord's way, and according to His timing, the water will part."
(Read the rest of the articles on the Church News)