Since July of this year FamilySearch offers the ability to correct errors that have been made by people who index records.
FamilySearch indexing is a volunteer transcription effort that makes valuable genealogical records freely searchable online. Since FamilySearch indexing began in 2006, this unprecedented crowd sourcing effort has produced more than one billion searchable records.
Unfortunately, however, indexing errors sometimes make the search process more difficult. Hard-to-read handwriting, damaged records, language barriers, and simple human error mean that no index is guaranteed to be 100 percent accurate. If you add the fact that sometimes the original documents had errors in the first place, it's easy to see how complications seep in. Errors in the records or index can render the index useless for finding certain ancestors and can even cause a researcher to skip over important records. 
In the past, if you came across an incorrect index on FamilySearch, there wasn't much you could do about it besides note down the error and perhaps grumble about it to yourself. That's all changed now! With the newest update on FamilySearch, you can make corrections to names in the index—with the ability to edit other details in the entries coming soon. By editing the index, you can help other people locate records—and ancestors—they might not have been able to find otherwise.
How to Edit an Indexed Name on FamilySearch
When searching for an ancestor on the site, users can look through the results for a likely record and click the ancestor's name. A box will pop up with the indexed information on the left and a clickable image on the right. If the index is editable, the word "Edit" will appear in blue to the right of the name.
To enter the desired correction, click Edit, and follow the prompts. A space is included for other comments or explanations. User corrections will not override the information already on FamilySearch but adds an alternative. Multiple corrections can be added to a record. All will be searchable.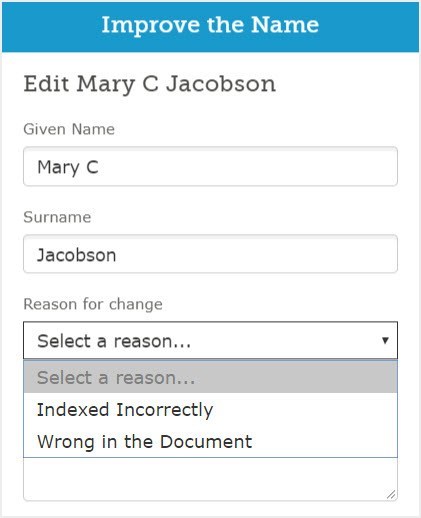 Read more information in these articles: