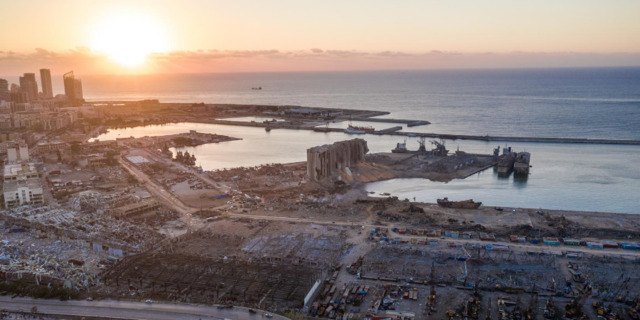 The humanitarian arm of The Church of Jesus Christ of Latter-day Saints, Latter-day Saint Charities, has donated nearly $2 million USD to provide desperately needed food and medical supplies to people in Lebanon. The charitable donations are in response to the August 4, 2020, explosion that occurred at the Port of Beirut, killing more than 200 people and injuring more than 7,000. The homes of an estimated 300,000 people were destroyed or severely damaged.
These donations by Latter-day Saint Charities are just the latest in a multi-year effort to relieve suffering in Lebanon. Currently, the Middle East/Africa North Area Presidency has prioritized responding to both medical needs for hospitals and food needs for victims.
"We are grateful for the generous donations of Latter-day Saints around the world, which make it possible for us to quickly respond to this unexpected crisis," Area President Elder Anthony D. Perkins said. "We appreciate working with our trusted humanitarian partners to help provide needed medical supplies and food. The good people of Lebanon continue to be in our prayers during this difficult time."
Latter-day Saint Charities is partnering with the following organizations to provide medical and food supplies:
(READ THE FULL ARTICLE IN THE CHURCH NEWSROOM)
2020 Beirut Explosion
On 4 August 2020, a large amount of ammonium nitrate stored at the port of the city of Beirut, the capital of Lebanon, exploded, causing at least 181 deaths, 6,000 injuries, US$10–15 billion in property damage, and leaving an estimated 300,000 people homeless. Around 2,750 tonnes of the substance (equivalent to around 1.1 kilotons of TNT) had been stored in a warehouse without proper safety measures for the previous six years, after having been confiscated by the Lebanese authorities from the abandoned ship MV Rhosus. It is not yet known what caused the ammonium nitrate to detonate; suggested reasons include a fire in an alleged fireworks warehouse, an attack, or a fire in an ammunition warehouse; investigation is still ongoing.
The explosion was felt in Turkey, Syria, Israel, and parts of Europe, and was heard in Cyprus, more than 250 km (160 mi) away. It was detected by the United States Geological Survey as a seismic event of magnitude 3.3, and is considered one of the most powerful non-nuclear explosions in history.
The Lebanese government declared a two-week state of emergency in response to the disaster. In its aftermath, protests erupted across Lebanon against the government for their failure to prevent the disaster, joining a larger series of protests which have been taking place in the country since 2019. On 10 August 2020, Prime Minister Hassan Diab and the Lebanese cabinet resigned due to mounting political pressure exacerbated by the event. (From Wikipedia)