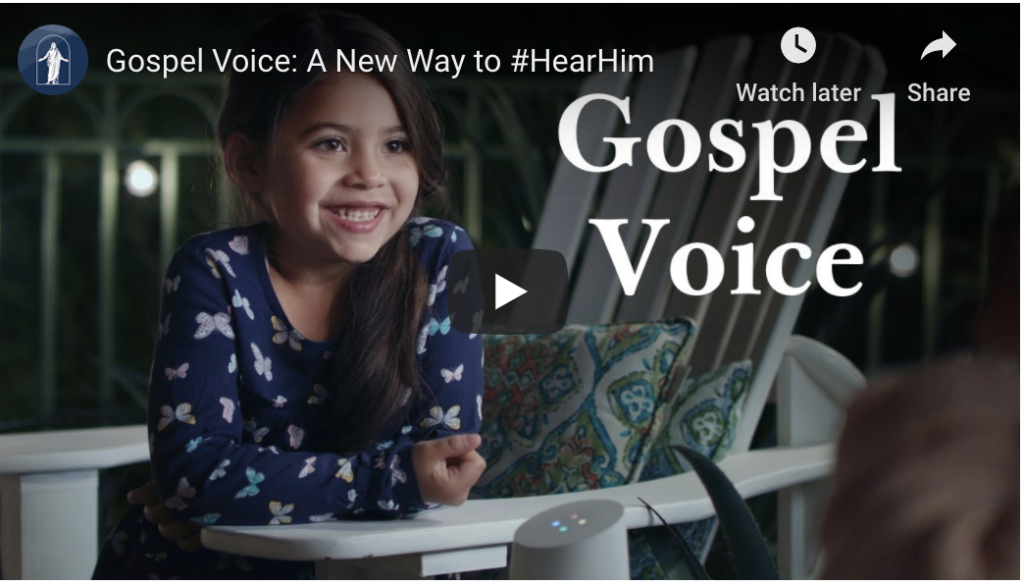 A few simple words directed at your Amazon or Google smart speaker will, beginning July 22, 2020, bring scripture, music, general conference talks and other important content from The Church of Jesus Christ of Latter-day Saints into your home.
To get started, those who own an Amazon Echo can say, "Alexa, enable Gospel Voice."
Users of Google Home can say, "Hey, Google. Talk to Gospel Voice."
English versions of the following content will then be accessible:
Scriptures (standard works)
Come, Follow Me lesson audio by week
General conference talks
Latter-day Saints Channel Music radio stream
Latter-day Saints Channel Talk radio stream
Latter-day Saints Channel Tabernacle Choir stream
Music: Hymns, Children's Songbook, Youth Music
Live and past general conference sessions
Saints volumes 1 and 2
More content will be available via Gospel Voice later this year, including magazine audio, Church podcasts and specific scriptures.
Gospel Voice can be used on these devices:
Amazon Echo speakers and screens
Alexa-enabled Amazon tablets
Smartphones with the Alexa app
Amazon Echo Auto
Google Home speakers and screens
Smartphones with the Google Assistant app
Android Auto
There are many ways to access content using Gospel Voice. See the quick start guide for more information.
To help the Church improve Gospel Voice, send feedback to [email protected].