A new interactive Church History Museum exhibit called Temples Dot the Earth: Building the House of the Lord is now open to the public. The display, primarily designed for children ages 1–11, offers families an interactive experience to discover the purpose of The Church of Jesus Christ of Latter-day Saints' temples, which are located around the world.
The exhibit provides several hands-on experiences through which families can explore the exterior and interior of temples, including a replica of a temple's outer wall, ordinance rooms and a full-sized baptistry ox once housed in the Frankfurt Germany Temple.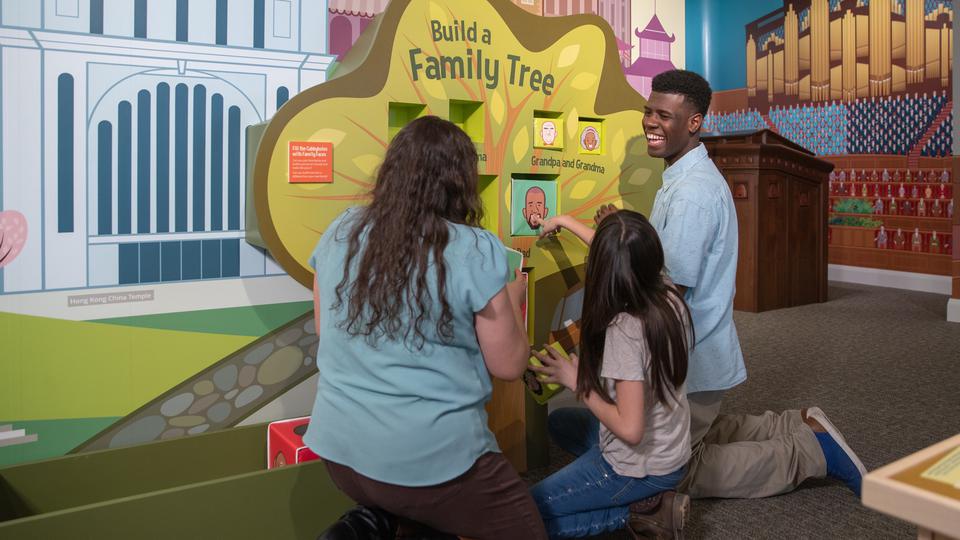 "Museums are a great idea because … you can learn about things. It's so much easier to talk about things when you're here with your kids," said Chris Robinson, who visited the museum for the first time with his wife and children.
Church History Museum Director Alan Johnson said these interactive activities will help children better understand the meaning of temples before they are old enough to attend.
Learn more in the article "Temples Dot the Earth: Building the House of the Lord."
Watch this video:
Visit
The Church History Museum is free and open to the public Monday–Friday, 9:00 a.m.–9:00 p.m., and Saturday, 10:00 a.m.–6:00 p.m. Closed Sunday. View holiday hours.
Church History Museum Guidelines

This free family-oriented museum features permanent and changing exhibits about Latter-day Saint history, art, and culture. The museum's main exhibition, The Heavens are Opened, surveys the beginnings of the Church of Jesus Christ of Latter-day Saints from the early 1800s through 1846. The exhibits are self-guided, and reservations are not required. Docents are available in the galleries to answer questions and give short presentations, but tours are not offered. The museum has a gift shop with souvenirs, books, and art prints.