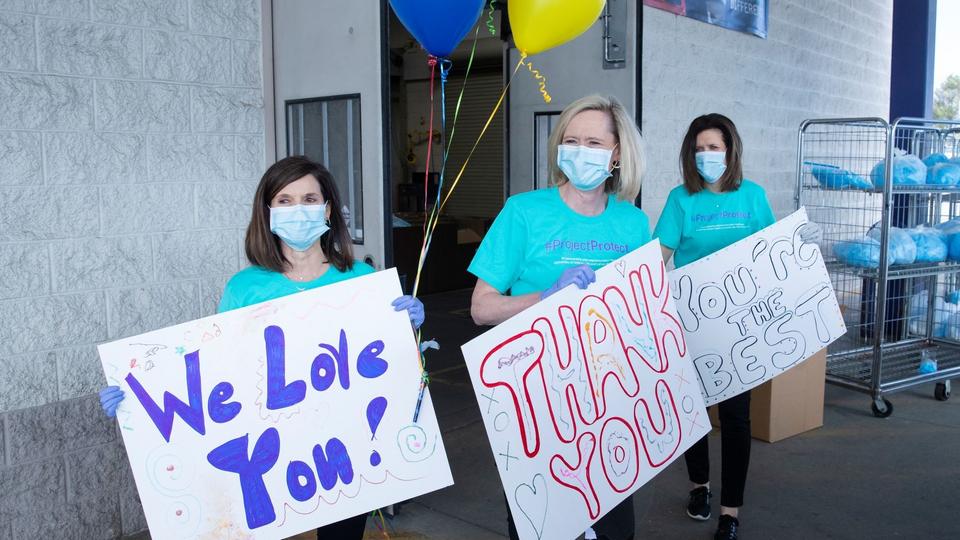 These are some of the latest relief projects organized by The Church of Jesus Christ of Latter-day Saints.
Project Protect Begins Distributing 5 Million Masks for COVID-19 Relief 
Utah's frontline health care workers are starting to receive clinical face masks that thousands of residents volunteered to assemble as part of an ongoing service initiative organized by Intermountain Health Care and University of Utah Health, in partnership with Latter-day Saint Charities.
Project Protect, the name of the service initiative, aims to provide 5 million pieces of personal protective equipment (PPE) to Utah health care workers treating COVID-19 patients.
"This is huge, that staff know that they're going to have enough masks to keep themselves and their patients safe," said Colleen Connelly, senior nursing director for Clinical Care at University of Utah Health, one of the entities that received a batch of donated face masks.
"It keeps them feeling secure and so touched by the community that the community would stand behind us in this way," Connelly added.
Shortly after the Church's First Presidency announced a global effort to address the COVID-19 pandemic, hundreds of humanitarian projects led by Latter-day Saint Charities (the humanitarian arm of the Church) and friends of the faith have continued to unfold around the world.
"We have partnerships, whether it's a pandemic or not, and we really depend on these relationships … so that when there is a pandemic we don't have to start from scratch," said Sharon Eubank, president of Latter-day Saint Charities. "We go to work right away."
One example of these partnerships is the 5 million mask project unfolding in Utah.
(Read the full article on the Church Newsroom)
Church Supports COVID-19 Response Efforts in Nigeria
In support of the efforts aimed at curtailing the adverse effects of the COVID-19 pandemic in Nigeria, The Church of Jesus Christ of Latter-day Saints on April 29, 2020 donated personal protective equipment and other basic necessities to the Lagos State Government through the Ministry of Health.
The donated items include N95 masks, disposable facemasks, surgical gowns, protective eye shields, disposable hand gloves, hand sanitizers, antiseptic liquid soaps, disposable shoe covers, veronica buckets and tissue papers.
Elder Christian Chigbundu, an Area Seventy in the Africa West Area, led other Church representatives to make the donations on behalf of the Church. While making the presentations, he thanked the Lagos State government for the measures put in place to safeguard the lives of her citizens and expressed gratitude to the various healthcare personnel for their tireless work during this trying period. He stated that the Church was happy to partner with the government in the fight to protect the citizens of Nigeria against this deadly disease.
(Read the full article on the Church Newroom)
Church Donates Cash and Commodities to Support COVID-19 Relief Efforts
The Church of Jesus Christ of Latter-day Saints continues to provide relief amid the COVID-19 pandemic. The Church is now distributing cash and commodities in response to an unprecedented number of humanitarian requests around the world.
To date, Latter-day Saint Charities has initiated 280 COVID-19 relief projects in over 80 countries. Within the United States, 15 truckloads of commodities from the Church's network of bishops' storehouses are being delivered each week to food banks and other charitable organizations across the country.
$5.5 million of cash donations is also being provided to the following key relief agencies in the U.S.:
Convoy of Hope (Springfield, Illinois)

They will use the Church's donation to distribute food to those in need, largely in the Midwest.

"This generous gift came at a pivotal time. Convoy of Hope is well on its way to reaching the goal of delivering 10 million meals to those hit hardest by the coronavirus." —Hal Donaldson, CEO of Convoy of Hope
(Read the full article on the Church Newsroom)
Welsh Latter-day Saints partner with local organisations to provide essential supplies for thousands during COVID-19 crisis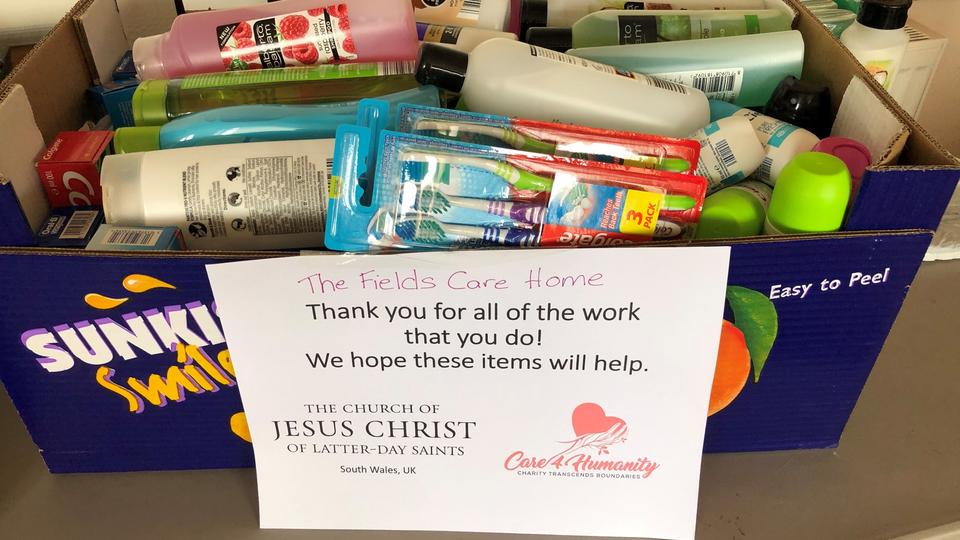 Responding to urgent needs in the community can be challenging, but not for members in the Cardiff Stake (diocese) of The Church of Jesus Christ of Latter-day Saints. In just three weeks they were able to secure funding, partner with local organisations and engage volunteers to purchase, assemble and deliver 8,000 hygiene kits to 35 locations across South Wales.
Traditionally, essential hygiene items are provided by family or friends to patients in hospital or residents of care homes. However, because access to all hospitals has been restricted to slow the spread of COVID-19, these items have been in short supply to the point that nurses and health care professionals personally sought outside donations to meet the growing need.
The hospital staff have been so grateful for the hygiene packages as they are able to treat all of the patients equally; saving precious time of trying to find items or ask for donations from friends and family," said Deborah Barry, humanitarian organiser, Cardiff Latter-day Saints congregations.
Packets were distributed to local hospitals, elderly care homes, homeless shelters, women's refugee centres and also to the Principality Stadium, Cardiff where the Dragon's Heart 'field hospital' was recently created. The kits included full-sized shower gel packs, shampoo, toothpaste, toothbrushes, deodorant and more. Funding for the project came from donations made by members of the Church globally to Latter-day Saint Charities, the Church's humanitarian arm.