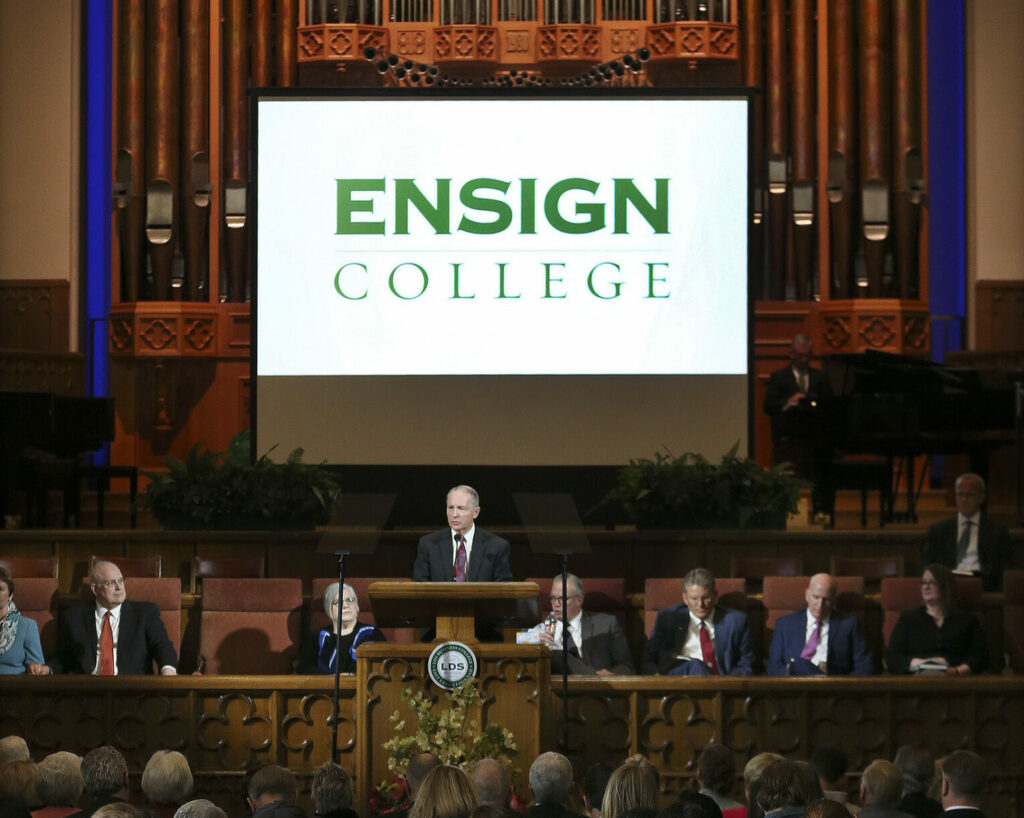 Another two-years college in Utah will start offering bachelor degrees. The name LDS Business College, which the Salt Lake City school has worn since 1931, doesn't fit the college's curriculum, Kusch said. "Today, we offer more than just programs in business, so the name was somewhat confusing to people," he said in post-devotional interview.
Starting with the fall 2021 semester, the Ensign College will offer a limited number of four-year bachelor's degrees in applied science. The degrees will be offered in three disciplines: business management, communications and information technology.
These changes were announced Tuesday, Feb. 25, at a devotional for students and faculty at the Assembly Hall.
In October 2018 general conference, President Russell M. Nelson spoke of the vital importance of using the correct name of the Church:
"The name of the Church is not negotiable. When the Savior clearly states what the name of His Church should be, and even precedes His declaration with, 'Thus shall my church be called,' He is serious. And if we allow nicknames to be used and adopt or even sponsor those nicknames ourselves, He is offended."
The Church president went on to say that blessings await members who strive to correctly use the name of the Church:
"My dear brothers and sisters, I promise you that if we will do our best to restore the correct name of the Lord's Church, He whose Church this is will pour down His power and blessings upon the heads of the Latter-day Saints, the likes of which we have never seen. We will have the knowledge and power of God to help us take the blessings of the restored gospel of Jesus Christ to every nation, kindred, tongue and people and to prepare the world for the Second Coming of the Lord."
The two-year school, originally called the Salt Lake Academy, opened in 1886.
Elder Paul V. Johnson, a General Authority Seventy and Commissioner of the Church Educational System, called Tuesday "an exciting day" for a storied institution committed to helping students learn "both meaningful skills and the ways of the Lord."
Elder Johnson spoke of Brigham Young hiking to the top of a mountain on July 26, 1847, two days after arriving in the Salt Lake Valley, which the latter-day prophet had seen in a vision prior to beginning the pioneer trek West.
That often-climbed site, Ensign Peak, is just a short distance from where the Assembly Hall stands today.
In that same spirit, he said, "we announce that LDS Business College is to be renamed Ensign College."