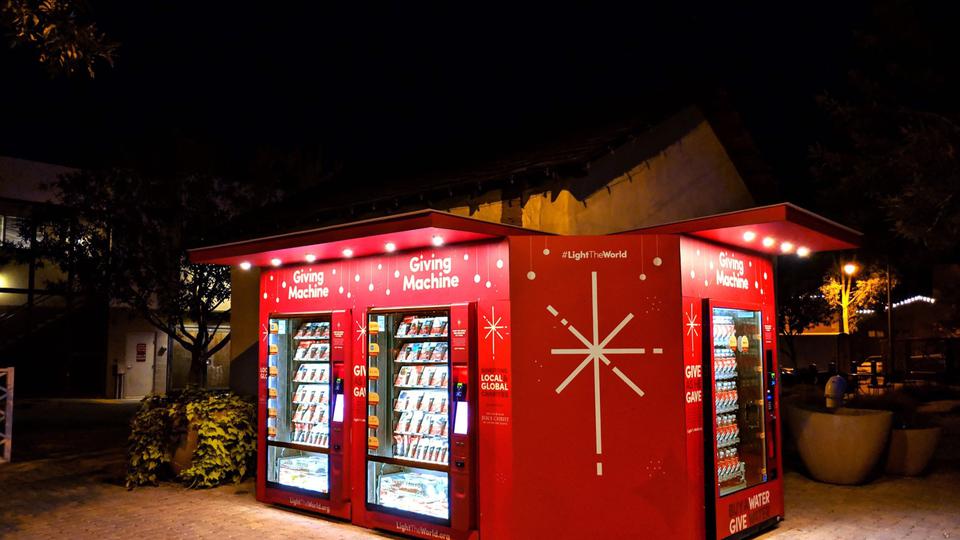 This is the third year for the Giving Machines, which raised more than $2.3 million in 2018 for local and global charities. Total donations for 2019 will be continuously updated throughout the season and will be available on www.LightTheWorld.org.
Watch this video about the giving machines:
The Church of Jesus Christ of Latter-day Saints will place Giving Machines in 10 locations across the world this Christmas season, further expanding its efforts to #LightTheWorld by encouraging people to perform instant acts of service that make a difference in others' lives.
"This year we will be adding new locations for our Giving Machines," said Elder Brent H. Nielson, General Authority Seventy. "This unique way to give not only blesses the life of the giver, but also lifts the receiver in locations all around the world. Our hope is to offer opportunities to Light the World one by one."
"These Giving Machines are an example of the big things that can happen when many people give just a little," added Sister Bonnie H. Cordon, Young Women general president. "That is what it means to Light the World one by one—when we each give what we can offer, our little light adds to a brightness of hope."
The Giving Machines will be open to the public in the following locations:
Manila, Philippines—November 8 (TriNoma Mall)
Las Vegas, Nevada—November 14 (Downtown Summerlin)
Laie, Oahu, Hawaii—November 20 (Polynesian Cultural Center)
Gilbert, Arizona—November 20 (Water Tower Plaza)
Salt Lake City, Utah—November 26 (Joseph Smith Memorial Building)
Orem, Utah—November 26 (University Place Mall)
Denver, Colorado—November 26 (Writer Square)
San Jose, California—November 29 (Christmas in the Park)
New York, New York—December 3 (Manhattan New York Temple)
London, England—December 3 (Hyde Park Visitors' Centre)
Learn more about the #LightTheWorld giving machines in the article "#LightTheWorld Giving Machines Expand to 10 Locations During Christmas Season."
One hundred percent of all donations go directly to partner charities for the purchased item or for items or services of greater need based on their discretion. All administrative costs for this campaign and costs associated with its nonprofit partners are covered by The Church of Jesus Christ of Latter-day Saints.