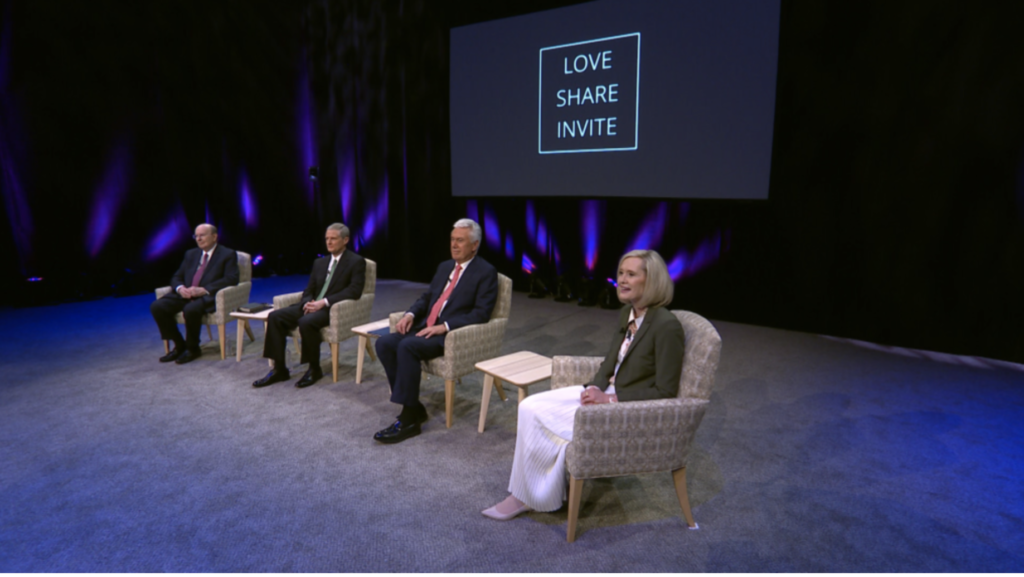 Senior leaders of The Church of Jesus Christ of Latter-day Saints highlighted a pattern of sharing the gospel — "Love, Share, Invite" — during a special missionary broadcast on Saturday morning.
"Sharing the gospel brings joy and peace to everyone involved — to the person sharing, loving and inviting; to the person who receives the gospel; and to the Lord Himself," said President M. Russell Ballard, Acting President of the Quorum of the Twelve Apostles.
To love, share and invite is "a normal and natural pattern that fits right in with simply being a follower of the Savior," said Elder Dieter F. Uchtdorf during the worldwide event, broadcast as part of the 2021 Seminar for New Mission Leaders. 
Loving
"When I think of love, I remember the Lord's two great commandments — to love God with all our heart, soul and mind and serve him, and to love our neighbor as ourselves," Elder Uchtdorf said. "Love ought to be the foundation and motivation for everything we do."
Sharing
Elder Uchtdorf defined the "share" of sharing the gospel as being generous and open with others. "Freely give to them what God has so freely given to us," he said. "Talk openly about your experiences. … Share what it is you have in your heart as a testimony."
Inviting
Elder Uchtdorf explained that to invite simply means to include other people in your experiences. "Give them the opportunity to receive the same blessings. It is like opening a door and letting people know that we want them to come in — to come and see, come and help, and come and belong." (read the full article in the Church Newsroom)