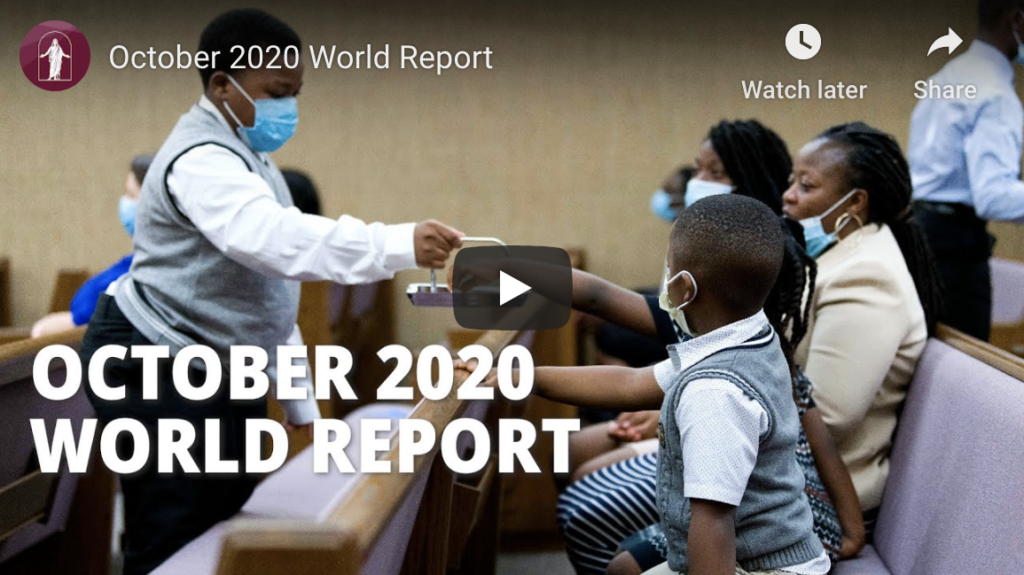 The World Report is a semiannual report of news events around the world pertaining to The Church of Jesus Christ of Latter-day Saints.
The October 2020 edition shows how the Church is combating COVID-19 in Brazil, New Zealand, the Philippines, South Africa and elsewhere. Viewers will also see how the pandemic has affected worship, missionary work and the ministry of the Apostles.
The newest World Report also recaps announcements made at the historic April 2020 general conference, along with the latest temple news.
In this edition:
00:00 – Introduction
00:41 – Global COVID-19 Relief
5:45 – Feeding the Hungry in California
8:50 – Weekly Worship During COVID-19
12:23 – Worship in Temples During COVID-19
13:52 – Restoration Proclamation
14:52 – The Church's New Symbol
15:33 – New Young Men Presidency
16:00 – "Hear Him" Messages
17:32 – Face to Face With Elder Rasband
19:06 – Youth News
21:47 – New Church Magazines
23:20 – Global Pioneer Message
25:38 – Temple Update
33:04 – In the News
38:08 – Feather River California Temple
WATCH PREVIOUS ENGLISH VERSIONS OF THE WORLD REPORT: