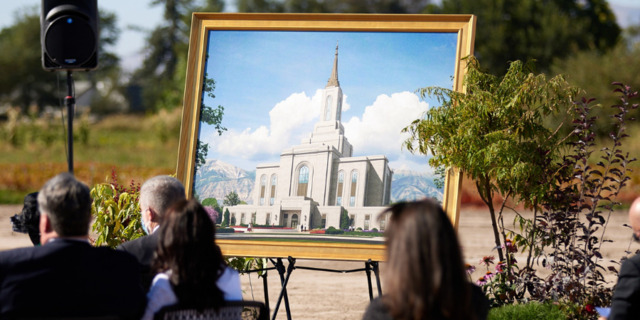 A small group of Latter-day Saints gathered in the north-central Utah community of Orem on Saturday, September 5, 2020, for the groundbreaking of the Orem Utah Temple.
The crowd size was limited due to local COVID-19 restrictions. The three-story, 70,000 square foot structure is one of 24 temples in operation, under construction or announced in Utah.
Orem Utah Temple Groundbreaking: Full Ceremony
Orem Utah Temple model and video
Orem Utah Temple model and video by Brian Olson. This video is NOT an official video of the Church of Jesus Christ of Latter-day Saints. This is an attempt by me to rectreate the temple as it is pictured in the official render released by the Church last week.
Orem Temple Announcement
The Orem Utah Temple was announced by President Russell M. Nelson on October 5, 2019, during his closing remarks at the General Women's Session of General Conference. There are 26 stakes organized in the densely populated community of Orem, located between the Provo Utah Temple and Mount Timpanogos Utah Temple. Attendance is very high at these two temples, which were nearly running at capacity before the Payson Utah Temple and Provo City Center Temple were dedicated. The construction of the Saratoga Springs Utah Temple and Orem Utah Temple will further alleviate demands on these temples and provide more opportunities for temple service among the Saints in Utah County.
Orem Temple Facts
The Orem Utah Temple will be the twenty-second temple built in Utah and the sixth built in Utah County, following the Provo Utah Temple (1972), the Mount Timpanogos Utah Temple (1996), the Payson Utah Temple (2015), the Provo City Center Temple (2016), and the Saratoga Springs Utah Temple (under construction).
Soaring above all 16 Mormon Temples in Utah!
Watch as danesdrone flies over all the temples in Utah! Can you guess which one is which?