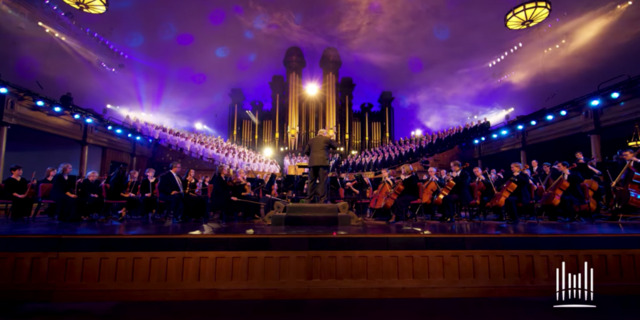 The Tabernacle Choir released the music video for "Duel of the Fates," a song found on their new EP recording, When You Believe: A Night at the Movies, on September 10. The video release coincides with the 110th anniversary of the Tabernacle Choir's first recording.
The Choir celebrated the anniversary with a news conference held at Temple Square. Choir President Ron Jarrett, Choir Director Mack Wilberg, and historian Richard E. Turley Jr. spoke about the new video's release, the history of the Choir's first recording, and what's ahead for the Tabernacle Choir.
About The Tabernacle Choir
For more than a century, The Tabernacle Choir has given voice to the hopes, joys, trials, and triumphs of people around the world.
This 360-member chorus of men and women, all volunteers, has performed at World's Fairs and expositions, at inaugurations of U.S. presidents, in acclaimed concert halls from Australia and Europe to Asia and the Middle East, on television broadcasts, and now on YouTube and Facebook. The choir has even been referred to as "America's Choir," as a result of their high standard of popular choral music.
With their incomparable voices and their shared faith in God, they are a significant presence in the world of music, giving service through song. The Tabernacle Choir is dedicated to the universal language of music that has the power to bring joy, peace, and healing to its listeners. This unique music organization transcends cultural and generational boundaries and brings together people from around the world through stirring music.
Known from its beginnings as the Mormon Tabernacle Choir, the Choir changed its name in October 2018 to more closely align with its sponsoring organization, The Church of Jesus Christ of Latter-day Saints. The Choir is now called "The Tabernacle Choir at Temple Square." Check the Choir website Newsroom for information about the name change. Please see the Choir website About Us section under Usage for information about how to use the Choir's new name.