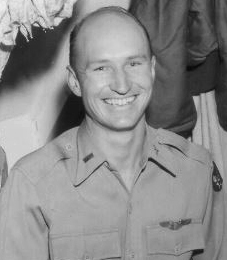 In recent weeks, retired Air Force Col. Gail S. Halvorsen has received large amounts of mail, including cards, letters and even video messages.
Among the well-wishers are leaders of The Church of Jesus Christ of Latter-day Saints, the president of the United States, political leaders and a lengthy list of longtime friends.
The reason for the celebration is that Halvorsen — the Latter-day Saint pilot who dropped hope in the form of candy tied to tiny parachutes for starving children during the Berlin Airlift — hit the century mark on Saturday, October 10.
Just prior to his birthday, Halvorsen, more commonly known as the "Berlin Candy Bomber" or "Uncle Wiggly Wings, smilingly said, "Oh, I can't believe I'm going to be 100. I'm glad to be alive. I'm still feeling good and kicking my heels." (From Church News)

Colonel Gail Seymour "Hal" Halvorsen's life
Colonel Gail Seymour "Hal" Halvorsen (born October 10, 1920) is a retired officer and command pilot in the United States Air Force. He is best known as the "Berlin Candy Bomber" or "Uncle Wiggly Wings" and gained fame for dropping candy to German children during the Berlin Airlift from 1948 to 1949.
Halvorsen grew up in rural Utah but always had a desire to fly. He earned his private pilot's license in 1941 and then joined the Civil Air Patrol. He joined the United States Army Air Forces in 1942 and was assigned to Germany on July 10, 1948, to be a pilot for the Berlin Airlift.
Halvorsen piloted C-47s and C-54s during the Berlin airlift ("Operation Vittles"). During that time he founded "Operation Little Vittles", an effort to raise morale in Berlin by dropping candy via miniature parachute to the city's residents.
Halvorsen began "Little Vittles" with no authorization from his superiors but over the next year became a national hero with support from all over the United States. Halvorsen's operation dropped over 23 tons of candy to the residents of Berlin. He became known as the "Berlin Candy Bomber", "Uncle Wiggly Wings", and "The Chocolate Flier".
Halvorsen has received numerous awards for his role in "Operation Little Vittles", including the Congressional Gold Medal. However, "Little Vittles" was not the end of Halvorsen's military and humanitarian career. Over the next 25 years, Halvorsen advocated for and performed candy drops in Bosnia-Herzegovina, Albania, Japan, Guam, and Iraq.
Halverson's professional career included various notable positions. He helped to develop reusable manned spacecraft at the Directorate of Space and Technology and served as commander of Berlin Tempelhof Airport. He retired in August 1974 after logging over 8,000 flying hours. From 1976 until 1986 Halvorsen served as the Assistant Dean of Student Life at Brigham Young University. (From Wikipedia)
Important Lessons Halvorsen Learned Over His Lifetime
While some he served with in the military viewed religion as restrictive, Halvorsen said living his faith gave him an "advantage" and helped him make the right decisions.
"It has been a strength to me all through my life," he said. "It's where real happiness lies."
As he prepared to enjoy his 100th birthday, Halvorsen encouraged others not to give up, but to find joy in life and live to serve as long as they can.
"Don't give up too quick; there is something for you along the way. Don't graduate when you are 60, 70 or 80. There are still a few things you can do to help even when you are 100 years old," Halvorsen said. "It's still exciting for me to be alive. It's a real testimony to me of the fruits of the gospel."
(Read the full story on Church News)