An exterior rendering has been released showing the planned Bengaluru India Temple of The Church of Jesus Christ of Latter-day Saints.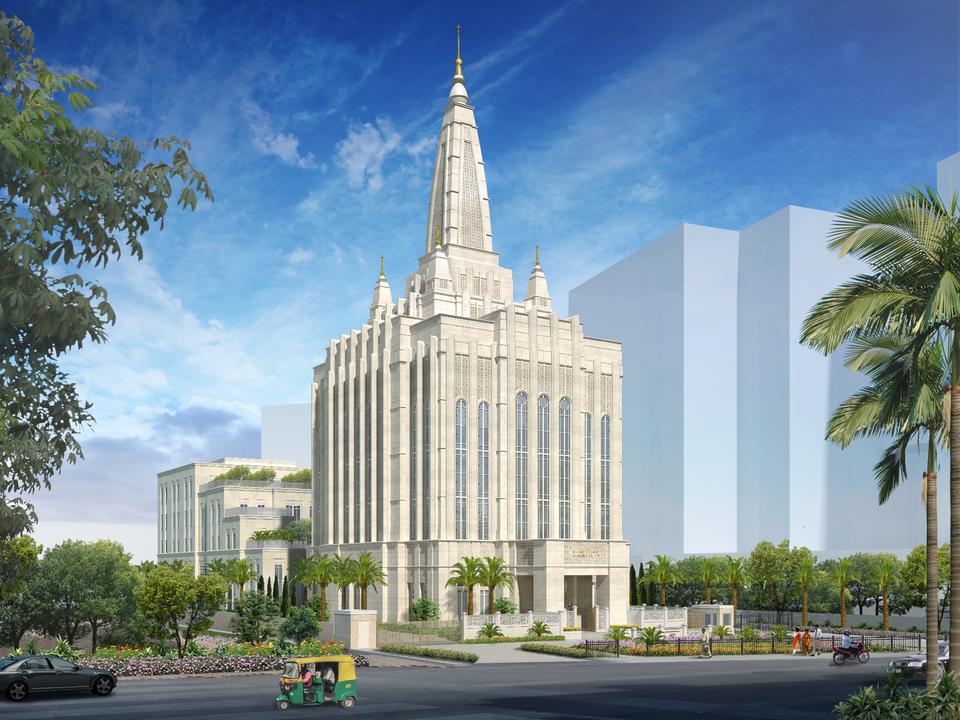 As the final session of the Church's 188th annual general conference came to a close, Russell M. Nelson, president of The Church of Jesus Christ of Latter-day Saints, announced plans to build seven new temples in the following locations: Salta, Argentina; Bengaluru, India; Managua Nicaragua; Cagayan de Oro, Philippines; Layton, Utah; Richmond, Virginia; and a major city yet to be determined in Russia.
"We want to bring temples closer to the expanding membership of the Church," President Nelson said. "My dear brothers and sisters, construction of these temples may not change your life, but your time in the temple surely will. In that spirit, I bless you to identify those things you can set aside so you can spend more time in the temple. I bless you with greater harmony and love in your homes and a deeper desire to care for your eternal family relationships. I bless you with increased faith in the Lord Jesus Christ and a greater ability to follow Him as His true disciples."
Bengaluru India Temple
Today it was announced that the 38,670-square-foot temple will be built on a 1.62-acre site at 2-B, Garudachar Palya, Mahadevapura, Bengaluru, Karnataka, in India.
In addition to construction of the temple, existing Church offices and a meetinghouse on the site will be removed. A new two-level meetinghouse will be built, along with new Church offices, a distribution center and housing for patrons. The site will also include new residences for the temple president, temple and service missionaries and the mission president.
This will be the first temple of The Church of Jesus Christ of Latter-day Saints in India, which has nearly 14,000 members in 45 congregations. There are more than 1.2 million Latter-day Saints in Asia.