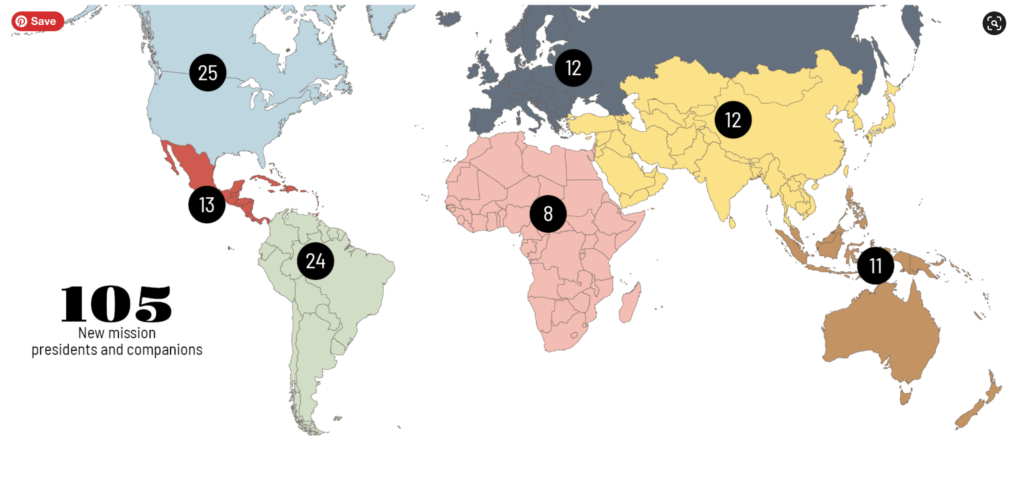 The First Presidency has called 105 new mission presidents and companions who will begin their service in July 2021. This includes one new mission — the Mozambique Beira Mission.
MISSION PRESIDENTS IN THE CHURCH OF JESUS CHRIST OF LATTER-DAY SAINTS
During their service, each mission president of The Church of Jesus Christ of Latter-day Saints that presides in one of the 400-plus missions around the world can be responsible for as many as 600 missionaries assigned to each specific geographic area. Most mission presidents and their wives serve for three consecutive years.
Many mission presidents serve outside the United States. Some mission presidents have little previous experience with the language or culture of their new assignment. Others may have served in the country as a young missionary, but for most of them, assuming the role to guide a group of missionaries may seem overwhelming.
Well over 1 million missionaries have served missions since the Church was organized in 1830. The mission presidents who lead them have a heavy responsibility in directing the work of individual missionaries.
Newly called mission presidents come from all walks of life, from many geographic locations, from varied experiences in Church leadership and from diverse family compositions.

2021 MISSION LEADERSHIP ASSIGNMENTS
Africa Central Area
| Mission | President | Companion |
| --- | --- | --- |
| Democratic Republic of the Congo Kinshasa | Patrick O. Mawongo | Sampembi L. Mawongo |
Africa South Area
| Mission | President | Companion |
| --- | --- | --- |
| Mozambique Beira | Nilson J. Moraes | Keila Moraes |
| Zimbabwe Bulawayo | William Coleman | Philomina Coleman |
| Zimbabwe Harare | Gary T. Judd | Julene Judd |
Africa West Area
| Mission | President | Companion |
| --- | --- | --- |
| Cote d'Ivoire Yamoussoukro | Steven L. Bodhaine | Cheryl L. Bodhaine |
| Ghana Kumasi | Thomas L. Kunz | LaDawn Kunz |
| Nigeria Ibadan | Frederick O. Akinbo | Marian Akinbo |
| Nigeria Uyo | Daniel Abeo | Evelyn Abeo |
Asia Area
| Mission | President | Companion |
| --- | --- | --- |
| Cambodia Phnom Penh | Veasna Neang | Chanthy Thol |
| China Hong Kong | Hok On Chan | Kwan Ying Chan |
| India New Delhi | Robert K. William | Anne William |
| Indonesia Jakarta | Edwin Tandiman | Christine D. Tandiman |
| Taiwan Taichung | Karl J. Fields | Melanie A. Fields |
| Taiwan Taipei | Steve Shih Ning Yang | Helene Mei Jyan Yang |
| Thailand Bangkok | Kelly T. Burgener | Elizabeth W. Burgener |
| Vietnam Hanoi | Larry K. Hughes | Janece Hughes |
Asia North Area
| Mission | President | Companion |
| --- | --- | --- |
| Japan Fukuoka | To be announced | To be announced |
| Japan Nagoya | Richard M. Chidester | Etsuko M. Chidester |
| Japan Tokyo South | Akihiro Node | Yukie Node |
| Korea Seoul | Dong Chol Beh | Soon Byung Park |
Brazil Area
| Mission | President | Companion |
| --- | --- | --- |
| Brazil Belo Horizonte | Eldon R. Pfile | Natalee Pfile |
| Brazil Cuiabá | To be announced | To be announced |
| Brazil Porto Alegre North | Mauricio A. Araújo | Michele Y. Araújo |
| Brazil Porto Alegre South | Sandro Alex Silva | Ana Rita Silva |
| Brazil Rio de Janeiro South | Aroldo B. Cavalcante | Christiana Cavalcante |
| Brazil São Paulo East | Brad Kofford | Rachelle Kofford |
| Brazil Teresina | Gregg A. Lindsey | Darla M. Lindsey |
Caribbean Area
| Mission | President | Companion |
| --- | --- | --- |
| Barbados Bridgetown | Danford C. Bickmore | Lisa Bickmore |
| Dominican Republic Santiago | Marcos Bretón | Janet Bretón |
| Haiti Port-au-Prince | Géthro Nérosil | Djénica Nérosil |
| Jamaica Kingston | Arnold O. Odonkor | Sethrina Odonkor |
| Trinidad Port of Spain | Richard E. Lamprecht | Barbara Lamprecht |
Central America Area
| Mission | President | Companion |
| --- | --- | --- |
| Costa Rica San José East | Andrew H. Johnson | Diane Johnson |
| Costa Rica San José West | Shawn R. Cates | Nadia Aguilar Cates |
| Honduras Comayaguela | Marco A. Baquedano | Olga Baquedano |
Europe Area
| Mission | President | Companion |
| --- | --- | --- |
| Belgium/Netherlands | Daryl A. Watson | Monic Watson |
| Denmark Copenhagen | Leif G. Mattsson | Eva Ringheim Mattsson |
| England Birmingham | Kevin E. Gallacher | Janine D. Gallacher |
| England London | Orville Thompson | Heidi Thompson |
| France Lyon | Roland E. Léporé | Amie L. Léporé |
| Germany Berlin | Christoph Menzel | Mireille Menzel |
| Norway Oslo | Charles C. Clawson | M'Recia Ritchie Clawson |
| Portugal Lisbon | Ronald Barcellos | Karin Barcellos |
| Scotland/Ireland | James McCrudden | Andrea McCrudden |
| Spain Barcelona | Juan Pablo Villar | Carola Villar |
| Spain Madrid | Michael Hamilton | Stephanie Hamilton |
Europe East Area
| Mission | President | Companion |
| --- | --- | --- |
| Ukraine Dnipro | Aleksandr Cheban | Nadezhda Cheban |
México Area
| Mission | President | Companion |
| --- | --- | --- |
| México Cuernavaca | Mario A. Reyes | Kennya Reyes |
| México Guadalajara | Gerardo Alvarez | Ana Laura Álvarez |
| México México City South | Dale N. Lyman | Heather Lee Lyman |
| México Puebla North | Helamán Montejo | Carmen Montejo |
| México Tampico | Rene Romay | Gabriela Romay |
North America Central Area
| Mission | President | Companion |
| --- | --- | --- |
| Canada Calgary | Lance R. Davis | Karen J. Davis |
| Canada Winnipeg | Brent D. Carr | Lorri M. Carr |
| Idaho Pocatello | Scott Herrod | Deanna Herrod |
| Montana Billings | Bret J. Wall | Stacey Wall |
| Nebraska Omaha | Tom F. Bailey | Michelle Bailey |
| North Dakota Bismarck | W. Bradley Camp | Julia Camp |
North America Northeast Area
| Mission | President | Companion |
| --- | --- | --- |
| Canada Montréal | David S. Harkness | Lisa L. Harkness |
| Massachusetts Boston | Brian M. Brough | Tora Brough |
| New York New York City | Patrick H. Holmes | Jennifer D. Holmes |
| New York Syracuse | Evan J. Gentry | Sandi R. Gentry |
| Pennsylvania Philadelphia | Justin Harding | Bridget Harding |
| Washington DC South | Bruce M. Crankshaw | Lisa D. Crankshaw |
North America Southeast Area
| Mission | President | Companion |
| --- | --- | --- |
| Arkansas Bentonville | Richard E. Collins | Theresa A. Collins |
| North Carolina Charlotte | Thaddeus M. Brown | Raylene R. Brown |
North America Southwest Area
| Mission | President | Companion |
| --- | --- | --- |
| New Mexico Farmington | William McNabb | Lisa McNabb |
| Texas Houston South | Matthew K. Richards | Debra Fisher Richards |
North America West Area
| Mission | President | Companion |
| --- | --- | --- |
| California Los Angeles | John J. Egbert | Mary P. Egbert |
| California Oakland/San Francisco | Darrin J. Kasteler | Jennie Kasteler |
| Washington Spokane | Christopher J. LeBaron | Rebecca S. LeBaron |
| Washington Yakima | Jeff M. Simpson | Karen Z. Simpson |
Pacific Area
| Mission | President | Companion |
| --- | --- | --- |
| Australia Adelaide | Adolf J. Johansson | Martha A. Johansson |
| Australia Perth | Michael J. Stone | Sharon Stone |
| Australia Sydney | Gabriel W. Reid | Heather Reid |
| Papua New Guinea Port Moresby | T. Elini Kinikini | Eusenia Kinikini |
| Samoa Apia | M. Fred Purcell | Kylene Purcell |
| Vanuatu Port Vila | Mark J. Messick | Jean W. Messick |
Philippines Area
| Mission | President | Companion |
| --- | --- | --- |
| Philippines Bacolod | Joel B. Macariola | Jo-ann N. Macariola |
| Philippines Butuan | Danilo Baligod | Elizabeth Baligod |
| Philippines Cabanatuan | Gregory D. Burton | Caroline F. Burton |
| Philippines Laoag | Richard C. Baquiran | Ma. Ionie T. Baquiran |
| Philippines Urdaneta | Ricard G. Manáhan | Jesel P. Manáhan |
South America Northwest Area
| Mission | President | Companion |
| --- | --- | --- |
| Bolivia La Paz El Alto | Faustino Ziga | Leticia Ziga |
| Colombia Bogotá North | Carlo M. Lezano | Ketty Lezano |
| Colombia Bogotá South | Angel A. Aguiar | Isabel Aguiar |
| Colombia Medellin | Jairo E. Florez | Diana Flórez |
| Perú Lima Central | Robert W. Ferrell | Lori Ann Ferrell |
| Perú Lima South | Ray Holt | Jackie L. Holt |
| Perú Piura | Carlos Salinas | Mónica M. Salinas |
| Perú Trujillo South | Theodore W. Parsons | Kathryn H. Parsons |
| Venezuela Barcelona | Alexys Uriepero | Dominga Uriepero |
South America South Area
| Mission | President | Companion |
| --- | --- | --- |
| Argentina Bahia Blanca | Craig Marsden | S. Elaine Marsden |
| Argentina Buenos Aires East | Luis A. Ferrizo | Natalia Ferrizo |
| Argentina Neuquén | Steven E. Pennington | Rachel Pennington |
| Argentina Santa Fe | Terry M. Slezak | Kristie L. Slezak |
| Chile Santiago East | Matthew L. Bohn | Jamie L. Bohn |
| Chile Santiago North | Phil W. Simpson | Trudi K. Simpson |
| Chile Viña del Mar | Juan C. Barros | Maria Barros |
| Paraguay Asunción | Antonio F. Faúndez | Andrea L. Faúndez |
Utah Area
| Mission | President | Companion |
| --- | --- | --- |
| Utah Layton | To be announced | To be announced |
| Utah Ogden | Richard Holley | Betsey Holley |
| Utah Orem | James E. Evanson | Jody K. Evanson |
| Utah Provo | Todd L. Hendrickson | Rebecca A. Hendrickson |
| Utah Salt Lake City West | To be announced | To be announced |