The Church of Jesus Christ of Latter-day Saints has seen many changes, announcements, and historic events in the last two years, since President Russell M. Nelson was sustained as President of the Church.
Here is a brief look at some of these significant happenings in 2018 and 2019.

2018
January
President Russell M. Nelson was sustained as the 17th President of the Church on January 16. President Dallin H. Oaks and President Henry B. Eyring were called as his First and Second Counselors, respectively, in the First Presidency. President Thomas S. Monson, the 16th President of the Church, had died on January 2.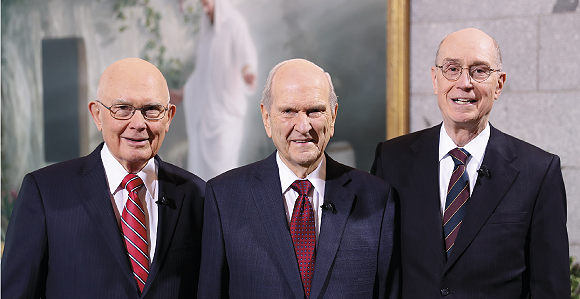 February
President Nelson, in one of his first public addresses since being sustained as President of the Church, spoke on unity during the Salt Lake Granger West Stake Conference on February 4.
The Church announced adjustments to its 421 missions in January. Five missions were opened in July 2018, while 19 merged with adjoining missions.
President Nelson spoke to a group of young adults in Las Vegas, Nevada, on February 17 on how to find happiness and meaning. Learn more.
March
On March 31 and as part of the 188th Annual General Conference, President Nelson was sustained as the new prophet and president of the Church during the March 31 solemn assembly.
Also on that day, Elder Gerrit W. Gong and Elder Ulisses Soares were called to the Quorum of the Twelve Apostles, while Sister Bonnie H. Cordon was called as the new Young Women General President, with Sister Michelle Craig and Sister Becky Craven as her counselors.
April
During the April 1 final day of general conference, it was announced that the high priests and elders quorums would combine. President Nelson also announced a new ministering initiative to replace home and visiting teaching, as well as seven new temples to be built in the coming months and years.
President Nelson embarked on a world ministry tour, visiting London, England, on April 12; Jerusalem, Israel, on April 14; Nairobi, Kenya, on April 16; Harare, Zimbabwe, on April 17; Bengaluru, India, on April 19; Bangkok, Thailand, on April 20; Hong Kong on April 21; and Laie, Hawaii, on April 22. He was joined by his wife, Sister Wendy Nelson, and Elder Jeffrey R. Holland of the Quorum of the Twelve Apostles and his wife, Sister Patricia Holland.
May
The Church announced on May 8 that it would be ending its relationship with the Boy Scouts of America. In place of existing programs, a new Church activity program for children and youth was announced, to go into effect beginning in January 2020. Learn more.
In a unified global call for increased civility, harmony, and respect, the First Presidency joined leaders of the National Association for the Advancement of Colored People in pledging to explore ways to serve together and lift those in need on May 17. Learn more.
The Jordan River Utah Temple was rededicated on May 20 by President Eyring, accompanied by Elder Cook. Learn more.
June
In a special youth devotional on June 3, President Nelson invited youth to enlist in the Lord's battalion to help gather Israel through taking a weeklong break from social media, sacrificing their time, repenting, praying, and standing out from the world. Learn more.
President Nelson met with Canadian Saints in the province of Alberta in a June 8–10 trip that included three devotionals in Edmonton, Calgary, and Raymond. He was accompanied by his wife, Elder Rasband, and Sister Melanie Rasband. Learn more.
In a June 20 letter, the First Presidency announced new guidelines for bishops for interviewing youth. Learn more.
The First Presidency announced on June 29 a series of resources to help Church members study the scriptures at home. These resources take a home-centered, Church-supported approach to gospel living, learning, and teaching. Learn more.
July
Church members and missionaries worked together in several Church-sponsored Helping Hands projects to aid those affected by flooding and heavy rains in southwestern Japan in July. Learn more.
After a two-year renovation, the St. George Tabernacle was rededicated by Elder Holland on July 28. Learn more.
August
The First Presidency announced, effective August 1, changes to the way Church areas in the United States and Canada are administered. Previously overseen by members of the Presidency of the Seventy, the areas are now administered by Area Presidencies. Learn more.
On August 16, the Church issued a statement from President Nelson on the use of the name of The Church of Jesus Christ of Latter-day Saints. Learn more.
September
On September 1, President Nelson spoke to Church members in the Dominican Republic entirely in Spanish, marking what is thought to be the first time a President of the Church spoke for an entire devotional address in a language other than English. Learn more.
On September 5, the Church rolled out a new initiative in which missionary candidates receive their assignments online instead of in the mail. Learn more.
President Nelson spoke in devotionals in Seattle, Washington, and Vancouver, British Columbia, on September 15 and 16, respectively, joined by Sister Nelson and President Eyring. The meeting in Seattle's Safeco Field drew the largest in-person crowd during President Nelson's first year as Church President, with 49,089 in attendance—the largest non-sporting event ever held in the iconic baseball stadium.
October
The Church announced on October 27 that while local celebrations of culture and history may be appropriate, larger productions such as pageants will be discouraged. Learn more.
November
President Nelson and Elder Bednar—along with Sister Nelson and Sister Susan Bednar—spoke to Latter-day Saints in the Alamodome in San Antonio, Texas, on November 18. Learn more.
December
President Nelson highlighted four gifts offered by Jesus Christ during the First Presidency's Christmas Devotional on December 2, his first as Church President. Learn more.
On December 14, the Church announced that beginning in January 2019, children will complete Primary and begin attending Sunday School and Young Men and Young Women as age-groups, not as individuals following their 12th birthdays. Learn more.
The First Presidency updated the missionary dress and grooming guidelines for sister missionaries, giving them the option to wear dress pants during regular missionary activities, on December 20. Learn more.
2019
President Nelson and Other Leaders Minister Around the World
President Russell M. Nelson traveled to countries in the Pacific, Latin America and Asia. He also visited several locations within the United States. In all, he and his wife, Wendy, traveled more than 100,000 miles and spoke to hundreds of thousands of Saints and many religious and government leaders. He visited Pope Francis at the Vatican, spoke at the NAACP's national convention in Detroit, comforted Muslims in New Zealand and welcomed a Vietnamese delegation, the Cuban ambassador, and the leader of the Muslim World League to Temple Square.
The Church's Global Humanitarian Response Continues
Latter-day Saint Charities continued carrying out its purpose to relieve suffering, foster self-reliance and provide opportunities for service around the world. In May, the Church's humanitarian arm donated $4 million to refugee resettlement agencies in the United States. In April and October, it joined with other partners in a global effort to eliminate neonatal tetanus in Chad and the Democratic Republic of Congo. They also partnered to donate hospital beds in Papua New Guinea, assemble meals for children at a United Nations conference and help spouses of U.S. governors assemble hygiene kits for children in need.
Notable News of 2019
For the second year in a row, Church leadership announced significant changes that affect a wide swath of Latter-day Saints.
Three notable policy modifications
In April, the Church outlined a new policy for children of LGBT couples and for those in same-sex marriages. Later in the year, President Nelson reiterated that love was the motive for the policy modification.
In May, the Church announced that a civil marriage between a man and a woman will no longer necessitate waiting a year for that couple to be married (or sealed) in a temple. The change means Latter-day Saint couples can look forward to a temple marriage as soon as their circumstances permit.
And in October, President Nelson announced a new Church policy related to the witnessing of ordinances, including baptisms performed in chapels and temples. The new policy says that (1) any baptized member of the Church may serve as a witness of the baptism of a living person; (2) proxy baptism for a deceased person may be witnessed by anyone holding a current temple recommend, including a limited-use temple recommend; and (3) any endowed member with a current temple recommend may serve as a witness to sealing ordinances, living and proxy.
Changes to honor the correct name of The Church of Jesus Christ
Throughout the year, the Church made changes to many of its communication channels to reflect the faith's full name and better convey commitment to follow Jesus Christ. To date, the Church has corrected its name in the email addresses of 33,000 leaders and employees, updated 300 web-based apps and changed 95 percent of the outward-facing references to its name.
16 new temples announced, 7 rededicated, 6 dedicated
President Nelson announced plans to build 16 new temples. Since becoming Church president in January 2018, President Nelson has announced 35 new temples. Aside from when former Church President Gordon B. Hinckley announced some 30 new smaller temples in 1998, no other Church president has announced more temples in such a short period of time.
Also in 2019, the Church completed and dedicated six new temples (in Arequipa, Peru; Fortaleza, Brazil; Port-au-Prince, Haiti; Kinshasa, Democratic Republic of Congo; Lisbon, Portugal; and Rome) and rededicated seven temples (in Asunción, Paraguay; Baton Rouge, Louisiana; Frankfurt, Germany; Memphis, Tennessee; Oakland, California; Oklahoma City, Oklahoma; and Raleigh, North Carolina).
President Nelson also announced that the Salt Lake Temple will close at the end of 2019 for approximately four years of major structural and seismic renovation.
Modified temple recommend interview questions
In October, President Nelson read an updated list of questions Church members will be asked when receiving a temple recommend.
New global youth initiative unveiled
In September and November, leaders unveiled in full the new children and youth initiative that will replace the current programs for young women and young men (including Scouting) in 2020. The new program focuses on developing faith in Christ through balanced growth. At the October general conference, Church leaders introduced other changes to Aaronic Priesthood Quorums and Young Women classes that will give young men and young women more opportunity for all-around growth.
Adjustments to the missionary program
In February, the First Presidency announced that missionaries may communicate with their families on their weekly preparation day via text messages, online messaging, phone calls and video chat in addition to letters and emails. In November, the Church published a new handbook of instructions for missionaries serving around the world.
Launch of the Book of Mormon Videos series
The first dozen-plus videos of the Book of Mormon Videos series were released. Many of these videos come in time to enhance Latter-day Saints' Churchwide study in 2020 of this sacred text written to convince the world that "Jesus is the Christ, the Eternal God, manifesting himself unto all nations" (Book of Mormon title page). Additional videos that cover Mosiah through the end of the Book of Mormon will be released in 2020 and 2021.
April 2020 general conference will be "different from any previous conference"
President Nelson said the April 2020 general conference "will be different from any previous conference" because it "will commemorate the very foundations of the restored gospel." Spring 2020 marks 200 years since Joseph Smith's inaugural vision of the Father and the Son, known by members of The Church of Jesus Christ of Latter-day Saints as the First Vision. The First Presidency also announced that the April 2020 general conference will be unique in another way: The Saturday evening session will be for all Latter-day Saints ages 11 and up.
For the complete articles and more details

Read the full article: 2018: The Year in Review
Read the full article from the Church Newsroom: 2019 Year in Review