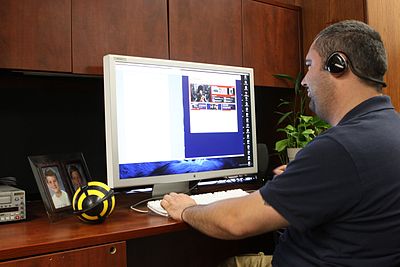 Telecommuting, also called telework, teleworking, working from home, mobile work, remote work, and flexible workplace, is a work arrangement in which employees do not commute or travel to a central place of work, such as an office building, warehouse, or store.
Telecommuting came into prominence in the 1970s to describe work-related substitutions of telecommunication and related information technologies for travel.
According to a Reuters poll, approximately "one in five workers around the globe, particularly employees in the Middle East, Latin America and Asia, telecommute frequently and nearly 10 percent work from home every day."
In the 1990s, telecommuting became the subject of pop culture attention. In 1995, the motto that "work is something you do, not something you travel to" was coined. 
Telecommuting has been adopted by a range of businesses, governments and not-for-profit organizations. Organizations may use telecommuting to reduce costs (telecommuting employees do not require an office or cubicle, a space which has to be rented or purchased, provided with lighting and climate control, etc.).
Some organizations adopt telecommuting to improve workers' quality of life, as teleworking typically reduces commuting time and time stuck in traffic jams. Along with this, teleworking may make it easier for workers to balance their work responsibilities with family roles (e.g., caring for children or elderly parents). Some organizations adopt teleworking for environmental reasons, as telework can reduce congestion and air pollution, as it can reduce the number of cars on the roads.
The US Government is calling federal employees back to the office
According to The Washington Post, however, As remote work rises at U.S. companies, Trump is calling federal employees back to the office,
"President Trump's government is scaling [telework] back in multiple agencies…" For a decision that will impact the personal and professional lives of 2 million federal employees, and the operations of 89 government agencies, the administration must have been faced with overwhelming evidence that supported such a drastic decision, right? Unfortunately, no. The change management process seems to be impulsive and unfounded, as it was based on "few quantifiable results," and cited that the "data on productivity is inconclusive," which led to the decision based on a "gut feeling." 
Similarly an article on Forbes says that
"The federal administration has made an ill-informed decision that will cost the country millions."
Remote work advocates believe that they have a wealth of quantitative evidence that proves the organizational value of workplace flexibility, including the most recent annual Status of Telework in the Federal Government which reports that 
63% of respondents attribute telework to an increase in performance
65% of federal teleworkers have an increased desire to stay at their agency due to the policy
The U.S. Patent and Trademark Office saved $42 million per year in real estate costs 
GSA saved $30 million per year in real estate and energy costs 
The Department of Education saved over $6 million per year in real estate costs 
SEC saved $870,0000 per year in transit subsidies
Making a Decision About Remote Work
At Gallup they says that they have the data:
And the data are clear: Remote work not only improves outcomes and employee branding but is a policy that the most talented employees desire.
Remote Work Is Becoming More Common
Remote work is on the rise. The number of hours spent working off-site is increasing, as is the number of workers.
Job Flexibility Engages Remote Workers — Which Drives Performance
Engagement is not an exercise in making employees feel happy — it's a strategy for better business outcomes. It is true that engaged employees are more enthusiastic, energetic and positive, feel better about their work and workplace, and have better physical health, but engagement isn't a perk for leaders to dole out, it's a way leaders can improve KPIs.
Remote Work Affects Your Environmental Impact
Remote work influences the environment, which should be an aspect of any environmentally-focused corporate social responsibility program and may fit environmental, social, and governance (ESG) criteria.
Attraction, Retention and the Importance of Flextime
The will of the workplace is changing, Gallup research finds, and companies that don't meet employees' needs will have trouble competing in the labor market. They'll have trouble keeping the employees they do have — and the U.S. quit rate is at an all-time high. 
The Data Leaders Need to Make a Decision About Remote Work
As leaders uncover the business benefit of engagement, the cost savings of remote work will only pile up: Higher employee productivity, lower environmental impact, better employee branding, lower turnover — it all translates to lower costs. So as leaders consider the demands of the job and how remote work positively or negatively impacts financial outcomes and customer needs, they should know that the best financial results come from engaged employees, whether remote or in-house.