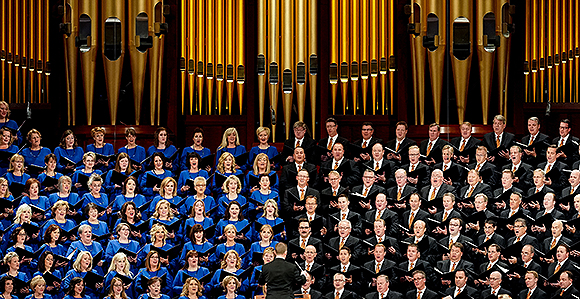 The Tabernacle Choir at Temple Square announced a momentous change of on Thursday.
Choir leaders unveiled a new logo designed to reflect the iconic organization's forward-thinking direction while simultaneously remaining linked to its rich past.
The new logo is designed to communicate the joy and mission of the choir and its music, but the new logo is also symbolically rich with gospel messages.
The pipes' strong vertical thrust points one to God. The curve near the bottom of the pipes is a reminder of the Tabernacle's dome shape. There are seven pipes included in the logo, symbolizing "whole or complete" in the scriptures. Meanwhile, the pipes rest on a "clear and firm" foundation.
Thursday's announcement comes about 18 months after the world-renowned choir changed its name from the Mormon Tabernacle Choir to The Tabernacle Choir at Temple Square to better align with the teaching of President Russell M. Nelson and with The Church of Jesus Christ of Latter-day Saints.
The Salt Lake Tabernacle has been home to the choir since 1867. (For more details see the Church News article)
History of the Choir
The 360-voice Tabernacle Choir has lifted the spirits of people for over a century. When Latter-day Saints moved to the Salt Lake Valley in the American West under the direction of Church President Brigham Young, a small choir was formed which first sang at a conference of the Church on August 22, 1847, just 29 days after the first pioneers arrived.
From this small beginning, the Choir has become an international musical sensation. In 1929, the Choir began broadcasting Music & The Spoken Word on radio. Now the program—carried on over 2,000 radio and television stations and with over 4,500 episodes—is the world's longest continuing network broadcast. In 2012 the Choir launched a YouTube channel, enabling more people in countries all over the world to experience the music of the Choir and Orchestra.