The Christ Child: A Nativity Story
This new depiction of the Nativity story recounts in beautiful detail the sacred events found in the Bible about Jesus's birth over 2,000 years ago. Journey with Joseph and Mary from Nazareth to Bethlehem.
Witness the awe of the shepherds in the plains of Judea. Feel the joy of the wise men as they kneel before the Light of the World – our Lord and Savior, Jesus Christ.
Visit http://www.LightTheWorld.org to learn more about the significance of this special first Christmas.
Since 2016, #LightTheWorld has grown into a global initiative each Christmas with millions of participants.
Throughout the Christmas season, Individuals perform acts of service and kindness to demonstrate Jesus's love one by one.
Want to join in? Go to http://www.LightTheWorld.org for daily service challenges, prompts, resources, and more.
The Birth of Jesus Christ: Matthew 1:18-25 King James Version (KJV)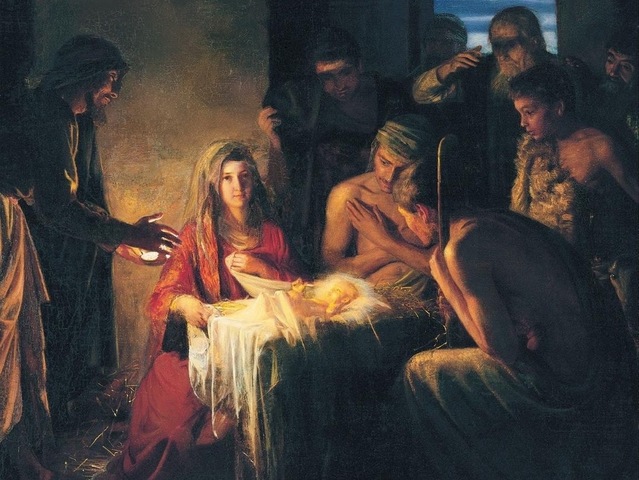 18 Now the birth of Jesus Christ was on this wise: When as his mother Mary was espoused to Joseph, before they came together, she was found with child of the Holy Ghost.
19 Then Joseph her husband, being a just man, and not willing to make her a public example, was minded to put her away privily.
20 But while he thought on these things, behold, the angel of the Lord appeared unto him in a dream, saying, Joseph, thou son of David, fear not to take unto thee Mary thy wife: for that which is conceived in her is of the Holy Ghost.
21 And she shall bring forth a son, and thou shalt call his name Jesus: for he shall save his people from their sins.
22 Now all this was done, that it might be fulfilled which was spoken of the Lord by the prophet, saying,
23 Behold, a virgin shall be with child, and shall bring forth a son, and they shall call his name Emmanuel, which being interpreted is, God with us.
24 Then Joseph being raised from sleep did as the angel of the Lord had bidden him, and took unto him his wife:
25 And knew her not till she had brought forth her firstborn son: and he called his name Jesus. King James Version (KJV)