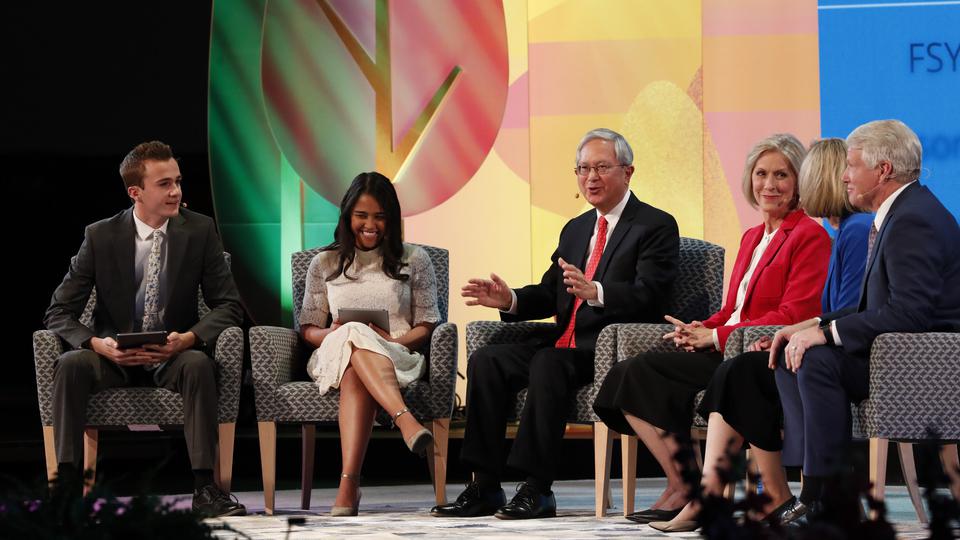 Watch the Face to Face Event for Children and Youth
Details of the new global children and youth initiative of The Church of Jesus Christ of Latter-day Saints were outlined Sunday in a live Face to Face broadcast originating at the Tabernacle on Temple Square in Salt Lake City.
"Today, we introduce the whole children and youth program," said Elder Gerrit W. Gong of the Quorum of the Twelve Apostles, who called the initiative for youth between the ages of 7 and 18 "exciting and unique."
"Built around a gospel core, this is our single Church effort for all our youth and children everywhere, and it focuses on you discovering and becoming your best divine self through activities and service, learning and growth," said Elder Gong.
The new initiative will replace the Church's existing children and youth programs on January 1, 2020.
Hundreds of Latter-day Saint youth and families filled the Tabernacle for what was described as the biggest Face to Face event ever hosted by the Church. It was broadcast in 18 languages to more than 140 countries.
"The new program helps you invite God into all aspects of your life," Elder Gong told the audience.
The apostle was joined by several general officers of the Church who oversee the youth programs, including Sister Bonnie H. Cordon, Young Women general president; Sister Joy D. Jones, Primary general president; and Brother Stephen W. Owen, Young Men general president.
The leaders fielded questions that were submitted from youth around the world.
"For me, this program helps us achieve a balanced and Christlike life," added Brother Owen. "Each of you will be better able to serve Heavenly Father and other people as you strive to grow in all aspects of your life."
Link to the Full article from Church Newsroom: Leaders Outline Church's New Children and Youth Program
New Young Women and Aaronic Priesthood Themes
These new themes are a good reminder to young women and young men of their divine potential and purpose. They can be a source of direction and confidence as youth strive to learn and live by the principles they contain. Download a printable PDF of the Young Women Theme and the Aaronic Priesthood Quorum Theme.
New Primary Website
The Primary website has been updated with new content. Learn about the recently-updated websites for Relief Society, Young Women, Aaronic Priesthood.
2020 Youth Theme Resources and New Primary Song
The Face to Face event introduced the new 2020 youth theme and resources and a new song for children.
Children and Youth Website
Information and resources are available at ChildrenandYouth.ChurchofJesusChrist.org
Children and Youth Introductory Video Presentation
This presentation aired on September 29, 2019, as the introduction to the new Children and Youth initiative, which begins on January 1, 2020.
President Russell M. Nelson introduces the vision and purposes of the new initiative. President M. Russell Ballard then facilitates a discussion between the Primary, Young Women, Young Men, and Relief Society General Presidents to teach the principles and structure of the new initiative to parents, leaders, children, and youth.