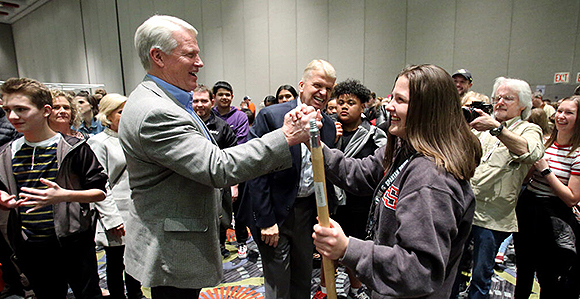 Utah only have a few known cases of coronavirus, and while this may change in the future, for now there is no fear and more than 20,000 youth filled the Salt Palace in Salt Lake City, Utah, on Wednesday night, February 26, to participate in interactive family history activities planned just for them.
The RootsTech youth night—one part of the four-day conference that kicked off Wednesday with a 10-year celebration—included activities such as a virtual reality homeland experience, an escape room, family history Twister, ancestor games, and 9-square, among others.
As a special surprise for the youth, the Young Women and Young Men General Presidencies attended and participated in activities at the event.
"There is a fire in these youth because of their covenants," said President Bonnie H. Cordon, Young Women General President, following the event.
Youth love to gather, they want to connect, and they feel like they belong, she said.
"These youth have a vision for the potential and power of family history," she said. "They want to be part of a cause, and when their cause is the gospel of Jesus Christ and gathering Israel, they truly are the mighty youth battalion President Nelson invited them to be."
In the meantime, in other areas of the world, the COVID-19 continues to affect Latter-day Saints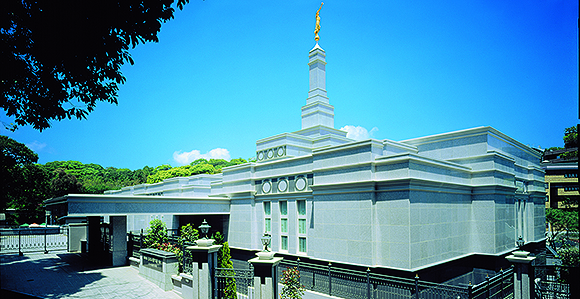 The Church of Jesus Christ of Latter-day Saints reports that so far, missionaries in 14 missions across 17 countries have been affected by changes implemented in response to the COVID-19 (coronavirus). Additionally four temples have been temporarily closed and several countries are suspending worship services in response to the virus.
The information was released as an updated statement on February 27 about how Latter-day Saints around the world are being affected by ongoing precautions against the spreading coronavirus that followed an announcement from the First Presidency cautioning Church members against international travel for the upcoming April 2020 general conference,
The Church statement on Newsroom said: "Recent concern regarding the COVID-19 (coronavirus) has generated much public attention and has caused significant change in travel, personal interactions, and in guidelines prescribed by health officials for how to address the growing concern."
As Church leaders continue to monitor the spread of coronavirus and the regulations of governments working to reduce the spread of the disease, additional steps are being taken in several of the most affected areas to "provide assistance, help missionaries be safe and effective, address concerns regarding member safety, and plan for upcoming events," the statement read. "These steps are being taken to comply with best practices or direction provided by the public health organizations of various national governments."
Read here for more information about the Church's updated list of areas affected