I am listing below all President Dallin H. Oaks' talks, not just those that he gave when he was as a General Authority of the Church, but also those given by him before, with the links to the text, video, or audio available. If there are more that I have missed, please let me know and I will add them to the list.
Last update: April 2023. Also see other collected talk by Church Leaders
President Dallin H. Oaks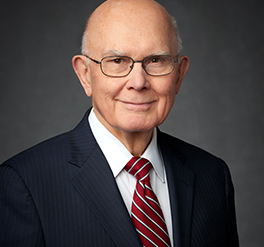 President Dallin H. Oaks was sustained and set apart as first counselor in the First Presidency and president of the Quorum of the Twelve Apostles of The Church of Jesus Christ of Latter-day Saints on Sunday, January 14, 2018. He was set apart as a member of the Quorum of the Twelve Apostles in April 7, 1984.
He is a native of Provo, Utah (born in 1932). He and his late wife, June Dixon Oaks, are the parents of six children. She died July 21, 1998. On August 25, 2000, he married Kristen M. McMain in the Salt Lake Temple.
Elder Oaks is a graduate of Brigham Young University (1954) and of The University of Chicago Law School (1957). He practiced law and taught law in Chicago. He was president of Brigham Young University from 1971 to 1980, and a justice of the Utah Supreme Court from 1980 until his resignation in 1984 to accept his calling to the apostleship.
He has been an officer or member of the board of many business, educational, and charitable organizations. He is the author or co-author of many books and articles on religious and legal subjects. In May 2013, the Becket Fund for Religious Liberty awarded him the Canterbury Medal for courage in the defense of religious liberty (from the website of the Church of Jesus Christ of Latter-day Saints)
Contents
General conference
First Presidency Christmas devotionals
CES devotionals
BYU
BYU–Idaho
BYU–Hawaii
Ensign College
Other