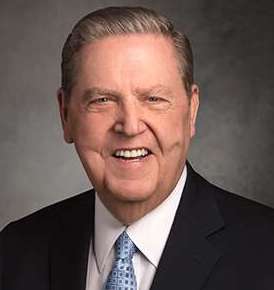 Last update: May 2022. Also see other collected talk by Church Leaders
I am listing below all Elder Jeffrey R. Holland's talks, not just those that he gave when he was as a General Authority of the Church, but also those given by him before, with the links to the text, video, or audio available. If there are more that I have missed, please let me know and I will add them to the list.
Contents
General conference
First Presidency Christmas devotionals
CES devotionals
BYU
BYU–Idaho
Do As You Have Been Commanded—Even the Easy Things (MP3) September 21, 1976
The Glory of God Is Intelligence/Make the Most of Your Education (MP3) September 13, 1977
When Making Decisions, Trust In God (MP3) November 15, 1977
Priesthood: A Divine Calling of Manhood (MP3) February 14, 1978
Untitled (MP3) March 13, 1979
Untitled (unavailable) February 11, 1980
Will We Finish The Temple Brother Brigham? (MP3) March 10, 1981
Today, The Most Important Time of Your Life (MP3) November 2, 1982
If Your Testimony is Not Strong Lean on Mine (MP3) March 6, 1984
Importance of Education (MP3) October 10, 1989
Be Faithful Be Close to God (MP3) February 15, 1994
The Third Great Commandment and Other Thoughts April 23, 2005
Zion Revisited December 20, 2006
Living after the Manner of Happiness September 23, 2014
Lean Into the Wind September 15, 2015
Remember April 12, 2019
BYU–Hawaii
Other
BOOKS
Jeffrey R. Holland
Elder Jeffrey R. Holland was ordained a member of the Quorum of the Twelve Apostles of The Church of Jesus Christ of Latter-day Saints on June 23, 1994. At the time of this call, Elder Holland was serving as a member of the First Quorum of the Seventy to which he had been called on April 1, 1989.
From 1980 until his call as a General Authority in 1989 Jeffrey R. Holland served as the ninth president of Brigham Young University in Provo, Utah. He is a former Church commissioner of education and dean of the College of Religious Education at BYU.
Elder Holland was a student leader and varsity athlete at Dixie High School and Dixie College in his native St. George, Utah. He received his bachelor and master degrees in English and religious education, respectively, from Brigham Young University. He also obtained master and doctor of philosophy degrees in American Studies from Yale University.
Elder Holland was active in professional educational activity prior to his call to full‑time Church service. He served as president of the American Association of Presidents of Independent Colleges and Universities (AAPICU), on the board of the National Association of Independent Colleges and Universities (NAICU), and as a member of the National Collegiate Athletic Association's (NCAA) Presidents Commission. For his work in improving understanding between Christians and Jews he was given the "Torch of Liberty" award by the Anti‑Defamation League of B'Nai B'rith. He has served on the governing boards of a number of civic and business‑related corporations and is the author of 15 books, 2 of which he co-authored with his wife, Patricia.
Elder Holland was born December 3, 1940, to Frank D. and Alice Bentley Holland. In 1963, he married Patricia Terry. They are the parents of Matthew, Mary Alice, and David, the parents-in-law of Paige, Lee, and Jeanne, and the grandparents of 13 grandchildren and one great- grandchild. (from the website of the Church of Jesus Christ of Latter-day Saints)