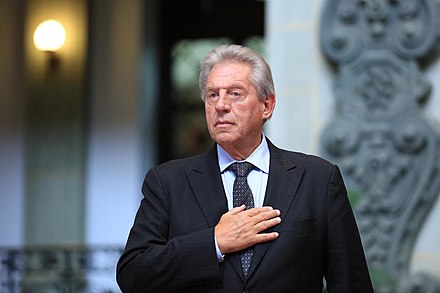 John C. Maxwell is a No. 1 New York Times bestselling and well-known Christian author who focuses on leadership. He has sold more than 24 million books in 50 languages. Maxwell was a pastor for more than 30 years before devoting himself full time to speaking, writing, and coaching.
Three of Maxwell's books, "The 21 Irrefutable Laws of Leadership," "Developing the Leader Within You" and "The 21 Indispensable Qualities of a Leader" have each sold over 1 million copies.
The 21 Laws of Leadership
The book The 21 Irrefutable Laws of Leadership by John C. Maxwell, is
a powerful, definitive statement of the timeless laws you simply must follow if you want to be a great leader–at home, on the job, in church, or wherever you are called to lead. —–Zig Ziglar, Forewords
I have personally found The 21 Irrefutable Laws of Leadership a great and inspiring book. It is one of my favorite books about the topic of leadership.
John C. Maxwell in The 21 Irrefutable Laws of Leadership uses several historical and business-oriented examples and personal anecdotes from his time spent as a pastor and leadership consultant to illustrates the many aspects that constitute good leadership.
One of the main messages of the book is that we can grow our leadership skills. When we learn to master even one of these leadership skills, we can start growing as leaders. Maxwell strongly believes that "everything rises and falls on leadership".
The book is divided in 21 main chapters, one for each of the 21 leadership laws. Below are the links to the chapter that I have reviewed or that I will review later.
THE LAW OF MAGNETISM

THE LAW OF CONNECTION

THE LAW OF THE INNER CIRCLE

THE LAW OF EMPOWERMENT

THE LAW OF THE PICTURE

THE LAW OF VICTORY

THE LAW OF THE BIG MO

THE LAW OF PRIORITIES

THE LAW OF SACRIFICE

THE LAW OF TIMING

THE LAW OF EXPLOSIVE GROWTH

THE LAW OF LEGACY

BUY ON AMAZON: The 21 Irrefutable Laws of Leadership