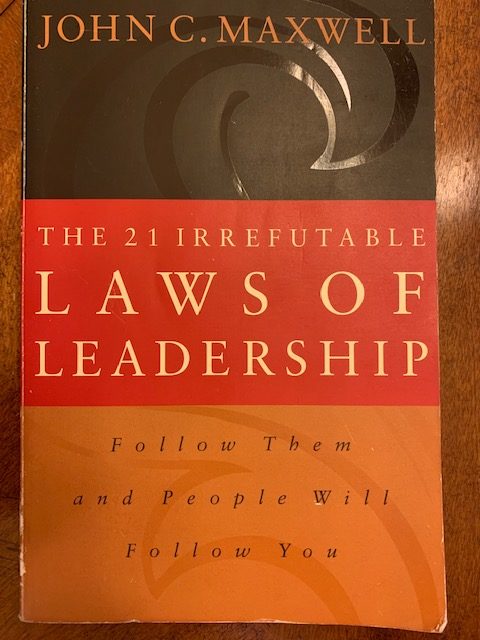 A couple of years ago I discovered the book The 21 Irrefutable Laws of Leadership by John C. Maxwell, and I really enjoyed it. I learned useful principles of leadership in this book and I decided to share them in a series of blog posts. The book was published several years ago, but the principles are still valid.
The first law described in the book is the Law of the Lid. The Law of the Lid helps people understand the value of leadership.
This is the law according to Maxwell:
Leadership ability is the lid that determines a person's level of effectiveness. The lower an individual's ability to lead, the lower the lid on his potential. The higher the individual's ability to lead, the higher the lid on his potential.
Since "Leadership is influence" (Maxwell), if you are ever in a role of influence, you are a leader. The question is, how well do you lead? Are you putting a lid on your effectiveness or the potential of those around you?
John C. Maxwell uses this example to help understand the Law of the Lid
if your leadership rates an 8, then your effectiveness can never be greater than a 7. If your leadership is only a 4, then your effectiveness will be no higher than a 3. Your leadership ability—for better or for worse—always determines your effectiveness and the potential impact of your organization.
Leadership multiplies the results of your efforts. If you work alone on something, you can achieve good results, if you put enough effort, but there is a limit. You simply have a limited number of hours in a day. But if you organize and lead others, your influence and results can grow exponentially. Think of Jeff Bezos or Steve Jobs and many others like them.
In my own experience, my most relevant results were always obtained when I was leading a team, and not when I was working alone.
Therefore, to increase your effectiveness, you need to learn to lead others, not just to increase your personal efforts.
For example, if your dedication to success is an 8 on a scale of 1-10, but your leadership ability is a 1, then your overall effectiveness will remain quite low — no matter how much you want to succeed, as illustrated by the image below: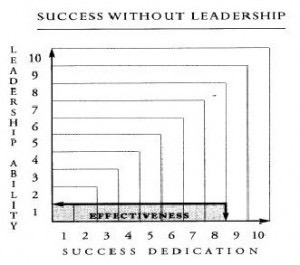 However, if you learn to lead better, then you may increase your level of influence and success. For example, if you can increase your leadership ability to a 6 or even a 7, your results will be multiplied, as you can see in the image below: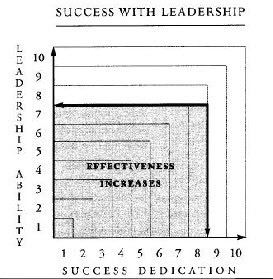 In other words, by increasing your leadership skills, without increasing the number of hours you work and your dedication, you can increase your original effectiveness by 600%.
Your influence as a leader has a multiplying effect if you learn how to influence and build the strength and effectiveness of those around you.
To illustrate the Law of the Lid, in his first chapter, Maxwell tells the story of the McDonald brothers.
The McDonald Brothers
In 1937, two young brothers named Dick and Maurice opened a small drive-in restaurant in Pasadena, California. Their tiny drive-in restaurant was a great success, and in 1940, they decided to move the operation to San Bernardino. Their business exploded. Annual sales reached $200,000.
In 1948, their intuition told them that times were changing, and they made modifications to their restaurant business. They streamlined everything. They reduced their menu and focused on selling hamburgers. Their kitchen became like an assembly line. The goal was to fill each customer's order in thirty seconds or less. And they succeeded. By the mid-1950s, annual revenue hit $350,000.
The McDonald brothers' genius was in customer service and kitchen organization, but when in 1952 they tried marketing the McDonald's concept, their effort failed.
Maxwell believes that the reason of their failure was that they lacked the leadership necessary to make a larger enterprise effective. They were good single-restaurant owners. They were efficient managers, but they were not leaders. Their thinking patterns placed a lid on what they could become. At the height of their success, Dick and Maurice found themselves limited by the Law of the Lid.
The story continues and we learn that in 1954, the McDonalds connected with Ray Kroc. When he saw the store, he understood the potential. He soon made a deal with the McDonalds, and in 1955, he formed McDonald's Systems, Inc. (later called the McDonald's Corporation).
Between 1955 and 1959, Kroc succeeded in opening 100 restaurants. Four years after that, there were 500 McDonald's. In 1961 Kroc bought the exclusive rights to McDonald's from the brothers, and he proceeded to turn it into an even great success.
Maxwell's example in his first chapter has been criticized by some who have suggested that the McDonalds' failure in growing the franchise business didn't happen because they lacked leadership ability. They didn't necessarily have a "low lid", since in the very beginning of their business they were successful. The reason why they failed should be attributed to their limited experience with franchising. It was not necessarily a problem of leadership ability.
But this doesn't really matter from my point of view. Nobody can perfectly judge a situation like this with certainty anyway. I believe that this example still helps to understand the importance and limitations that are imposed on the growth of a company when the people in leadership positions are not effective as they could be.
In conclusion, Maxwell's message in his first law of his book The 21 Irrefutable Laws of Leadership is that we can work hard to increase our level of leadership, and by doing it, we can increase our effectiveness by a great amount, because leadership has a multiplying effect.
The 21 Irrefutable Laws of Leadership by John C. Maxwell
The book is divided in 21 main chapters, one for each of the 21 leadership laws. Below are the links to the chapters that I have reviewed or that I will review later.
ON AMAZON: The 21 Irrefutable Laws of Leadership