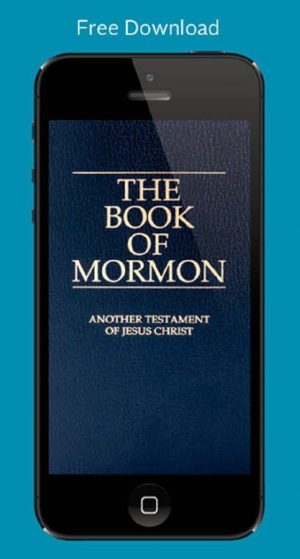 If you want to share a copy of the Book of Mormon with your friends, the free Book of Mormon mobile app is an easy way to do it.
This version of the Book of Mormon is a simple, digital version of the Book of Mormon without footnotes or cross-references, to make it easier for people not familiar with the Book of Mormon to read it or listen to audio recordings of it.
The app is available in 107 languages and there are versions for Google Android, Apple iOS, and Windows.
The Book of Mormon mobile app also includes:
A reference guide to key scriptures about Jesus Christ, doctrines, people, places, and events in the Book of Mormon.
Streaming audio in many languages, either as pre-recorded audio or using text-to-speech technology.
Simple content navigation and swiping gestures to navigate between chapters.
Searchable text.
Invitations to learn more about the Book of Mormon, ask a question, and worship with us.
Other Available Church Apps
Church Pamphlets
Church Pamphlets contains interactive versions of pamphlets published by The Church of Jesus Christ of Latter-day Saints.
---
Doctrinal Mastery
This app will help you memorize doctrinal mastery verses as well as the Articles of Faith.
---
Facility Issue Reporting
The Facility Issue Reporting (FIR) app provides local leaders of The Church of Jesus Christ of Latter-day Saints with the ability to report and review facility issues electronically. This streamlines the reporting, viewing, and resolution of facility issues.
---
FamilySearch Memories
The Memories app on FamilySearch helps you preserve and share photos, stories, and audio recordings of your ancestors, like your own mobile memories box.
---
FamilySearch Tree
Find your ancestors, add names, edit information, and manage your family ordinance reservations—all on your mobile devices. You can also discover record hints, add sources, and upload photos, stories, and audio recordings about your ancestors.
---
Study, search, mark, and share gospel content, including scriptures, general conference talks, manuals, music, media, and more.
AVAILABLE FOR: Google, Apple, Windows
USER GUIDE: Google, Apple, Windows (in the app)
---
Gospel Living
The Gospel Living mobile app is designed to be inspiring, engaging, fun, and relevant to everyday life. It supports a Christ-centered life and helps you draw closer to the Savior. Discover and share music, videos, images, activity and goal ideas, and other inspiring content. Create personal goals, reminders, impressions and journal entries, and activities. Connect with classes, quorums, your household, and those you serve with through Circles.
---
Organize, download, and present media from The Church of Jesus Christ of Latter-day Saints at church, at home, or on the go.
AVAILABLE FOR: Google, Apple
USER GUIDE: Google, Apple
---
This beta version of Gospel Voice is the official skill and action for accessing Church content on Alexa and Google Assistant smart speaker devices. Listen to scriptures, Come Follow, Me, general conference, and Latter-day Saints Channel radio. Just say, "Alexa enable Gospel Voice," or "Hey, Google, talk to Gospel Voice."
AVAILABLE FOR: Amazon, Google
USER GUIDE: Amazon and Google
---
JustServe
Browse and search for service opportunities, or post a project with your organization. Volunteers and organizations come together to make a difference in the community with JustServe.
---
Latter-day Saints Channel
Listen to Latter-day Saints Channel, the Church's 24-hour-a-day audio station featuring gospel-oriented programs, music, and interviews, as well as scriptures, general conference, and Church magazines.
---
Member Tools
Contact ward and stake members, access event calendars, and locate Church meetinghouses. Leaders can also access additional membership information and reports.
---
Sacred Music
Browse and search the Hymns and Children's Songbook, view the words and sheet music, and listen to hymns and songs.
---
Share the faith and strength you find in the scriptures with your children! Scripture Stories brings together beautiful artwork, abridged accounts from the scriptures, and dramatized narration to create a compelling experience that the whole family will enjoy.
AVAILABLE FOR: Apple
---
Seminary and Institute
View and register for classes, study course content, update readings status, and check attendance.
---
Sing Along Hymns
Sing along to your favorite children's songs and hymns! Church Sing-Along is a delightful way for you and your family to learn the music and teachings of The Church of Jesus Christ of Latter-day Saints. It makes an excellent Sunday activity and also serves as a great accompaniment to singing during your family home evenings, family scripture reading, Primary lessons, and even Primary singing time in church.
AVAILABLE FOR: Apple
---
The Tabernacle Choir
Download the Tabernacle Choir app to watch and listen to the world-famous choir. See videos of the Choir's best performances, hear its 24/7 music stream, check upcoming tour dates, read the latest news, and much more.
---
Tree of Life AR is an augmented reality experience for mobile devices. Take your own personal journey along the path to the tree of life from the Book of Mormon, whether at home or in the classroom.