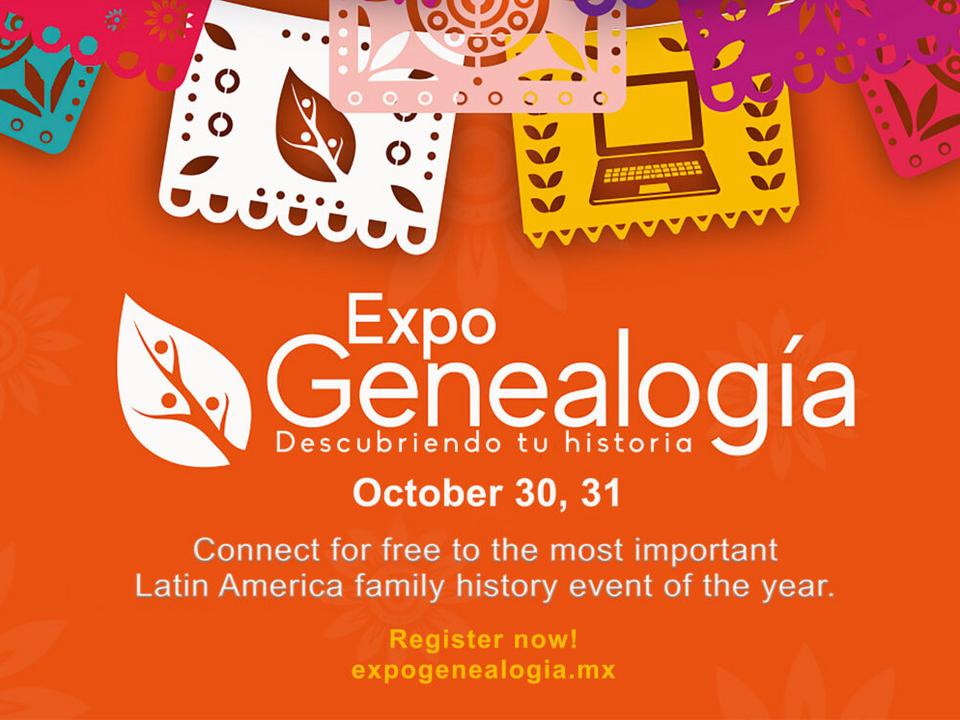 Spanish speakers and those who have Mexican heritage are invited to participate in ExpoGenealogía — a free, virtual family history event entirely in Spanish on October 30–31.
ExpoGenealogía se centra en la importancia de la historia de cada persona, realizada a través de un programa completamente digital en el que conferencias, talleres y charlas con expertos estarán disponibles de forma gratuita. (ExpoGenealogía)
Coinciding with Día de los Muertos (Day of the Dead), this event is an opportunity to honor and celebrate family, said Antulio Muñoz, FamilySearch multi-area manager for Latin America. FamilySearch is one of ExpoGenealogía's partners.
Similar to RootsTech, ExpoGenealogía will include entertainment, keynote speakers, classes and personal consultations. Speakers include Mexican athletes Paola Espinosa, Rommel Pacheco and Elsa Avila, as well as FamilySearch CEO Steve Rockwood. (Church Newsroom)
Register for free at expogenealogia.mx
Read the full article on the Church Newsroom
Programa (en español)
Día 1, 30 de Octubre
Hora
Conferencista
Tema
10:00-10:15
Inauguración
10:15-11:00
Steve T. Rockwood
Conectándonos
11:00-11:45
Arturo Cuéllar
Navegando en FamilySearch
12:00-12:45
Arnoldo de la Rocha
Una historia de superación y logros desde la Sierra de Chihuahua
13:00-13:45
Alan Rivero
El app de Ancestry y la genealogía mexicana en tu bolsillo
14:00-14:45
Muriele Gadaut
La aplicación práctica de la genealogía: el caso de la ascendencia francesa de mexicanos
15:00-15:45
Paola Espinosa
Una historia de perseverancia y esfuerzo
16:00-16:45
Daniel Horowitz
Tecnologías para ampliar el árbol genealógico
17:00-17:45
George Ryskamp
Cómo encontrar la genealogía de españoles en Latinoamérica de los siglos XVI y XVII
17:45-18:00
Clausura del día
18:00-19:00
Concierto
Fiesta mexicana de Día de Muertos, con Cesar Tapia
Día 2, 31 de Octubre
| Hora | Conferencista | Tema |
| --- | --- | --- |
| 10:15-11:00 | Steve T. Rockwood | Conectándonos |
| 11:00-11:45 | Elsa Ávila | Conquistando las montañas de la vida |
| 12:00-12:45 | George Ryskamp | Buscando antepasados en registros que dan conexión con Europa |
| 13:00-13:45 | Daniel Horowitz | Beneficio de las pruebas de ADN en México |
| 14:00-14:45 | Rommel Pacheco | Clávate en tu historia |
| 15:00-15:45 | Devin Ashby | Paz y salud mental por medio de la historia familiar |
| 16:00-16:45 | Brian Peterson | Conociendo a mis ancestros |
| 17:00-17:45 | Debbie Gurtler | ¡España por favor! Recursos y registros en línea |
| 17:45-18:00 | Clausura | |
| 18:00-19:00 | Concierto | Fiesta mexicana de Día de Muertos, con Cesar Tapia |