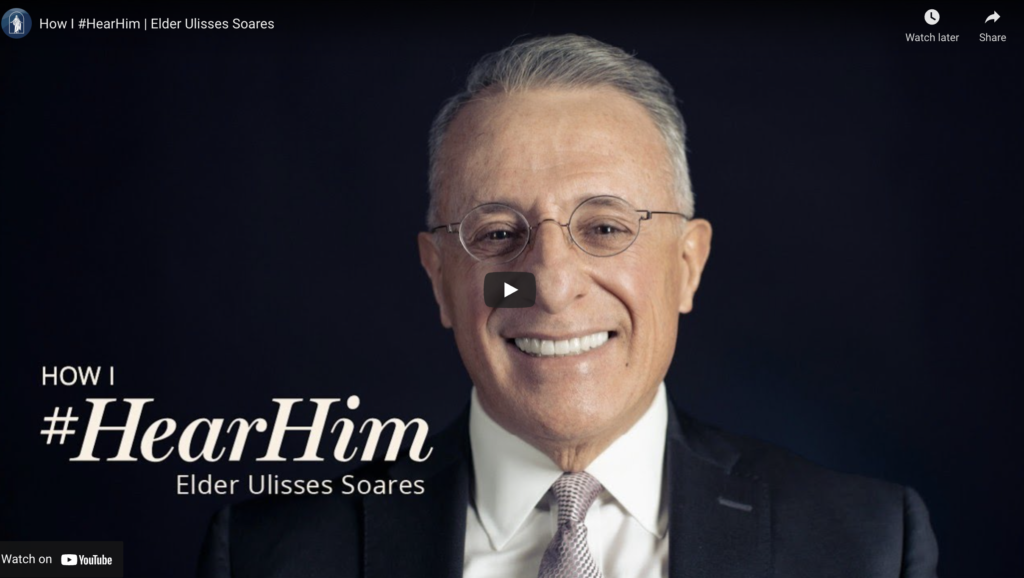 Elder Ulisses Soares tells how the Lord directed him in a strong, firm voice what to teach the missionaries. He felt the Savior speak to them. After, they sat silently, reflecting on the instruction.
I Hear Him by Teaching the Gospel and Following the Spirit
I remember an experience when I served as mission president. I had prepared a speech for the missionaries in a zone conference that I thought was very good. I was completely prepared, and in the morning, I started to have a doubtful feeling—as if I heard the Lord's voice saying, "This is not what your missionaries need."
I knelt and prayed, and then the Lord directed me to section 33 of the Doctrine and Covenants, which is a revelation given to the Prophet Joseph Smith for two men who were called to preach the gospel. I changed the speech completely, and it met the exact needs the missionaries had on that occasion. I remember that the feeling of peace that came to my heart was so strong, confirming in my mind and my heart that this was what the missionaries needed to learn on that day. That decision to listen to the Lord changed the direction of our mission, changed the missionaries' vision, and changed the way we carried out the work. (Read more here)
Other "How I Hear Him" Videos
How I #HearHim video​: Act Upon Impressions – President Dallin H. Oaks
President Dallin H. Oaks says that the Lord can bless us and bless others if we #HearHim​.
How I #HearHim: Elder Dieter F. Uchtdorf and Elder Gerrit W. Gong
"When I'm grateful for what the Lord has given me, this love opens doors." Elder Dieter F. Uchtdorf of the Quorum of the Twelve Apostles says he can #HearHim thanks to the love he feels from the Savior.
How I #HearHim: Elder David A. Bednar
How I #HearHim Videos Reminds Us How We Can Better Listen to the Savior's Voice How do you #HearHim? Elder David A. Bednar hears the words of Jesus Christ through the scriptures. In a short video released on social media and on ChurchofJesusChrist.org/blog Tuesday,…
Elder Jeffrey R. Holland: To "Hear Him" Is the Essence of the Restoration
At the heart of the "Hear Him" message is the Restoration of the gospel and that the heavens are opened for the final dispensation. The First Vision in 1820 was an introduction for Joseph Smith to hear the voice of Jesus Christ. "Hear Him" 200 years later, in 2020, is…
Elder Dale G. Renlund: How I Hear Him Through Personal Study and Prayer
How do you #HearHim? Elder Dale G. Renlund says that when life gets busy, private acts of personal devotion allow him to better understand promptings of the Spirit.