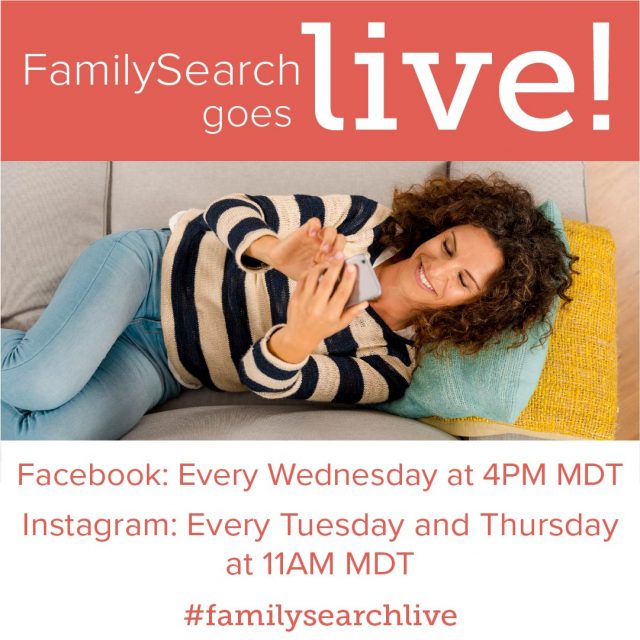 "We wish you peace and joy as you connect with those closest to you. We remain committed to helping you discover your story." —Steve Rockwood, FamilySearch CEO
Social distancing, limiting face-to-face contact with others, to reduce the spread of coronavirus disease (COVID-19), can become very depressing!
A nice way to overcome the limitations imposed by the current situation is to take advantage of the FamilySearch livestreams which help you connect on social media and be a part of a vibrant community to learn, share, and support each other during this time of isolation. The livestreams deliver welcoming and informative content from FamilySearch and features new guests every week.
The livestreams will occur three times a week for the near future. You can find them on Instagram on Tuesdays and Thursdays at 11:00 a.m. MDT and on Facebook every Wednesday at 4:00 p.m. MDT.
Instagram Tuesday guests focus on connecting with living family members, storytelling, and the importance of journaling and record keeping during this unusual time.
Instagram Thursday features guests from FamilySearch. They share tips and tricks and answer patron questions live.
Facebook Wednesdays are primarily focused on product and research tips and are targeted for a more advanced family history audience.
Past Live Events
If you haven't had a chance to watch past live events but want to, check out our YouTube playlist featuring some of the social lives or you can also watch a couple of the past live events below!
What Will the Series Include?
The series will include questions and answers, beginner how-tos, record helps, FamilySearch and Family Tree app tips, family stories, and more! This will help you find quick ways to stay involved with family history without adding any burden.