The Church has released the following statement
The Church of Jesus Christ of Latter-day Saints continues to closely monitor the spread of the coronavirus and its impact on people around the world, including the ability of our missionaries to effectively find and teach, and of our members to gather for worship. We pray for all those affected by this illness and plead for the Lord's blessings during this difficult time.

As an update, missionaries who recently left the China Hong Kong Mission are completing their 14-day self-isolation and are preparing to depart for their new, temporary assignments.

We continue to evaluate the needs of other missionaries serving in regions where concern about the virus is elevated. The manner in which people are meeting, greeting one another and gathering has changed because of concerns about the virus, making missionary work especially difficult.
Read the rest of the statement on the Church Newsroom
Latest on the Coronavirus
The CDC stresses that the coronavirus is not spreading rapidly in the U.S. but it could happen.
As of tonight, 35 Americans in our country have tested positive for covid-19. The Centers for Disease Control and Prevention (CDC) breaks down those numbers: 18 of those were passengers on that cruise ship in Japan, 3 were infected in Wuhan, and then brought to the U.S., 12 tested positive after arriving from China, and 2 were infected after having close contact with someone who traveled to Wuhan.
The state department says Americans who get sick in Asia can no longer expect to be repatriated to the U.S.
Towns in northern Italy locked down after coronavirus deaths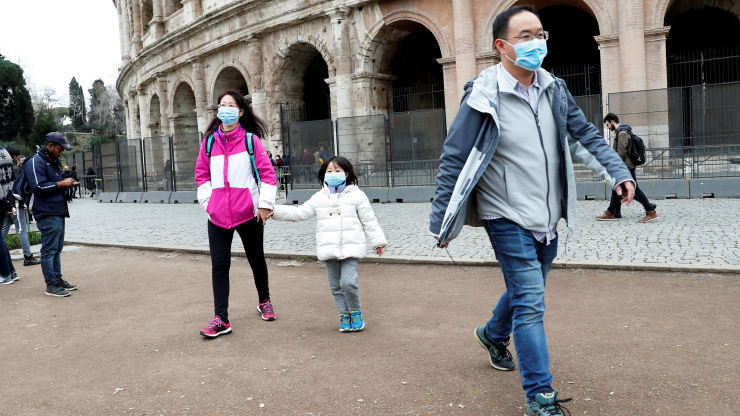 Schools, businesses and restaurant were closed in a dozen northern Italian towns Saturday following reports of two deaths related to an outbreak of the coronavirus in the area.
A woman resident in the Lombardy region died only hours after a 77-year-old man had died near Padua, in the Veneto region, the ANSA news agency reported, citing health care sources.
Italy reports now a total of 20 cases, many of them representing the first infections in the country via secondary contagion, that is, not directly from a visitor to China.