When tourists go to Mexico, and want to experience the Riviera Maya, they usually choose Cancun or Playa del Carmen as their main destination or their base from where to visit the Yucatan. Those are big cities, especially Cancun, with more than a million habitants. It is where many large resorts attract thousands of tourist every year.
However, there are other options, if you prefer a smaller and more family friendly place. One of the best alternatives is Puerto Morelos, that is halfway between Cancún and Playa del Carmen, and is probably one of the best kept secrets in the Yucatan.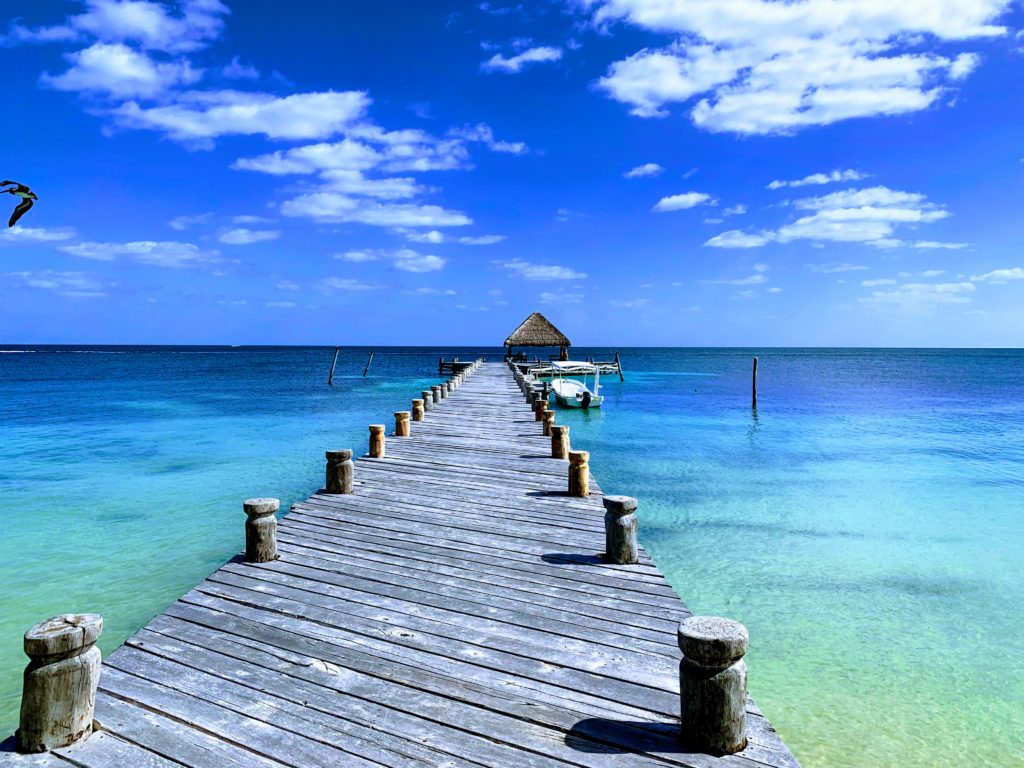 The little town is about 36 km south of Cancun, and about 30 km north of the city of Playa del Carmen and makes an excellent base if you're looking for someplace quieter. If you like to be in the middle of lots of people and big parties, however, you shouldn't go to Puerto Morelos.
Puerto Morelos has grown rapidly, but in 2010, the census still recorded only a little bit more than 9,000 people. Puerto Morelos has a small town laid-back feel, even if you can find many activities to have fun and relax.
Puerto Morelos is clearly divided in two parts. On the west side of the Highway 307 there is the Colonia Joaquin Zetina Gazca (La Colonia) where most of the locals live and where you can find many shops and really feel like you are in Mexico.
The section on the coast east of the mangrove swamp is "Puerto" or "Antiguo (old) Puerto Morelos." This original coastal fishing village has now been transformed into a quiet neighborhood of private homes, hotels, tourist shops and restaurants.
The two sections of the little city are separated by 1.4 miles of protected mangrove. If you don't have a rental car, you can still ride a bike, walk, or catch a cab or a bus to go back and forth between the two sides of town.

Top Things to Do in Puerto Morelos
Go Snorkeling or Scuba Diving at the Reef
The Puerto Morelos Reef is impressive. It is part of the Great Mesoamerican Reef, the world's second largest reef system that stretches at the coast of Mexico and is a marine reserve. Because of this, snorkeling must be done with a guide. Snorkleing in the reef, you will find many different soft and hard coral types and rich marine life, including lemon sharks, eels, turtles, rays, etc. The Great Mesoamerican Reef is so close to the shore that it forms a natural barrier and keeps the waters calm and shallow.
At Puerto Morelos Beach there are countless tour operators offering their services. An average 2-stops snorkling trip cost around 25 USD. The boats take you to the reef that lies about 500 meters offshore.
Take a Walk Along the Beach
This is one of my favorite simple activities. There are miles and miles of white sand and blue and green water along the coast of Puerto Morelos. I never get tired of walking up and down the beach, especially in a warm day of December, when in other areas of the world is freezing cold.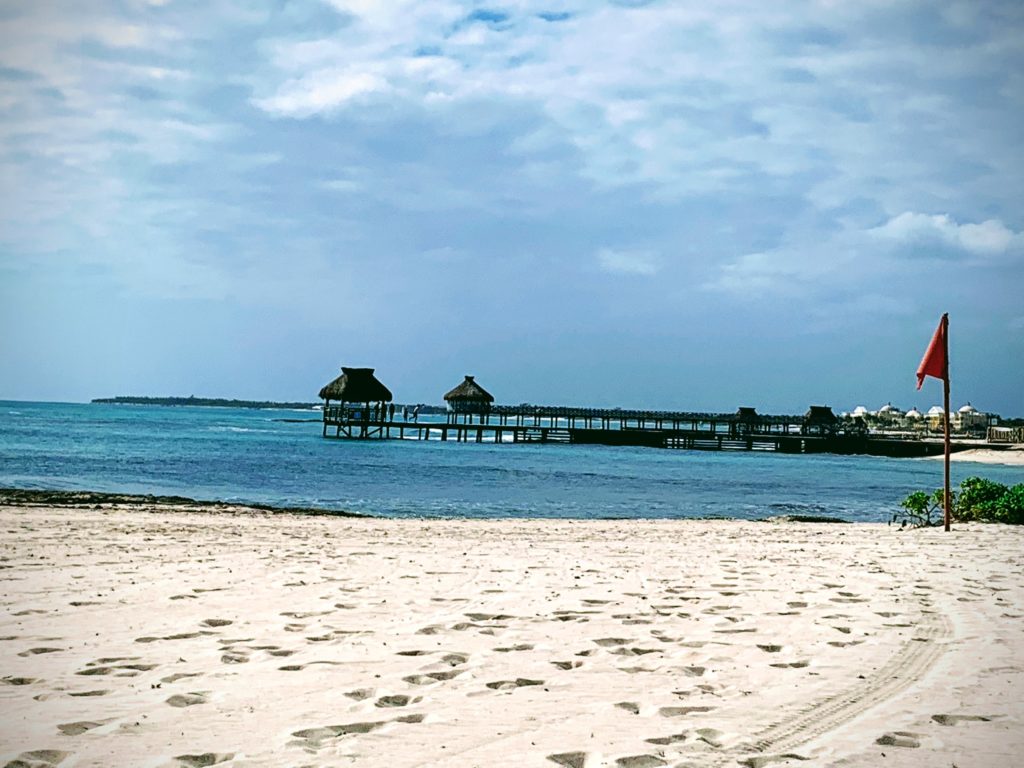 Go Fishing
I personally don't go fishing, but for those who like this activity, Puerto Morelos offers world class fishing. In June the town even hosts the "Torneo de Pesca Deportiva" (Fishing Tournament).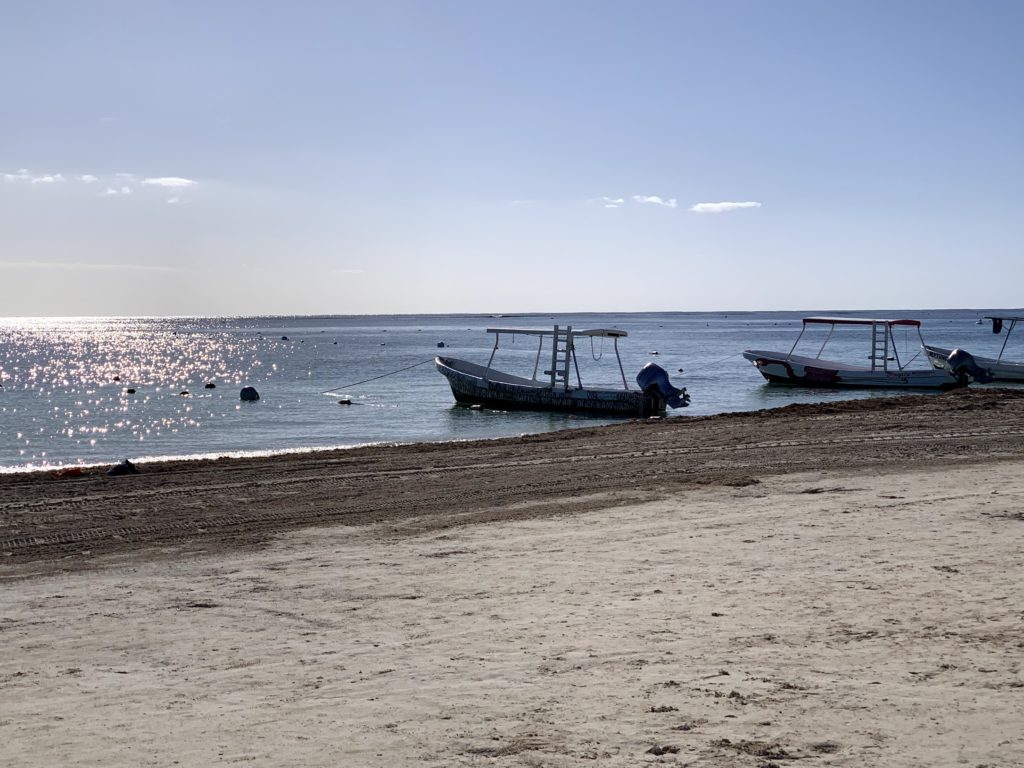 Visit the Botanical Gardens
Located 1.2 miles south of the Puerto Morelos off ramp from Cancun on highway 307, the Dr. Alfredo Barrera Marín Botanical Garden is one of the largest botanical gardens in the country. The garden also hosts a large animal population, including coastal spider monkeys. The grounds take you through 2 miles of pathways with plants labeled in both English and Spanish for your information. You will need a good mosquito repellent.
See Crococun
If you want to get even closer to nature and animal, you may decide to visit Crococun. While the zoo's main claim is that you can walk among its crocodiles, there is much more to do and see. It is an interactive park where you will be guided on a tour around the grounds during which you will have the chance to pet or feed many of the animals that live there. Just make sure you don't become Crocodile's food yourself (just kidding, no worries)! It is a great place for the entire family and children love it.
Do a Little Shopping
If you are like most of the people who travel to a Mexican little town, you will probably want to look for a few inexpensive souvenirs. In Puerto Morelos several shops carry all that you need. There is also even a fresh produce market at the town square every Wednesday morning.
Visit a Cenote
A cenote is a natural pit or sinkhole resulting from the collapse of limestone bedrock that exposes groundwater underneath. Some are flooded caverns with impressive stalagmites and stalactites, others are collapsed caves that have become swimming holes. Most of them are crystal-clear, and are great for snorkeling and diving. While there are no lakes or rivers in the Yucatan Peninsula, there are thousands of cenotes.
The ancient Mayan people, used the cenotes as their only source of freshwater and considered them sacred.
La Ruta de los Cenotes, or the "Cenote Trail" is a paved road that goes through the jungle, leading to many of them. It runs west from Highway 307, on the southern outskirts of Puerto Morelos. When you get there, you'll see a large archway with lettering identifying the trail. Beware, however, that off the main trail some of the roads are not in good conditions. If you are not familiar driving in roads that are not paved and in poor conditions, it may be better to book a tour to visit the cenotes.

Relax and Enjoy Life
Make sure you take at least some time to enjoy life, so you don't become a "compulsive tourist" that tries to see and do everything. Sometimes, just relaxing on the beach, read a book, listen to music, or go swimming, while enjoying the slower pace of life in Puerto Morelos is all you really need to do.