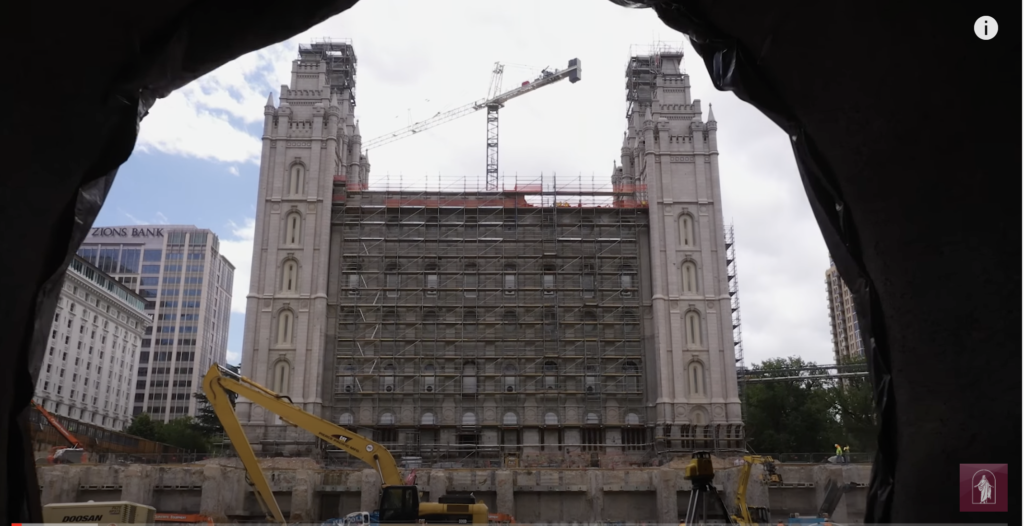 Not too long before the Covid pandemic, Russell M. Nelson , President of The Church of Jesus Christ of Latter-day Saints, announced that the Salt Lake City temple would close December 29, 2019, and would remain closed for approximately four years while undergoing a major structural and seismic renovation. Considering the closing of the temples imposed by the pandemic, it is probably one of the best possible times for such a long period of renovations, since the temple would have to remain closed or used in a limited way for quite some time anyway.
The temple is expected to reopen in 2024 with a public open house.
"This project will enhance, refresh, and beautify the temple and its surrounding grounds," said President Nelson in April 2019. "Obsolete systems within the building will be replaced. Safety and seismic concerns will be addressed. Accessibility will be enhanced so that members with limited mobility can be better accommodated."
The surrounding area on Temple Square and the plaza near the Church Office Building will also be affected as existing buildings are demolished and the area undergoes renovation and restoration. The existing annex and temple addition on the north side, which were built in the 1960s to add needed support facilities and more sealing (marriage) rooms, will be demolished and rebuilt.
The renovation of Temple Square in Salt Lake City is now in its 20th month. The video and photos below give a glimpse of the past three months of work in this years-long project. This includes the reinforcement of the Salt Lake Temple roof, the continued renovation of the Church Office Building Plaza to the east and additional excavation on the north side of the temple.
"High profile jobs like this that are centerpieces for organizations — and especially organizations that do as much good as this Church does across the entire world — are just some of my favorite projects to be on," said Errold Tuley, a Jacobsen general foreman working on the plaza renovation. "When this project is finished, it is going to be spectacular. The site work that is on this project is just incredible. The design work, the craftsmanship and research that is going into it is going to make the temple beautiful." (Read the full article in the Church Newsroom)