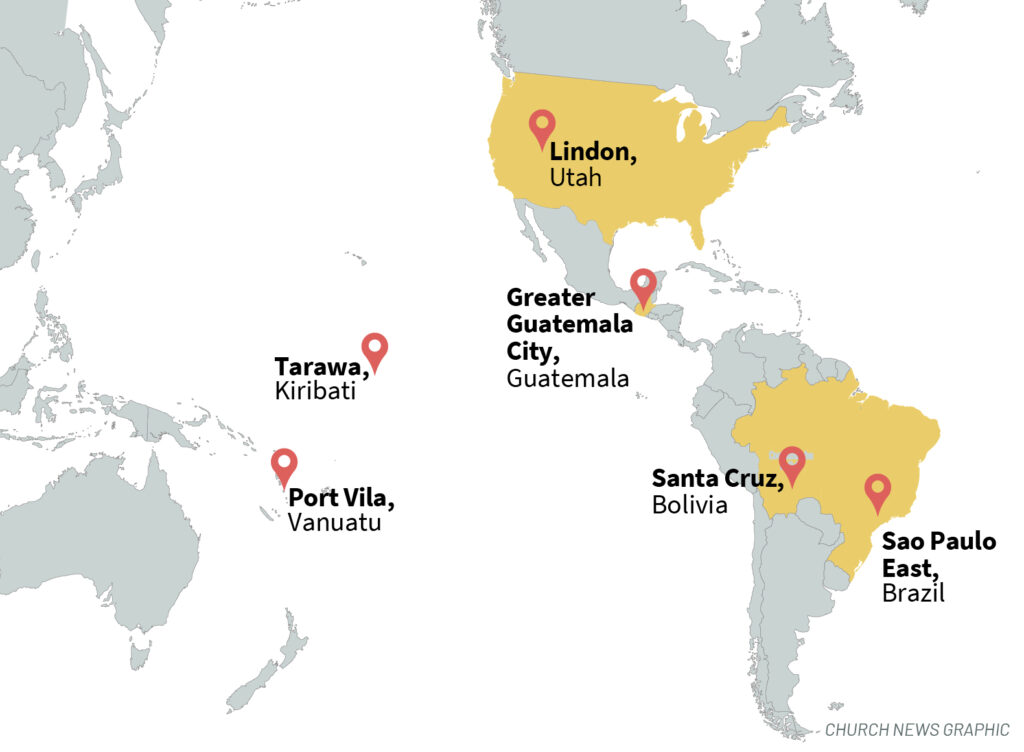 Russell M. Nelson, the prophet and president of The Church of Jesus Christ of Latter-day Saints, announced on Sunday afternoon, October 4, 2020, plans to build temples in the following six locations:
Tarawa, Kiribati
Port Vila, Vanuatu
Lindon, Utah
Greater Guatemala City, Guatemala
São Paulo East, Brazil
Santa Cruz, Bolivia
Since becoming the leader of the Church in 2018, President Nelson has announced the construction of 49 new temples. The Church of Jesus Christ now has 230 temples announced, under construction or operating.
Tarawa, Kiribati 
The Tarawa Kiribati Temple will be the first in the Pacific nation comprising 36 Micronesian islands, an independent republic since 1979.
Nearly 21,000 Latter-day Saints in two stakes and 37 congregations reside in Kiribati. A dozen students from Kiribati traveled to attend Liahona High School in Tonga and converted to the Church there, returning home and becoming Kiribati's first missionaries in 1975. Other key dates for the island nation include the dedication of the first Church-built building in 1982 and the creation of the nation's first stake — the Tarawa Kiribati Stake — by Elder L. Tom Perry in 1996.
Port Vila, Vanuatu 
A branch in Port Vila was organized in 1973, with missionary work beginning in Vanuatu the next year after several Latter-day Saint families from Tonga moved there. The first full-time missionaries arrived in January 1975.
President Gordon B. Hinckley visited Vanuatu during a 2003 tour of Pacific islands, drawing an attendance in Port Vila of 2,212. The full Book of Mormon: Another Testament of Christ was published in the Bislama language in July 2004.
Lindon, Utah
A temple in Lindon is the seventh temple in Utah announced by President Nelson and the Church's 25th in the state.
The Church president previously announced two temples that are already under construction (Layton and Orem), two with groundbreakings scheduled in coming weeks (Taylorsville and St. George's Red Cliffs), and two that are awaiting the announcement of groundbreakings (Tooele Valley and Syracuse).
Utah is home to 17 dedicated temples — including the Salt Lake and St. George temples that are under renovation — and another temple under construction in Saratoga Springs. More than 2.12 million Latter-day Saints reside in Utah in 604 stakes and 5,229 congregations.
Greater Guatemala City, Guatemala 
More than 281,000 Latter-day Saints reside in Guatemala, with the Church having 51 stakes, 438 congregations and seven missions in the Central American nation. Missionaries arrived in Guatemala in 1947, with the first official meeting held the next year. The temple in the Greater Guatemala City area will be the second in the capital city, with the Guatemala City Guatemala Temple dedicated in 1984.  
The Quetzaltenango Guatemala Temple was dedicated on Dec. 11, 2011, by President Dieter F. Uchtdorf of the First Presidency. 
The groundbreaking for the country's third temple — the Cobán Guatemala Temple, announced by President Nelson a year ago — is scheduled for next month.
Sao Paulo East, Brazil 
Sunday's announcement to build a second temple in Sao Paulo, Brazil, was a shock to Jose de Paiva Neto and his Latter-day Saint friends living in Brazil's most populous city. "We were not expecting any temples to be announced during the pandemic, so to learn that another would be built in Sao Paulo has brought much excitement," said de Paiva Neto, a member of more than 50 years. 
The future temple will bless members who live far from the original Sao Paulo temple, "and also bring about progress, just like the first temple did to this region," he said. Brazil has more than 1.42 million Latter-day Saints in 277 stakes and 2,142 congregations as well as 35 missions and now 12 Church temples.
Brazil has seven dedicated temples — in São Paulo, Porto Alegre, Recife, Curitiba, Campinas, Manaus and Fortaleza — and the eighth in Rio de Janeiro waiting for the COVID-19 pandemic to pass to reschedule its postposted open house and dedication. Temples are under construction in Belém and Brasília, with an additional temple in planning and design in Salvador. 
Missionaries first visited Brazil in 1928, working first with German-speaking people, with the first converts coming in 1928. A branch was organized in 1930 and Saõ Paulo was opened to missionary work in 1937, with a Brazilan mission headquartered there the same year.
Santa Cruz, Bolivia 
Bolivia counts more than 212,000 Latter-day Saints in 33 stakes and 270 congregations. The temple in Santa Cruz — the South American nation's largest city — will be Bolivia's second. The first, in Cochabamba, was announced in 1995 and dedicated in 2000. Missionaries entered Bolivia in 1964 from the Andes Mission, with the first baptisms occurring later that year and the first branches opening in 1966.
With the announcement, the Church now has 231 temples in various stages of operation, construction and planning. Its 168 dedicated temples include eight closed for lengthy renovations, with another 22 under construction and 41 under planning and design.
(For more details read the newsroom article here)
Questions and Answers About Temples of The Church of Jesus Christ of Latter-day Saints
Temples are the houses of God on earth, holy places where we seek guidance and peace and become closer to our Father in Heaven.
From the very beginning, God's people have built temples. Moses had his tabernacle, and Solomon built a temple. Jesus spent a lot of time in the temple teaching and healing others. And that is what happens today.
A temple is different from other Church buildings. In different rooms, people make promises with God to keep His commandments, to be good husbands and wives, and to share what they have with others.
For members of the restored Church of Jesus Christ, the temple is the most sacred place of worship on earth. It is the very House of the Lord.
Shortly after the Church of Jesus Christ was restored to the earth on April 6, 1830, the Lord commanded His Saints to "[o]rganize yourselves; prepare every needful thing, and establish a house, even a house of prayer, a house of fasting, a house of faith, a house of learning, a house of glory, a house of order, a house of God" (Doctrine & Covenants 109:8).
Members of the Church continue to follow the Lord's command to build temples to His name.
QUESTIONS
What happens inside a temple?
Can I go inside a temple?
Mormons, or more respectfully, members of The Church of Jesus Christ of Latter-day Saints believe temples are the most holy places on earth. When a temple is first built, there is an open house and anyone can go inside. Afterward, only Latter-day Saints can enter.
What is a temple "endowment?
Members of The Church of Jesus Christ of Latter-day Saints go to temples to worship. The Endowment Ceremony teaches about God's plan.
Do you have more questions? Watch here more videos and answers about temples