The Alchemist is an allegorical novel by Brazilian author Paulo Coelho and was first published in 1988. Originally written in Portuguese (O Alquimista), it became a widely translated international bestseller.
The Alchemist follows the journey of an Andalusian shepherd boy named Santiago. Believing a recurring dream to be prophetic, he asks a Gypsy fortune teller in the nearby town about its meaning. The woman interprets the dream as a prophecy telling the boy that he will discover a treasure at the Egyptian pyramids.
Early into his journey, he meets an old king named Melchizedek, or the king of Salem, who tells him to sell his sheep, so as to travel to Egypt, and introduces the idea of a Personal Legend. Your Personal Legend "is what you have always wanted to accomplish. Everyone, when they are young, knows what their Personal Legend is."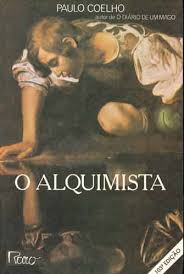 Early in his arrival to Africa, a man who claims to be able to take Santiago to the pyramids instead robs him of what money he had made from selling his sheep. Santiago then embarks on a long path of working for a crystal merchant so as to make enough money to fulfill his personal legend and go to the pyramids.
Along the way, the boy meets an Englishman who has come in search of an alchemist and continues his travels in his new companion's company. When they reach an oasis, Santiago meets and falls in love with an Arabian girl named Fatima, to whom he proposes marriage. She promises to do so only after he completes his journey. Frustrated at first, he later learns that true love will not stop nor must one sacrifice to it one's personal destiny, since to do so robs it of truth.
The boy then encounters a wise alchemist who also teaches him to realize his true self. Together, they risk a journey through the territory of warring tribes, where the boy is forced to demonstrate his oneness with "the soul of the world" by turning himself into a simoom (a strong, dry, dust-laden wind) before he is allowed to proceed. When he begins digging within sight of the pyramids, he is robbed yet again, but accidentally learns from the leader of the thieves that the treasure he sought all along was in the ruined church where he had his original dream.
Coelho wrote The Alchemist in only two weeks in 1987. He explained that he was able to write at this pace because the story was "already written in [his] soul."
The Alchemist Quotes
"And, when you want something, all the universe conspires in helping you to achieve it." ― Paulo Coelho
"It's the possibility of having a dream come true that makes life interesting." ― Paulo Coelho
"When we love, we always strive to become better than we are. When we strive to become better than we are, everything around us becomes better too." ― Paulo Coelho
"One is loved because one is loved. No reason is needed for loving." ― Paulo Coelho
"There is only one thing that makes a dream impossible to achieve: the fear of failure." ― Paulo Coelho
"So, I love you because the entire universe conspired to help me find you." ― Paulo Coelho
"At a certain point in our lives, we lose control of what's happening to us, and our lives become controlled by fate. That's the world's greatest lie." ― Paulo Coelho
"The secret of life, though, is to fall seven times and to get up eight times." ― Paulo Coelho
"The simple things are also the most extraordinary things, and only the wise can see them." ― Paulo Coelho
"Every blessing ignored becomes a curse." ― Paulo Coelho
"Everyone seems to have a clear idea of how other people should lead their lives, but none about his or her own." ― Paulo Coelho
"Remember that wherever your heart is, there you will find your treasure." ― Paulo Coelho
"Tell your heart that the fear of suffering is worse than the suffering itself. And that no heart has ever suffered when it goes in search of its dreams, because every second of the search is a second's encounter with God and with eternity." ― Paulo Coelho
"There is only one way to learn. It's through action. Everything you need to know you have learned through your journey" ― Paulo Coelho
"No matter what he does, every person on earth plays a central role in the history of the world. And normally he doesn't know it." ― Paulo Coelho
"Don't give in to your fears. If you do, you won't be able to talk to your heart." ― Paulo Coelho
"This is what we call love. When you are loved, you can do anything in creation. When you are loved, there's no need at all to understand what's happening, because everything happens within you." ― Paulo Coelho
"People are capable, at any time in their lives, of doing what they dream of." ― Paulo Coelho
"We are travelers on a cosmic journey, stardust, swirling and dancing in the eddies and whirlpools of infinity. Life is eternal. We have stopped for a moment to encounter each other, to meet, to love, to share.This is a precious moment. It is a little parenthesis in eternity." ― Paulo Coelho
"Everything that happens once can never happen again. But everything that happens twice will surely happen a third time." ― Paulo Coelho
"I don't live in either my past or my future. I'm interested only in the present. If you can concentrate always on the present, you'll be a happy man. Life will be a party for you, a grand festival, because life is the moment we're living now." ― Paulo Coelho
"When each day is the same as the next, it's because people fail to recognize the good things that happen in their lives every day that the sun rises." ― Paulo Coelho
"If you start by promising what you don't even have yet, you'll lose your desire to work towards getting it." ― Paulo Coelho
"You will never be able to escape from your heart. So it's better to listen to what it has to say." ― Paulo Coelho
"Intuition is really a sudden immersion of the soul into the universal current of life." ― Paulo Coelho
Paulo Coelho
Paulo Coelho was born in Rio de Janeiro, Brazil, and attended a Jesuit school. As a teenager, Coelho wanted to become a writer. Upon telling his mother this, she responded, "My dear, your father is an engineer. He's a logical, reasonable man with a very clear vision of the world. Do you actually know what it means to be a writer?" At 17, Coelho's introversion and opposition to following a traditional path led to his parents committing him to a mental institution from which he escaped three times before being released at the age of 20. Coelho was born into a Catholic family, and his parents were strict about the religion and faith.
At his parents' wishes, Coelho enrolled in law school and abandoned his dream of becoming a writer. One year later, he dropped out and lived life as a hippie, traveling through South America, North Africa, Mexico, and Europe and started using drugs in the 1960s.
Upon his return to Brazil, Coelho worked as a songwriter. In 1974, by his account, he was arrested for "subversive" activities and tortured by the ruling military government, who had taken power ten years earlier and viewed his lyrics as left-wing and dangerous. Coelho also worked as an actor, journalist and theatre director before pursuing his writing career.
Coelho married artist Christina Oiticica in 1980.
In 1986 Coelho walked the 500-plus mile Road of Santiago de Compostela in northwestern Spain. On the path, he had a spiritual awakening, which he described autobiographically in The Pilgrimage. Coelho would later leave his lucrative career as a songwriter and pursue writing full-time.