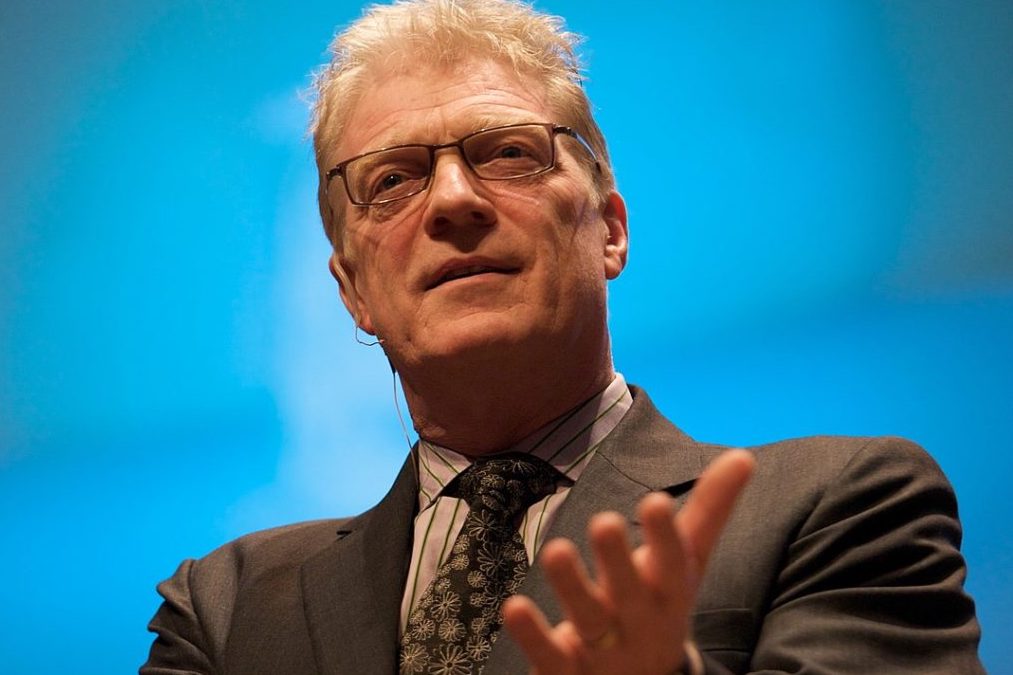 Sir Ken Robinson is an internationally recognized leader in the development of creativity, innovation and human resources. He has worked with national governments in Europe and Asia, international agencies, Fortune 500 companies, national and state education systems, non-profit organizations and some of the world's leading cultural organizations. He was knighted in 2003 for his contribution to education and the arts.
His TED Talk "Do schools kill creativity?" is the most popular TED Talk of all times with more than 17 million views
In this talk Sir Ken Robinson makes an entertaining and profoundly moving case for creating an education system that nurtures (rather than undermines) creativity.
The Element: How Finding Your Passion Changes Everything
The Element: How Finding Your Passion Changes Everything is about the point where natural talent meets personal passion. The author explores the conditions that lead us to live lives filled with passion, confidence, and personal achievement.
We are all born with tremendous natural capacities, but we lose touch with many of them as we spend more time in the world, including while going through school. The author uses stories of people from a wide variety of fields which entertain and inspire.
Top 37 Quotes From The Element: How Finding Your Passion Changes Everything
"If you're not prepared to be wrong, you'll never come up with anything original." ― Ken Robinson, The Element: How Finding Your Passion Changes Everything

"The fact is that given the challenges we face, education doesn't need to be reformed — it needs to be transformed. The key to this transformation is not to standardize education, but to personalize it, to build achievement on discovering the individual talents of each child, to put students in an environment where they want to learn and where they can naturally discover their true passions." ― Ken Robinson, The Element: How Finding Your Passion Changes Everything

"For most of us the problem isn't that we aim too high and fail – it's just the opposite – we aim too low and succeed." ― Ken Robinson, The Element: How Finding Your Passion Changes Everything

"When my son, James, was doing homework for school, he would have five or six windows open on his computer, Instant Messenger was flashing continuously, his cell phone was constantly ringing, and he was downloading music and watching the TV over his shoulder. I don't know if he was doing any homework, but he was running an empire as far as I could see, so I didn't really care." ― Ken Robinson, The Element: How Finding Your Passion Changes Everything

"Our task is to educate their (our students) whole being so they can face the future. We may not see the future, but they will and our job is to help them make something of it." ― Ken Robinson, The Element: How Finding Your Passion Changes Everything

"What you do for yourself dies with you when you leave this world, what you do for others lives on forever." ― Ken Robinson, The Element: How Finding Your Passion Changes Everything


"The Element is about discovering your self, and you can't do this if you're trapped in a compulsion to conform. You can't be yourself in a swarm." ― Ken Robinson, The Element: How Finding Your Passion Changes Everything

"young children are wonderfully confident in their own imaginations … Most of us lose this confidence as we grow up" ― Ken Robinson, The Element: How Finding Your Passion Changes Everything

"Never underestimate the vital importance of finding early in life the work that for you is play. This turns possible underachievers into happy warriors." ― Ken Robinson, The Element: How Finding Your Passion Changes Everything

"We are all born with extraordinary powers of imagination, intelligence, feeling, intuition, spirituality, and of physical and sensory awareness. " ― Ken Robinson, The Element: How Finding Your Passion Changes Everything

"To be creative you actually have to do something." ― Ken Robinson, The Element: How Finding Your Passion Changes Everything

"One of the essential problems for education is that most countries subject their schools to the fast-food model of quality assurance when they should be adopting the Michelin model instead. The future for education is not in standardizing but in customizing; not in promoting groupthink and "deindividuation" but in cultivating the real depth and dynamism of human abilities of every sort." ― Ken Robinson, The Element: How Finding Your Passion Changes Everything

"One Size Does Not Fit All Some of the most brilliant, creative people I know did not do well at school. Many of them didn't really discover what they could do—and who they really were—until they'd left school and recovered from their education." ― Ken Robinson, The Element: How Finding Your Passion Changes Everything

"As the physicist John Wheeler said, "If you don't kick things around with people, you are out of it. Nobody, I always say, can be anybody without somebody being around." ― Ken Robinson, The Element: How Finding Your Passion Changes Everything

"One of the enemies of creativity and innovation, especially in relation to our own development, is common sense." ― Ken Robinson, The Element: How Finding Your Passion Changes Everything

"Creative teams are dynamic." ― Ken Robinson, The Element: How Finding Your Passion Changes Everything
"Great creative teams are diverse. They are composed of very different sorts of people with different but complementary talents." ― Ken Robinson, The Element: How Finding Your Passion Changes Everything

"The most powerful method of improving education is to invest in the improvement of teaching and the status of great teachers." ― Ken Robinson, The Element: How Finding Your Passion Changes Everything

"A FEW YEARS AGO, I heard a wonderful story, which I'm very fond of telling. An elementary school teacher was giving a drawing class to a group of six-year-old children. At the back of the classroom sat a little girl who normally didn't pay much attention in school. In the drawing class she did. For more than twenty minutes, the girl sat with her arms curled around her paper, totally absorbed in what she was doing. The teacher found this fascinating. Eventually, she asked the girl what she was drawing. Without looking up, the girl said, "I'm drawing a picture of God." Surprised, the teacher said, "But nobody knows what God looks like." The girl said, "They will in a minute." ― Ken Robinson, The Element: How Finding Your Passion Changes Everything


"The dominant Western worldview is not based on seeing synergies and connections but on making distinctions and seeing differences." ― Ken Robinson, The Element: How Finding Your Passion Changes Everything

"You create your own life by how you see the world and your place in it;" ― Ken Robinson, The Element: How Finding Your Passion Changes Everything

"Ironically, Alfred Binet, one of the creators of the IQ test, intended the test to serve precisely the opposite function. In fact, he originally designed it (on commission from the French government) exclusively to identify children with special needs so they could get appropriate forms of schooling. He never intended it to identify degrees of intelligence or "mental worth." In fact, Binet noted that the scale he created "does not permit the measure of intelligence, because intellectual qualities are not superposable, and therefore cannot be measured as linear surfaces are measured." Nor did he ever intend it to suggest that a person could not become more intelligent over time. "Some recent thinkers," he said, "[have affirmed] that an individual's intelligence is a fixed quantity, a quantity that cannot be increased. We must protest and react against this brutal pessimism; we must try to demonstrate that it is founded on nothing." ― Ken Robinson, The Element: How Finding Your Passion Changes Everything

"As soon as we have the power to release our minds from the immediate here and now, in a sense we are free. We are free to revisit the past, free to reframe the present, and free to anticipate a whole range of possible futures. Imagination is the foundation of everything that is uniquely and distinctively human. It is the basis of language, the arts, the sciences, systems of philosophy, and the all the vast intricacies of human culture." ― Ken Robinson, The Element: How Finding Your Passion Changes Everything

"Outside of school, though, we were often defined by our disabilities. We were "handicapped"—a bit like a species. Often when people have a disability, it's the disability that other people see rather than all the other abilities that coexist with their particular difficulty. It's why we talk about people being "disabled" rather than "having a disability." One of the reasons that people are branded by their disability is that the dominant conception of ability is so narrow. But the limitations of this conception affect everyone in education, not just those with "special needs." These days, anyone whose real strengths lie outside the restricted field of academic work can find being at school a dispiriting experience and emerge from it wondering if they have any significant aptitudes at all." ― Ken Robinson, The Element: How Finding Your Passion Changes Everything

"Although mindfulness does not remove the ups and downs of life, it changes how experiences like losing a job, getting a divorce, struggling at home or at school, births, marriages, illnesses, death and dying influence you and how you influence the experience. . . . In other words, mindfulness changes your relationship to life." ― Ken Robinson, The Element: How Finding Your Passion Changes Everything

"Education is the system that's supposed to develop our natural abilities and enable us to make our way in the world. Instead, it is stifling the individual talents and abilities of too many students and killing their motivation to learn. There's a huge irony in the middle of all of this." ― Ken Robinson, The Element: How Finding Your Passion Changes Everything

"If you are considering earning your living from your Element, it's important to bear in mind that you not only have to love what you do; you should also enjoy the culture and the tribes that go with it." ― Ken Robinson, The Element: How Finding Your Passion Changes Everything

"The second role of a mentor is encouragement. Mentors lead us to believe that we can achieve something that seemed improbable or impossible to us before we met them. They don't allow us to succumb to self-doubt for too long, or the notion that our dreams are too large for us. They stand by to remind us of the skills we already possess and what we can achieve if we continue to work hard." ― Ken Robinson, The Element: How Finding Your Passion Changes Everything

"One of the strongest signs of being in the zone is a sense of freedom and of authenticity." ― Ken Robinson, The Element: How Finding Your Passion Changes Everything

"Languages are the bearers of the cultural genes. As we learn a language, accents, and ways of speaking, we also learn ways of thinking, feeling, and relating." ― Ken Robinson, The Element: How Finding Your Passion Changes Everything

"When people are in their Element, they connect with something fundamental to their sense of identity, purpose, and well-being." ― Ken Robinson, The Element: How Finding Your Passion Changes Everything

"Perhaps the most important attitude for cultivating good fortune is a strong sense of perseverance." ― Ken Robinson, The Element: How Finding Your Passion Changes Everything

"The word amateur derives from the Latin word amator, which means lover, devoted friend, or someone who is in avid pursuit of an objective. In the original sense, an amateur is someone who does something for the love of it." ― Ken Robinson, The Element: How Finding Your Passion Changes Everything

"Too many feel that what they're good at isn't valued by schools. Too many think they're not good at anything." ― Ken Robinson, The Element: How Finding Your Passion Changes Everything

"What we think of ourselves and of the world makes us who we are and what we can be." ― Ken Robinson, The Element: How Finding Your Passion Changes Everything

Lucky people tend to maximize chance opportunities." ― Ken Robinson, The Element: How Finding Your Passion Changes Everything
"Richard Felder is co-developer of the Index of Learning Styles. He suggests that there are eight different learning styles. Active learners absorb material best by applying it in some fashion or explaining it to others. Reflective learners prefer to consider the material before doing anything with it. Sensing learners like learning facts and tend to be good with details. Intuitive learners like to identify the relationships between things and are comfortable with abstract concepts. Visual learners remember best what they see, while verbal learners do better with written and spoken explanations. Sequential learners like to learn by following a process from one logical step to the next, while global learners tend to make cognitive leaps, continuously taking in information until they "get it." ― Ken Robinson, The Element: How Finding Your Passion Changes Everything