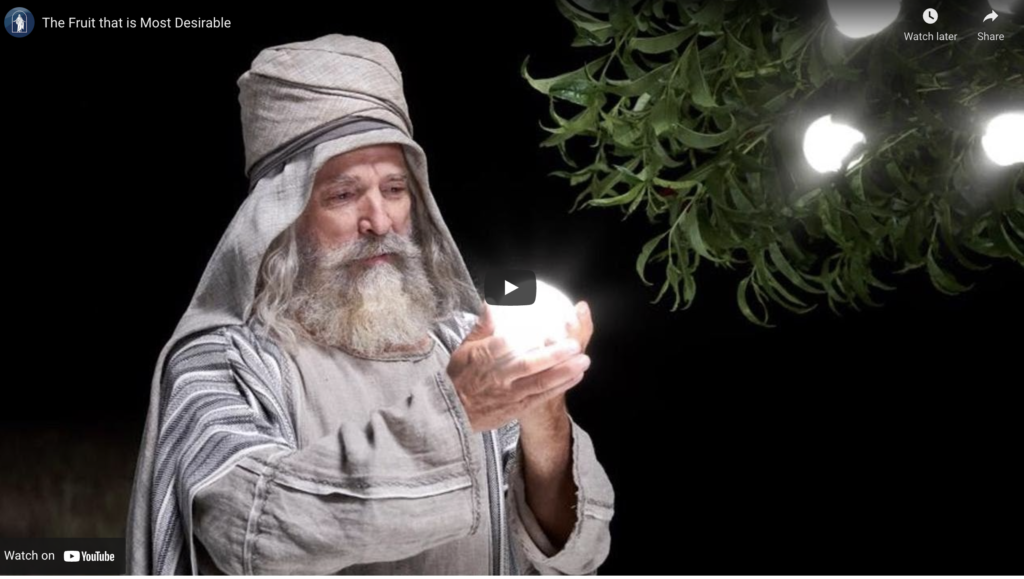 In His teachings, the Savior compared fruit with things of eternal worth, says Elder Neil L. Andersen. The fruit in Lehi's dream symbolizes the blessings of the Savior's Atonement, describing the fruit as "most desirable." "
No wonder the angel described the fruit as 'the most joyous to the soul,'" he says. "It truly is!"
Yet even after savoring the precious fruit of the restored gospel, staying true and faithful to the Lord Jesus Christ is still not easily done, Elder Andersen says in his October 2019 general conference address.
"We continue to face distractions and deceptions, confusion and commotion, enticements and temptations that attempt to pull our hearts away from the Savior and the joys and beauties we have experienced in following Him."
The video includes the personal experiences of two people who tasted the joy of rediscovering their faith after losing their spiritual direction.
"Little things can upend our spiritual balance," he continues. "Please don't allow your questions, the insults of others, faithless friends, or unfortunate mistakes and disappointments to turn you away from the sweet, pure, and soul-satisfying blessings that come from the precious fruit of the tree. Keep your eyes and your hearts centered on the Savior Jesus Christ and the eternal joy that comes only through Him."
Read Elder Andersen talk at https://www.churchofjesuschrist.org/s…
Elder Neil Linden Andersen
All Talks by Elder Neil L. Andersen
Elder Neil Linden Andersen was named an Apostle of The Church of Jesus Christ of Latter-day Saints on April 4, 2009.
Elder Andersen was serving as the senior member of the Presidency of the Seventy prior to his calling to the Quorum of the Twelve. He was named a member of the First Quorum of the Seventy in April 1993, at age 41. He previously led the work of the Church in southern Brazil and, again as a member of an area presidency, oversaw the Church in western Europe. He has also assisted in supervising the work of the Church in Mexico and Central America. In addition, he supervised Church audiovisual production, including the filming of The Testaments: Of One Fold and One Shepherd and managed construction of the broadcast facilities in the Conference Center as the executive director of the Church Audiovisual Department. He speaks French, Portuguese and Spanish in addition to his native English.
Prior to his call as a General Authority, Elder Andersen served as a mission president in the France Bordeaux Mission and as president of the Tampa Florida Stake.
Elder Andersen was born in Logan, Utah, and raised in Pocatello, Idaho, on a dairy farm where he remembers doing "typical Idaho farm work, from morning to night."
He graduated from Brigham Young University, where he was a Hinckley Scholar, and earned a masters of business administration from Harvard University. After completing his education, he settled in Tampa, Florida, where his business interests included advertising, real estate development and health care.
Elder Andersen and his wife, Kathy Williams Andersen, are the parents of four children. (From the website of the Church of Jesus Christ of Latter-day Saints)