The Law of Explosive Growth is the 20th of the 21 Irrefutable Laws of Leadership by John C. Maxwell and it states that: "to add growth, lead followers; to multiply growth, lead leaders."
According to John C. Maxwell, you can grow by leading followers. But if you want to maximize your leadership and help your organization reach its potential, you need to develop leaders. There is no other way to experience explosive growth.
Leaders who attract followers, but never develop leaders, get tired. Being able to impact only those who you can touch personally is very limiting.
In contrast, leaders who develop leaders impact people far beyond their personal reach. Every time you develop leaders and help them increase their leadership ability, you make them capable of influencing an even greater number of people.
Many leaders are impatient because they want to achieve their vision. However, other people in the organization aren't always on the same page. How do they close the gap between where they want their team to be and where they are?
Maxwell believes that the answer lies in the Law of Explosive Growth. He writes that there are three critical stages in the leadership journey: leaders can develop themselves and experience personal success; they can grow a team, and their organization will experience growth; or they can develop leaders, so that their organization can achieve explosive growth.
BREAKING DOWN THE LAW OF EXPLOSIVE GROWTH
Becoming a great leader is about more than attracting followers. Leaders need to spend time developing other leaders and encouraging strong employees in your company to grow.
In his chapter on the Law of Explosive Growth, John Maxwell writes, "Good leaders lead for the sake of their followers and for what they can leave behind after their time of leadership is completed." While it's nice to feel personally needed, leaders limit the potential of their company if they don't train other leaders in your organization.
If they spend time developing other influential leaders to carry the weight, their company will last longer.
HOW TO USE THE LAW OF EXPLOSIVE GROWTH
Maxwell explains in The Law of Explosive Growth that usually are the weakest members of the organization that require the most time and attention. If leaders focus on that bottom 20%, they'll spend 80% of their time trying to help them. However, if they use that time to develop their top 20% of employees instead, their leadership can help carry the weaker employees so that everyone improves overall.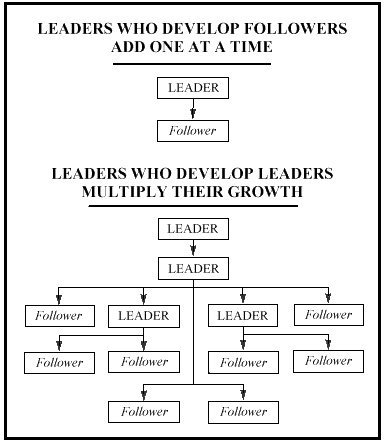 To go to the highest level, you have to develop leaders of leaders…"some leaders want to make followers. I want to make leaders. Not only do I want to make leaders, but I want to make leaders of leaders. And then leaders of leaders of leaders." Once you are able to follow that pattern, there is almost no limit to the growth of your organization. That's why I say to add growth, lead followers, but to multiply growth, lead leaders. That's the Law of Explosive Growth.
A DIFFERENT FOCUS
BECOMING A LEADER WHO DEVELOPS LEADERS REQUIRES AN ENTIRELY DIFFERENT FOCUS AND ATTITUDE FROM THOSE OF A DEVELOPER OF FOLLOWERS. CONSIDER SOME OF THE DIFFERENCES:
LEADERS WHO DEVELOP FOLLOWERS
Need to be needed
Focus on weaknesses
Develop the bottom 20 percent
Treat their people the same for "fairness"
Hoard power
Spend time with others
Grow by addition
Impact only people they touch personally
LEADERS WHO DEVELOP LEADERS
Want to be succeeded
Focus on strengths
Develop the top 20 percent
Treat their leaders as individuals for impact
Give power away
Invest time in others
Grow by multiplication
Impact people far beyond their own reach
Developing leaders is difficult because potential leaders are harder to find and attract. They're also harder to hold on to once you find them because they are energetic and want to grow. Developing leaders is hard work but it's vital for an organization.
THE 21 IRREFUTABLE LAWS OF LEADERSHIP BY JOHN C. MAXWELL
The book is divided in 21 main chapters, one for each of the 21 leadership laws. Below are the links to the individual chapters.
THE LAW OF EXPLOSIVE GROWTH
THE LAW OF LEGACY
ON AMAZON: The 21 Irrefutable Laws of Leadership